In the ever-evolving landscape of the modern work environment, co-working spaces have emerged as a significant trend, blending both the professional and communal aspects of work. Singapore, with its futuristic skyline, efficient public transportation, and a booming economy, has long been a hub for business. But in recent years, it's also evolved into a paradise for digital nomads and remote workers from around the world while still keeping themselves active.

But how did this trend come about? Let's delve into the history and factors that catapulted co-working spaces to the forefront of today's work culture.
The Inception Of Co-working
The essence of shared workspaces has been around for a while, with artists and creatives sharing studios for collaboration and cost-saving. However, the modern iteration of co-working, as we recognize it today, began in San Francisco in 2005. A software engineer named Brad Neuberg envisioned a space that married the autonomy of freelancing with the community and structure of an office environment. This vision led him to establish "The Spiral Muse", hailed as the first modern co-working space.
Why Singapore?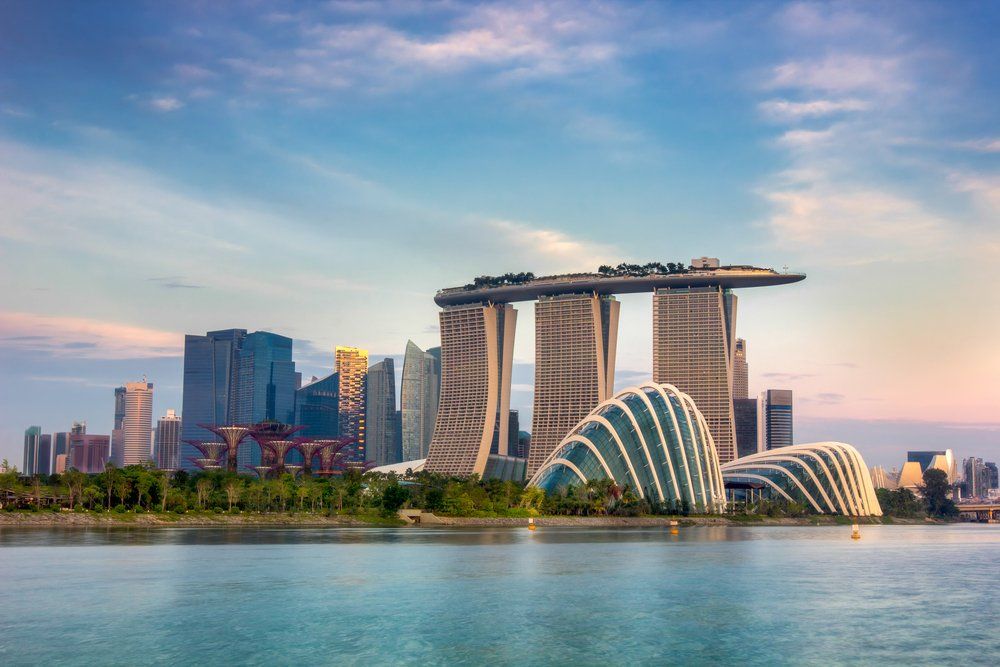 Positioned in the heart of Southeast Asia, Singapore serves as a gateway between the East and West, making it ideal for digital nomads who often have clients or colleagues in multiple time zones. The city-state boasts an impeccable tech infrastructure with widespread high-speed internet connectivity, making remote work seamless.
Ranked among the safest cities globally, and known for its cleanliness, Singapore provides a conducive environment for work and relaxation. Its multicultural backdrop ensures there's always something new to learn and experience, from festive celebrations to a wide array of culinary delights.
Factors Driving Its Popularity
Economic Viability: For budding entrepreneurs, freelancers, and startups operating on a tight budget, co-working spaces offer the allure of a professional workspace without the hefty price tag. Instead of committing to long-term leases, individuals can conveniently rent as per their requirements.
Flexibility Galore: Need a workspace for a day, a month, or maybe a year? Co-working spaces can accommodate varied needs, providing unmatched flexibility in terms of duration and even location.
A Networking Goldmine: By hosting a melting pot of professionals from eclectic backgrounds, these spaces foster collaboration, ideation, and networking, enriching the professional journey of its members.
Amenities & Infrastructure: From blazing-fast internet to plush meeting rooms and even coffee bars, co-working spaces offer top-notch amenities, ensuring members have everything they need without the hassle of management.
More Than Just A Workspace: Many coworking establishments host workshops, seminars, and social mixers, enhancing the value proposition and building a vibrant community spirit.
Global Expansion: Big players like WeWork have taken the co-working concept global, making it a universally recognized and sought-after work model.
Big Corporates Join The Bandwagon: No longer just the domain of freelancers and startups, even established corporations are leveraging co-working spaces for remote teams, innovation hubs, and project sprints.
Real Estate Realities: In urban hubs where real estate prices soar, co-working offers a practical and affordable solution.
Cultural Evolution: The newer workforce generations, like Millennials and Gen Z, prioritize flexibility, community, and experiences, making co-working spaces a perfect fit for their ethos.
Spotlight On Singapore's Best Co-working Spaces
Let's shine a spotlight on Singapore's finest co-working spaces. In this vibrant city, where innovation thrives, these spaces have become the hubs for creativity and collaboration. Whether you're a startup entrepreneur or a seasoned professional, these co-working spaces offer the perfect environment to work, connect, and grow:
1) WeWork
Locations: Spread across various strategic points like Robinson Road, Beach Centre, and Anson Road, among others. For those training at Evolve MMA Far East Square, there is a WeWork office just directly across the street located at 8 Cross Street. This outlet makes it easier to get a workout in between your working breaks.
Unique Features:
Aesthetically designed interiors that foster creativity.

Common areas perfect for networking or a casual coffee break.

On-site staff to assist members.
Facilities: Private offices, dedicated desks, soundproof phone booths, high-speed internet, printing services, and mail & package handling.
Ambiance: A balanced mix of professional and casual, with contemporary designs that reflect a global yet local vibe.
Locations: Centrally located spots like One George Street and Ngee Ann City. The outlet located at Ngee Ann City offers a quick 15-minute detour for those training at Evolve MMA Orchard Central.
Unique Features:
Luxuriously designed interiors reminiscent of boutique hotels.

Regular professional and social events.

Concierge services that add a personal touch.
Facilities: Hot desks, private suites, meeting rooms, daily breakfast, high-speed WiFi, and a dedicated mail service.
Ambiance: A posh and upscale vibe, making it feel more like a members' club than a traditional co-working space.
3) Trehaus
Locations: Located along the Singapore River at Clarke Quay. With just a 5-minute walk away from Evolve MMA Clarke Quay, Trehaus is a prime coworking space for parents who want to slot in some training in between your work schedule.
Unique Features:
A co-working space with an integrated preschool and childcare.

Work-friendly environment for parents without the guilt of leaving their kids far away.
Facilities: Dedicated workspaces, meeting rooms, event spaces, and a kid-friendly environment with educators and caretakers for children.
Ambiance: Family-centric, with a blend of professionalism and warmth. A haven for working parents seeking balance.
Locations: Prominent location at Jalan Klapa. This coworking space is situated at just a 10-minute drive away from 3 different Evolve MMA locations – Evolve Far East Square, Evolve Orchard, and Evolve Clarke Quay.
Unique Features:
Cat friendly co-working space.

Private rooms with karaoke or console games for relaxing or bonding.

Affordable rates for students who are looking for a place to study.
Facilities: Open lounges, private rooms, high-speed internet, and cats roaming around.
Ambiance: A community of cat-lovers who enjoy working and have a furry feline friend by their side. Perfect for cat or animal lovers.
Each of these co-working spaces in Singapore has carved a niche for themselves by catering to specific needs. Whether you're an entrepreneur looking for mentorship, a digital nomad seeking global connections, or a working parent aiming for work-life balance, Singapore's co-working scene has something for everyone. When selecting a space, it's vital to consider not just the facilities but also the culture and community it fosters, ensuring a fulfilling work experience in the Lion City.
Tips For Digital Nomads In Singapore:
Stay Connected:

While most co-working spaces offer high-speed internet, having a local SIM card with a good data plan ensures you're always connected, even on the go.

Explore Local Cafés:

Beyond formal co-working spaces, Singapore has a plethora of cafés like Tiong Bahru Bakery or Chye Seng Huat Hardware, which are remote-work friendly and serve delicious brews.

Public Libraries:

The National Library Board has various branches with quiet corners perfect for those seeking a serene environment.

Embrace Local Networking Events:

Often, co-working spaces and other institutions host networking events. These are perfect opportunities to connect with local entrepreneurs and fellow nomads.
Conclusion
From a humble experiment in San Francisco to a global phenomenon, co-working spaces have truly transformed our work ethos. As boundaries between professional collaboration and community continue to merge, co-working spaces stand as a testament to the evolving nature of 'work'. Singapore's metamorphosis into a digital nomad haven is undeniable. From world-class co-working spaces to its vibrant culture, it offers an unmatched blend of work and leisure. As we navigate the future, these spaces will undoubtedly play a pivotal role in shaping our professional landscapes.
Discover The Perfect Integration Of Fitness And Work In Martial Arts Today!
With a plethora of co-working spaces available islandwide, integrating health and fitness into your life has never been easier. If you would like to discover how you can leverage these locations, check out the different outlets of Evolve MMA – Evolve MMA (Far East Square – Raffles Place), Evolve MMA (Orchard Central – Orchard), Evolve MMA (Kinex – East Coast), Evolve MMA (Clarke Quay Central) & Evolve MMA (Star Vista – Buona Vista). With 5 outlets spread across Singapore, you are just a short distance away from integrating fitness and work together.
Book your complimentary trial class with our World Champions below!
If you have any other questions regarding Evolve MMA and the programs we offer, you can get in touch with our membership executives at the following locations:
Evolve MMA (Far East Square)
26 China Street
Far East Square #01-01
Singapore 049568
Phone: (65) 6536 4525
Evolve MMA (Orchard Central)
181 Orchard Road
#06-01 Orchard Central
Singapore 238896
Phone: (65) 6536 4556
Evolve MMA (KINEX)
11 Tanjong Katong Road
#02-52 KINEX
Singapore 437157
Phone: (65) 6288 2293
Evolve MMA (Clarke Quay Central)
6 Eu Tong Sen Street
#04-18 Clarke Quay Central
Singapore 059817
Phone: (65) 6226 2150
Evolve MMA (Star Vista)
1 Vista Exchange Green
#02-26A The Star Vista
Singapore 138617
Phone: (65) 6539 9590