Escape the heat and hustle of Singapore with our list of the five best quiet cafes to work, study or chill in. Whether you're a student needing a peaceful place to hit the books or a professional seeking a serene spot to work away from the office or just looking to crash after a good workout, these cafes have got you covered. With the rise of online work and studying, internet and electricity costs can increase. But fear not. These quiet cafes offer extra amenities to keep you returning for more. Forget being limited to the chain coffee shops like Starbucks and Coffee Bean. These may be convenient options during off-peak hours, but you may be asked to leave during peak times (before noon and after 5 pm). Instead, discover the hidden gems of Singapore's work-friendly cafes that offer delicious coffee, tasty food, and reliable wifi so you can work or study peacefully.
1) Prairie By Craftsmen
Discover a hidden oasis in the heart of Singapore at Prairie by Craftsmen. Tucked away near the UNESCO Heritage Site Botanic Gardens, follow the pebbled path to this tranquil cafe and enjoy a unique outdoor dining experience under a glass canopy. Surrounded by lush greenery and cooled by portable air conditioning, you'll feel a world away from the hustle and bustle of the city. We don't know if it is the best place to work or study since the environment is so tranquil you might fall asleep. But if you want to focus, this cafe offers the quiet you need to get in the flow.
Start your day right with Prairie's beautifully served Eggs on Toast, or indulge in their generous portions for lunch. From the savoury duck pasta with fettuccine and slow-cooked duck to the exquisite Hokkaido Scallop Chilled Pasta, there's something for everyone. Don't forget to try their popular black sesame latte after your jog in the park or while catching up on lecture notes. While it may be tempting to curl up and get cosy in this gorgeous glass greenhouse, let the surroundings inspire your creativity and productivity. For our west-side Evolve MMA warriors training at Evolve Star Vista, this place is super accessible. Just hop on the Circle Line from Buona Vista and head to Botanic Gardens to reach this urban oasis.
2) The Book Cafe
Unleash your inner bookworm at The Book Café, the perfect study spot in Singapore. With free wifi and plenty of power sockets, you can stay connected all day long for those important Zoom calls. Choose from a high-backed chair for focused work on your laptop, or sink into a plush armchair with bookshelves filled with reading materials. It's also a lovely place for a date if you want a quiet spot to sit and to know each other better.
If space is tight, grab a table and chair in the well-ventilated corridor and make yourself at home. While you work or study in this quiet cafe, treat yourself to their delicious homemade pastries like the Apple Pie or indulge in their all-day breakfast plates like the Eggs Royal. And don't forget to try their coffee, with cute latte art by the baristas. The Book Café has everything you need to stay productive.
3) Glyph Supply Co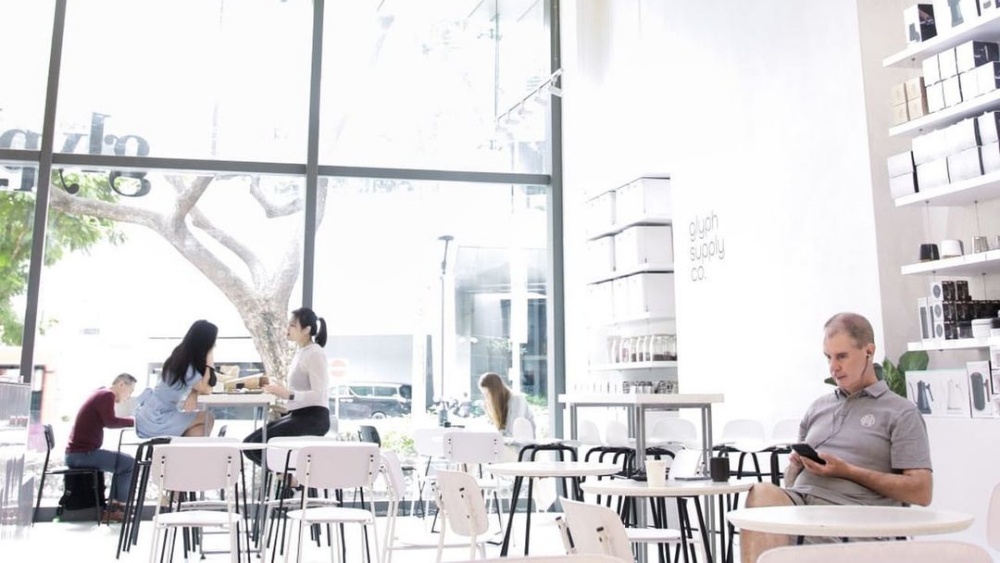 Glyph looks like a designer's dream, with its high ceilings and all-white furniture. This is a quiet cafe in Singapore in the city's heart, behind the busy 313@somerset. A mere 7-10 minutes walk from Evolve MMA at Orchard Central makes this THE best place to head for our Evolve family if they need a respite from the chaotic town area.
You'll have plenty of privacy when writing an essay or a business proposal here. Note, though, that it does not have many pocket sockets. Like the minimalist interior design, the work-friendly cafe has a menu with just the basics you need to work. While coffee lovers praise their well-crafted speciality coffees, a surprisingly popular item was the Hot Chocolate. Another milky, sweet drink that people like is the Oat Milk Cold Brew. You can get various pastries to pair with your coffee or go for sandwiches. The Shrooms Cheese Toast is a hot favourite, with plenty of melted cheese packed between nicely toasted bread.
4) Lunar Coffee Brewers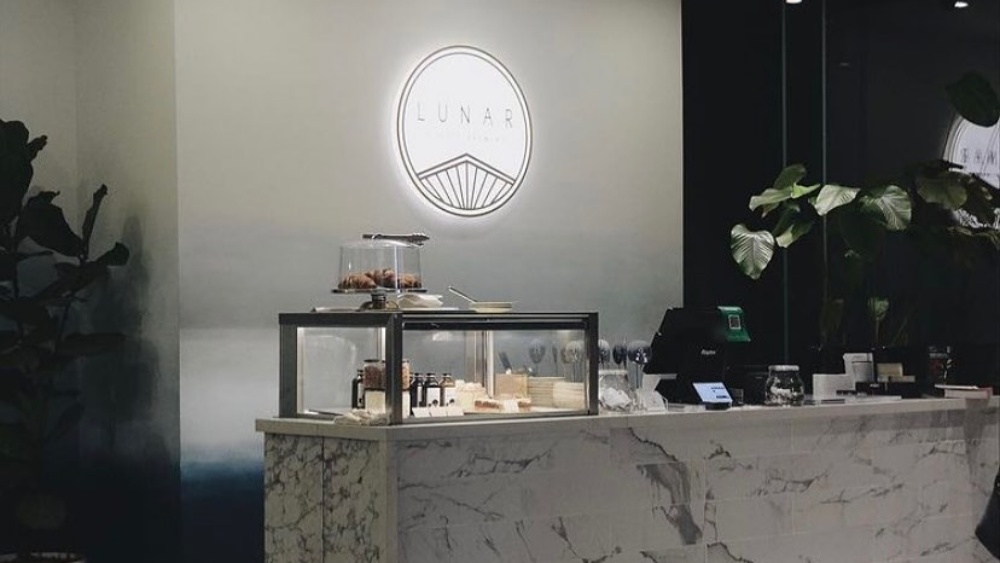 Looking for a picture-perfect café that's both beautiful and functional? Look no further than Lunar Coffee Brewers, a hidden gem at the end of OUE Downtown Gallery in Singapore. Better still, this dreamy place is a mere 10 minutes walk from Evolve MMA at Far East Square.
The moon-themed décor is dreamy and whimsical, featuring stunning murals, glassy marble tables, and soft, soothing lighting. Leafy ferns add a touch of nature to the space, creating a calming atmosphere that's perfect for working, studying, or simply sipping a latte and catching up with friends. Lunar Coffee Brewers is a laptop-friendly space with plenty of power sources and seats near the window to soak up some sunshine. But the real star of the show here is the menu. From breakfast combos to mains and desserts, there's something for everyone. Try the Earl Grey Soft Serve with crispy feuilletine flakes, or indulge in the fluffy Chocolate Cheesecake for a sweet treat. Check out our blog if you're looking for other places to eat around Far East Square after your workout!
5) Common Man Roasters (Joo Chiat Road)
Common Man Coffee Roasters is a must-visit if you're a coffee lover in Singapore. Not only is it a speciality coffee wholesaler, but it's also a great place to chill out and enjoy some excellent coffee. In addition, it has a reputation as one of the best coffee places in Singapore, as mentioned by multiple magazines.
With ample space in the cafe, it's the perfect spot to relax after a satisfying brunch. And what sets Common Man Coffee Roasters apart from other cafes is their exceptional service, as diners consistently rave about it. When it comes to food, brunch items are the top favourites. The Common Man's Breakfast is a hearty dish that includes eggs, sausages, and a salad. Their Organic Eggs Benedict and the flavourful Cuban sandwich are popular choices too. The servings are generous so you can share them with a friend. And if you're just in the mood for coffee, try their churros for a sweet treat. Evolve MMA (Kinex) is also a short walk away, perfect for Evolve warriors who need a pick-me-up after Boxing or Muay Thai.
Train At Evolve MMA. Unleash Your Inner Warrior Today
In addition to their highly experienced team of trainers, Evolve MMA offers a wide range of martial art packages with classes taught by World Champions across all major disciplines, including Muay Thai, Boxing, Brazilian Jiu-Jitsu, Wrestling, Submission Grappling, MMA and more. Our classes cater to all age groups, genders, skills and fitness levels, so even beginners can try it out. So work hard and play hard – all at Evolve MMA. Contact us for a free trial to begin your warrior lifestyle today.
Book your complimentary trial class with our World Champions below!
If you have any other questions regarding Evolve MMA and the programs we offer, you can get in touch with our membership executives at the following locations:
Evolve MMA (Far East Square)
26 China Street
Far East Square #01-01
Singapore 049568
Phone: (65) 6536 4525
Evolve MMA (Orchard Central)
181 Orchard Road
#06-01 Orchard Central
Singapore 238896
Phone: (65) 6536 4556
Evolve MMA (KINEX)
11 Tanjong Katong Road
#02-52 KINEX
Singapore 437157
Phone: (65) 6288 2293
Evolve MMA (Clarke Quay Central)
6 Eu Tong Sen Street
#04-18 Clarke Quay Central
Singapore 059817
Phone: (65) 6226 2150
Evolve MMA (Star Vista)
1 Vista Exchange Green
#02-26A The Star Vista
Singapore 138617
Phone: (65) 6539 9590