It is estimated that one in every ten Singaporeans suffer from some form of anxiety or depressive disorder. And while this figure is slightly lower than the typical range of 12-15% found worldwide, it's clear that anxiety and fear is still a significant problem in today's society.
Fear and anxiety can disrupt lives in many ways. Individuals might be overly concerned about money, health, family, or work, or they might even experience problems when trying to fall asleep, attempting to concentrate on a task, or just not being able to relax. However, while anxiety can affect these circumstances now, it also can lead to follow-through consequences as a result of poor decision making and an inability to handle fear.
And that's only the start.
The anxiety and fear that we sometimes feel during social situations can be hugely influential in the way we manage our day-to-day lives. Have you ever said no to an opportunity that would have been beneficial for you?
Rather than shying away from situations such as public speaking, wouldn't it be nice to take the stage and confidently express yourself?
Unfortunately, many who experience anxiety believe that they can never improve at handling fear. These people might think that it is in their nature to falter when doubt arises, but they couldn't be more wrong.
All around the world, there are many thousands of people who are training Brazilian Jiu-Jitsu and reporting on the mental and physical benefits that the martial art has provided them.
Those who once lacked confidence are now prepared to take on all situations. They soon realize there is no need to panic, and would rather calmly dissect the problem and discover an appropriate solution. Moreover, instead of avoiding social environments because they were worried about meeting new people, what people think of them, or almost anything else, there are now many people who are equipped with significant improvements to their social skills all because of Brazilian Jiu-Jitsu (BJJ).
How Exactly Does Brazilian Jiu-Jitsu Help You Overcome Fear And Anxiety?
BJJ Helps You Practice Handling Anxiety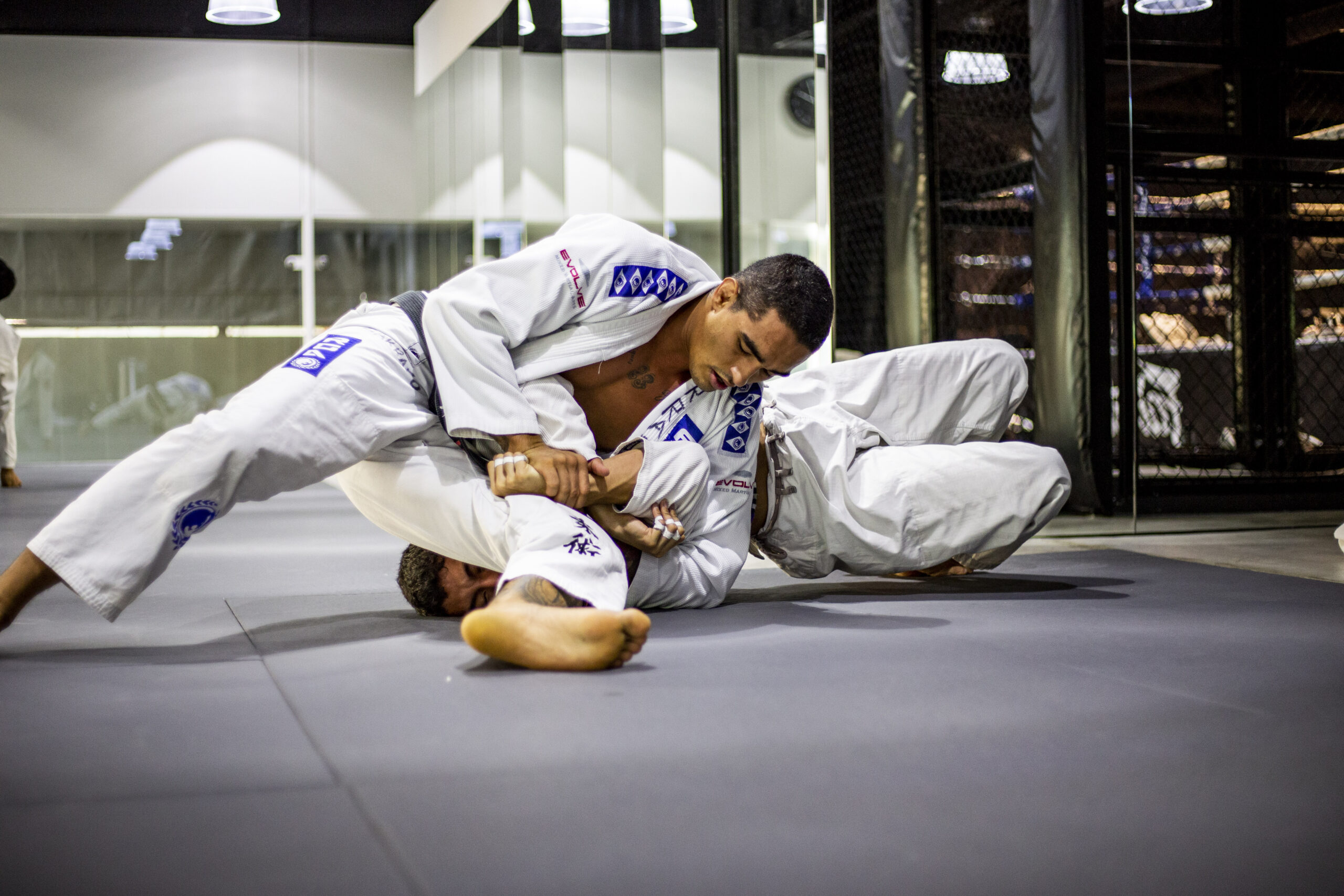 We've said it before, and we'll repeat it. The hardest part about Brazilian Jiu-Jitsu (or any new activity, for that matter), is walking through the doors and attending your first class.
Typically, the human mind is flooded with all sorts of thoughts when we are approaching something new. What will it be like? How many people will be in the class? Will someone laugh if I make a mistake? However, none of those questions honestly matter. What matters is beginning.
It's all about overcoming the fear and anxiety before your first class and walking onto those mats. If you can do this, you're already on your way to tackling fear and anxiety.
The winners aren't the people who are winning gold medals in competitions and mastering the fanciest techniques. No, the real winners are those who are brave enough to take that first class. Beginning a new activity or hobby means much more than just the activity itself; it reflects a desire to change your life.
BJJ Teaches You To Accept Anxiety
Once you're in your first class, your mind will start racing again!
You will see others practice moves and techniques that they have been working on for years at a time, and you'll be asked to step in and learn these techniques, as well. Crazy, you think! However, by participating, you are pushing your fears and anxiety to the side so that you can learn something new and continue to grow.
Every time you see an experienced teammate manage a handstand or unbelievable technique without even having to think twice, you're actually learning how to deal with anxiety and fear. Instead of thinking 'Oh no, I can't do that!', you will learn to start believing in yourself.
Fear is a normal feeling. There's no escaping fear. But by accepting fear, you'll soon start thinking 'Let's try this,' rather than trying to avoid challenges.
Through all of this, of course, you'll be guided by instructors and teammates who are all oozing positivity – they've done this many times before and know how to walk you through the pathway. Also, one day, you might be the one teaching the newbies!
BJJ Grows Your Confidence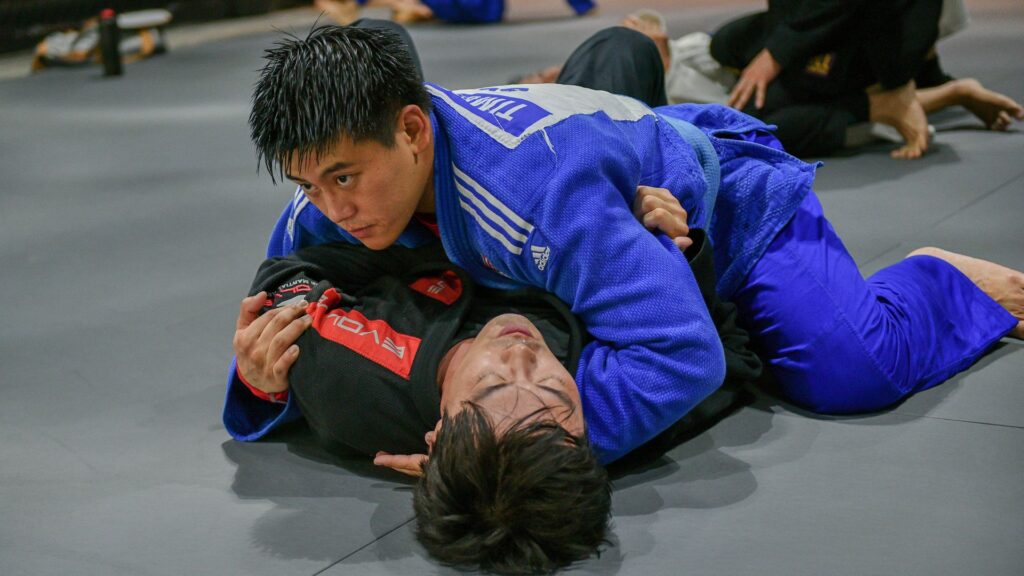 Those who train BJJ can't remember the exact time that their confidence and ability to handle fear and anxiety improved. It's not a switch that can be turned on. Instead, Brazilian Jiu-Jitsu provides passive growth and development that come as a bonus factor on top of all of the self-defense techniques you are learning.
The more frequently you train, the faster your skills develop. And the more your abilities grow, so does your confidence. That's not just your confidence in executing Brazilian Jiu-Jitsu moves, either. You'll see massive improvements in your day-to-day confidence through all walks of life, whether it be at work, in social environments, dealing with friends and family, or doing those things you've always wanted to do!
How? Well, if you can overcome the fear and anxiety of attending your first BJJ class, and frequently come back and learn new moves and techniques, you're proving to yourself that you can achieve far greater things than you may ever have imagined. Naturally, your abilities will improve. And it might not be very long before you are the most inexperienced teammate on the mats during class.
Your new levels of confidence, together with improved physical attributes and advanced problem-solving skills, will see you calmly approach what situations you previously might have thought of as tricky.
Rather than thinking of all the worst outcomes, BJJ teaches you to accept fear and anxiety. You'll realize that it's normal to think of the worst outcomes and their likelihood. Because by doing so, you'll quickly appreciate that the chances of the worst outcome are very, very slim, and the most likely outcome can often be a very positive one.
BJJ is more than just a martial art. It can sometimes be a significant, therapeutic activity that helps to develop healthier and more confident individuals all over the world.
If you are interested in learning firsthand how BJJ can help you overcome fear and anxiety, come on down for a trial class.
Book your complimentary trial class with our World Champions below!
If you have any other questions regarding Evolve MMA and the programs we offer, you can get in touch with our membership executives at the following locations:
Evolve MMA (Far East Square)
26 China Street
Far East Square #01-01
Singapore 049568
Phone: (65) 6536 4525
Evolve MMA (Orchard Central)
181 Orchard Road
#06-01 Orchard Central
Singapore 238896
Phone: (65) 6536 4556
Evolve MMA (KINEX)
11 Tanjong Katong Road
#02-52 KINEX
Singapore 437157
Phone: (65) 6288 2293
Evolve MMA (Clarke Quay Central)
6 Eu Tong Sen Street
#04-18 Clarke Quay Central
Singapore 059817
Phone: (65) 6226 2150