Constance Lien has always had a competitive edge to her. A former competitive swimmer, Constance started training Brazilian Jiu-Jitsu (BJJ) as a way to keep fit. Little did she know, she would start competing and become Singapore's first ever Asian Games medalist in Jiu-Jitsu, winning a silver medalist at the 2018 Asian Games.
"I actually started training martial arts because I decided to take a break from swimming," Constance explains. "I wanted to actually still keep fit and healthy. I was always very intrigued by the concept of martial arts and the lessons that come from doing it."
When looking for a place to being her martial arts journey, Constance stumbled upon Evolve MMA, Asia's top martial arts academy.
"The first name that popped up on Google was Evolve MMA," Constance says. "I decided to sign up for a free trial class, and that's how I decided to enroll with Evolve MMA."
From the get-go, Constance fell in love with martial arts. And as time passed, her passion only grew.
As is the case with people who train martial arts like BJJ, Constance has started to enjoy many of the benefits that come with training regularly. She finds herself in the best shape of her life, her confidence has improved, and she's better able to deal with stress when life throws obstacles her way.
"Martial arts has certainly helped me cope with stress from school because it is my outlet to not think about anything, basically relax, and do what I love doing, which is Brazilian Jiu-Jitsu," Constance adds. "The professors here actually helped me to realize that I'm actually good at Brazilian Jiu-Jitsu and they actually helped a lot with my skills and my training. I'm very inspired and I love how each and every one of them has a story behind their success as champions. They continue to inspire me every day."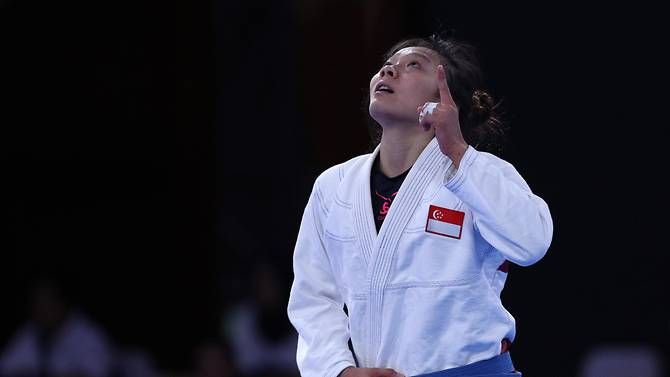 Of course, having world-class instructors and facilities to use is only half the equation when it comes to getting all of the benefits of training BJJ. The student also has to work hard on the mat and remain dedicated to her training. That is one of the areas Constance excels and all of her instructors have noticed her work ethic over the years.
"Constance is a good student, she works very hard and she's a very good competitor," two-time BJJ World Champion and Evolve Instructor Teco Shinzato explains. "She's very technical and always practicing before and after class. You have no idea how much she trains."
BJJ World Champion and Evolve Instructor Leandro Issa also had a lot of good things to say about Constance's evolution as a martial artist.
"Constance started Brazilian Jiu-Jitsu with Evolve," the BJJ World Champion says. "You can see that she fell in love with Brazilian Jiu-Jitsu. She trains really hard every day she is on the mat. One thing that some people say is that Constance is talented, that she is good because she's talented, but I don't believe that. People don't see how hard she trains."
Now 19, Constance is currently taking early childhood studies at Temasek Poly, and she plans to compete at many more BJJ tournaments in the future. The improved problem-solving skills, lower stress levels, and improved ability to concentrate that come with BJJ training make it easier for her to manage her busy schedule.
Constance has grown so much as a person, all those around her outside the gym have also noticed a difference.
"I used to be an ex-national swimmer," Constance's mom, Yuen Shuang Ching says. "When I compare myself to her, I would say she is even more dedicated than I was and she is the first athlete that I know who is so full of passion. She even goes to the extent of managing her diet. After she took up BJJ, her confidence is much better than before. She seems to be in control of everything."
With three years of BJJ training under her belt, Constance has had lots of memorable experiences on the mat and she's learned from each one of them. Competing at the Asian Games and getting her blue belt are two of her favorite ones.
"Entering the Asian Games, there was a lot going through my mind," Constance recalls. "I'm just really blessed to have attained a silver medal. I'm just really thankful for all my professors that have really helped me, and to my family and training partners."
Learning Brazilian Jiu-Jitsu comes with many benefits that will improve your life. One day, you're checking out an introductory class, and you're competing internationally a few years later. Ironically, Constance's instructors are not even surprised by her remarkable accomplishments. It's something they've expected all along.
"For me, it is not a surprise," Teco adds. "I am an instructor and I train with her, I teach her. I knew that she can do a good job."
It's never too late to start reaping the benefits of BJJ training. Anyone, regardless of age or fitness level, can benefit from Brazilian Jiu-Jitsu.
"I want my friends to know that anything is possible if they put their mind to it and to never give up on their dreams," Constance advises.
If you want to unleash your greatness and become the best version of yourself, book a complimentary trial class with a World Champion at Evolve MMA!
If you have any other questions regarding Evolve MMA and the programs we offer, you can get in touch with our membership executives at the following locations:
Evolve MMA (Far East Square)
26 China Street
Far East Square #01-01
Singapore 049568
Phone: (65) 6536 4525
Evolve MMA (Orchard Central)
181 Orchard Road
#06-01 Orchard Central
Singapore 238896
Phone: (65) 6536 4556
Evolve MMA (ONE KM)
11 Tanjong Katong Road
#02-52 ONE KM
Singapore 437157
Phone: (65) 6288 2293
Evolve MMA (PoMo Mall)
#03-11 PoMo Mall
1 Selegie Road
Singapore 188306
Phone: (65) 6337 0082