One of the most captivating Netflix shows we've seen this year is the South Korean reality competition, Physical: 100. Physical: 100 is a survival show that premiered in January 2023 and reached its conclusion recently.
The show's basic premise is to search for the "Perfect Physique" by gathering one hundred competitors from various sports and disciplines and pitting them against each other in numerous individual and team challenges to see who comes out on top. Think of the epic production value of Squid Game combined with the crazy athletic challenges of American Gladiators, and you've got Physical: 100 in a nutshell. The winner of the said competition gets to win a handsome cash prize and the distinction of being the best competitor of them all.
The legendary Judoka and MMA fighter Choo Sung-hoon is included in the show's elite list of competitors. Today, we'll discuss his background and credentials. We'll also go into detail as to why he is widely famous in South Korea, Japan, and many countries worldwide.
Choo Sung-Hoon, The Athlete
Choo Sung-hoon, also known as Yoshihiro "Sexyama" Akiyama, is a world-renowned combat sports athlete and celebrity. He is a Korean-born Japanese with a large following in both countries, even before his popular MMA run. He holds a 3rd Dan Black Belt in Judo and is also knowledgeable in wrestling, boxing, and kickboxing.
An amazing Judoka with fantastic clinching skills, he has won many high-profile tournaments including the 2001 Asian Championships and 2002 Asian Games. These are impressive feats, as Asia has incredible grapplers and has been a dominant force worldwide in Judo.
His MMA career is also the stuff of legends. Choo won the K-1 HERO's Light Heavyweight Grand Prix Tournament Championship in 2006. He is also known for his successful stint in the Ultimate Fighting Championship (UFC), fighting big names like Alan Belcher, Chris Leben, Michael Bisping, Vitor Belfort, and Jake Shields.
He signed with ONE Championship in 2019 at over 40 years old. He has fought three times in the promotion since and defeated former champion Shinya Aoki in 2022. He won the Performance of the Night bonus for that showing.
Choo Sung-Hoon, The Celebrity
His achievements as a sportsman are vast, to say the least. The crazy thing about Choo Sung-hoon is that he is not only an accomplished athlete but a celebrity as well. He is married to Shiho Yano, a Japanese fashion model.
Choo and his daughter Choo Sarang appeared in the successful variety show, The Return of Superman. The father-daughter pair became one of the show's main highlights and definitely made an impression on the audience. He has collaborated with many idols, celebrities, and athletes in both Japan and South Korea for years.
Seeing Choo Sung-hoon as a guest in Japanese and South Korean variety shows is always a treat. In this video, he proudly flexes his singing chops and delivers a performance so good you'd never think he fights in the cage.
Choo Sung-hoon, The Family Man
It is pretty apparent that Choo Sung-hoon is a proud father and husband. Do a quick search on YouTube, and you'll see many clips of Choo hanging out with his family and friends. It may be partly because of his age, but Choo has this quiet and professional demeanor about him. Even if we disregard his MMA career, you can't help but respect who he is as a man.
Sexyama And His Appeal
If you are new to Choo Sung-hoon, you might be wondering what the big fuss is about. Yes, he is a very successful fighter and celebrity, but what else is there to him?
We need to understand that this is a guy that has been in the game for literally decades. Take note that he is 46 years old. Most men in that age range won't even attempt to try martial arts, let alone compete in the highest levels of MMA. His longevity in the sport, coupled with his extreme physique, talent, and charisma, make Choo Sung-hoon a once-in-a-generation talent, that's for sure.
As mentioned above, Choo is a loving father and family man on top of all his accomplishments. He tries his best to be a positive role model to his peers, and you'll always see him smiling whenever he is around his supporters.
An Age-Defying MMA Monster
Let's go back to discussing Choo Sung-hoon, the MMA fighter. We encourage you to watch this highlight above. Watch how he uses his striking to set up the clinch. He likes to initiate his attacks with punches and is unafraid of slugging it out with the best in the world. Win, lose, or draw, you can expect a lot of fireworks whenever Choo is slated to fight.
Conclusion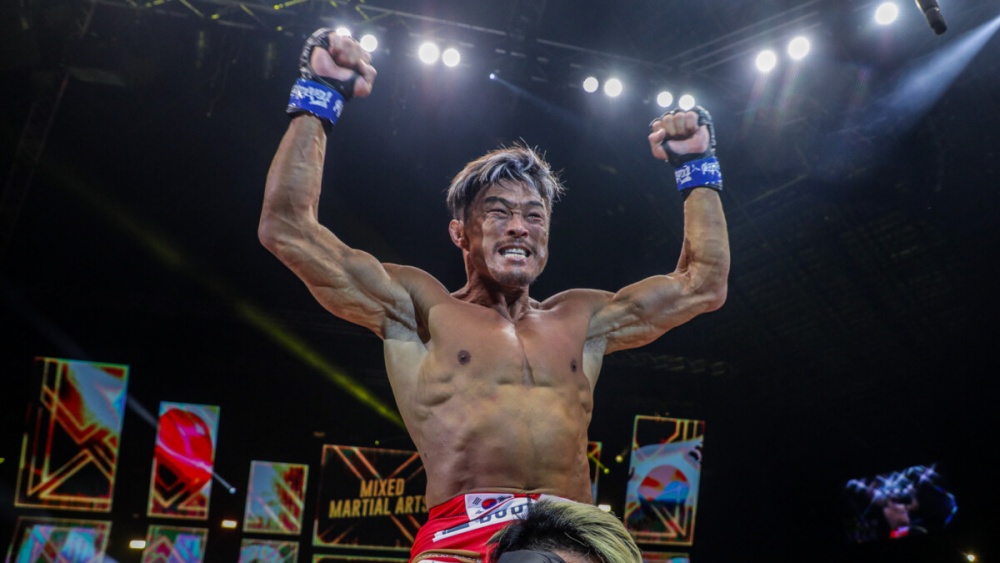 Even at the ripe age of 46, Choo Sung-hoon still looks and acts like the superstar that he is. Without spoiling the show's results, his performance in Physical: 100 was simply incredible and inspiring. He exemplified great leadership, did not complain and stood toe to toe with the younger competitors.
This is a testament to his continuous desire to improve as an athlete, even at an advanced age. Being a lifelong martial artist undoubtedly helped calm his mind when things were difficult. His years of studying, drilling, sparring, and competing in various martial arts helped shape his body and mind to endure hardships and tactically find solutions to problems. He was in the presence of many young and top-level athletes, but you can tell that something about him stood out. His quiet confidence was as loud as some of the most vocal competitors on the show – he knew it, and they knew it.
Physical: 100 is one of those shows that can create breakout stars in an instant. And with the whole world watching, it is pretty much guaranteed that the lives of these competitors will never be the same. As for Choo Sung-hoon, it only made his star shine brighter than ever before. There is only one Sexyama, and we can't wait for his return inside the ONE Championship cage!
Please check out Physical: 100 on Netflix if you haven't. It is a certified banger of a show, and you'll be entertained from start to finish.
You may also like: