Knowing how to move inside a boxing ring is as important as knowing how to punch, block, or parry punches. Your feet do more than simply keep you upright as you dance around opponents. They are one of your most important offensive and defensive tools since they can be used to create space to avoid attacks or to close the distance so that you can land strikes.
Good footwork involves more than simply knowing how to move forward, backward, or laterally. Pivoting is one of the most overlooked aspects of footwork, yet it's arguably the most crucial part.
Pivoting is not as glamorous as knocking out an opponent with a hook, but it's one of the things that put you in a position to land clean punches in the first place. Pivoting might not look as cool as slipping or ducking under a punch, but it's an effective way to evade strikes and create uncomfortable angles for your opponent.
Benefits Of Pivoting In Boxing
Some of the benefits of making pivoting part of your footwork inside the ring include:
1) Gives You A Way To Escape Uncomfortable Situations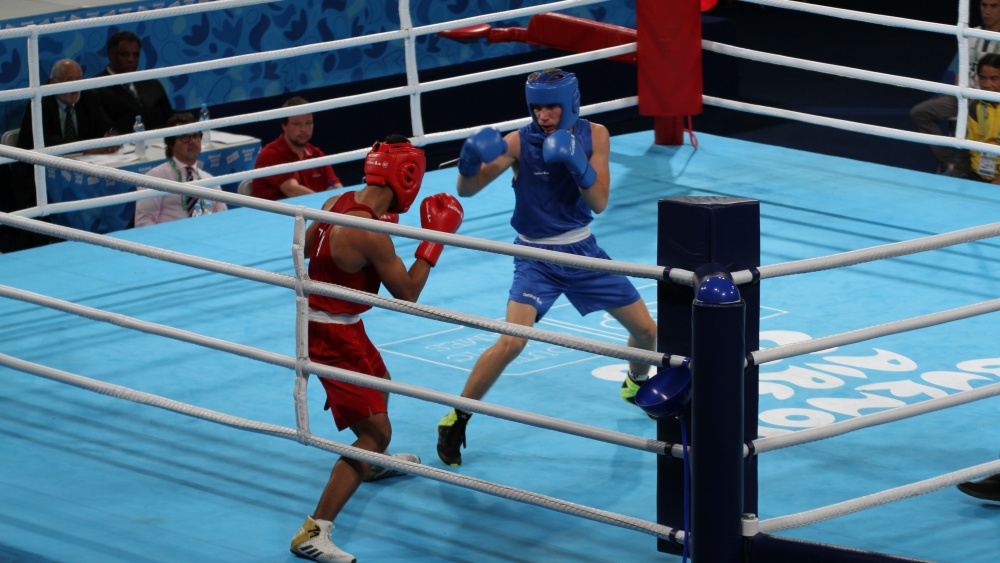 Spend enough time inside a boxing ring, and you'll eventually run into boxers who try to force you to get into close-range exchanges. An opponent forcing you to fight up close can go bad for you quickly, especially if they're stronger and better at inside fighting.
Pivoting is a handy tool for dealing with such people. It allows you to negate their aggression by moving away from their line of attack without having to retreat. It also puts you in a position to land heavy punches while your opponent isn't in a position to fire back at you. Every hard punch you land on an aggressive opponent makes them more hesitant to crowd you.
2) It Allows You To Cut Off Retreating Fighters
Some boxers are good at fighting off their back foot, which can be a problem if you don't know how to cut off the ring. Floyd Mayweather is an excellent example of how effective fighting off your back foot and countering can be.
Many boxers try to catch retreating opponents by cutting off the ring, but that can leave you vulnerable to their counters. A better approach when facing a boxer who loves to retreat is to take the center of the ring and use your pivots to keep them in front of you as they dance around the ring. That also uses up less energy than chasing them around the ring. You also look good to the judges since you get to control the center of the ring.
3) It Makes You More Efficient When Fighting Off Your Back Foot
Pivoting makes it easier for you to control the pace of the action when fighting off your back foot. It makes it extremely difficult for opponents to pin you against the ring. You simply pivot anytime you feel the ropes against your back, and you're back in open space. Keep your hands up and be ready to duck under incoming punches as you pivot, so you don't get caught with punches as your opponent tries to pin you against the ropes.
How To Pivot In Boxing
Let's take a look at the mechanics behind pivoting inside the ring:
Left Pivot
To pivot to the left from an orthodox stance, push off on your rear foot (right) and spin off the ball of your lead foot. The goal of this movement is to shift your baseline, the imaginary straight line that runs from the big toe of your lead foot to the heel of your rear foot.
You want his line to move through 45 degrees as you pivot to your left. Your front foot stays in place as it rotates while your rear foot moves across to the left, allowing you to maintain a proper boxing stance.
All elements of your fighting stance and the fundamental rules of footwork should be maintained during your spin. This includes not transferring your weight forward or crossing your legs during the movement.
Right Pivot
From an orthodox stance, spin your lead foot on the spot and lift your rear foot as you move to the right. Just as is the case with the left pivot, you want to shift your baseline by 45 degrees. Try to keep your weight center or toward your rear leg as you spin.
A pivot to the right or left can be followed up with a short left or right hook. You should also be ready to duck under hooks during your pivot since that's your opponent's primary weapon during the transition. The pivot gets you off the centerline, so you don't have to worry about straight punches as you spin.
Improving Your Ability To Pivot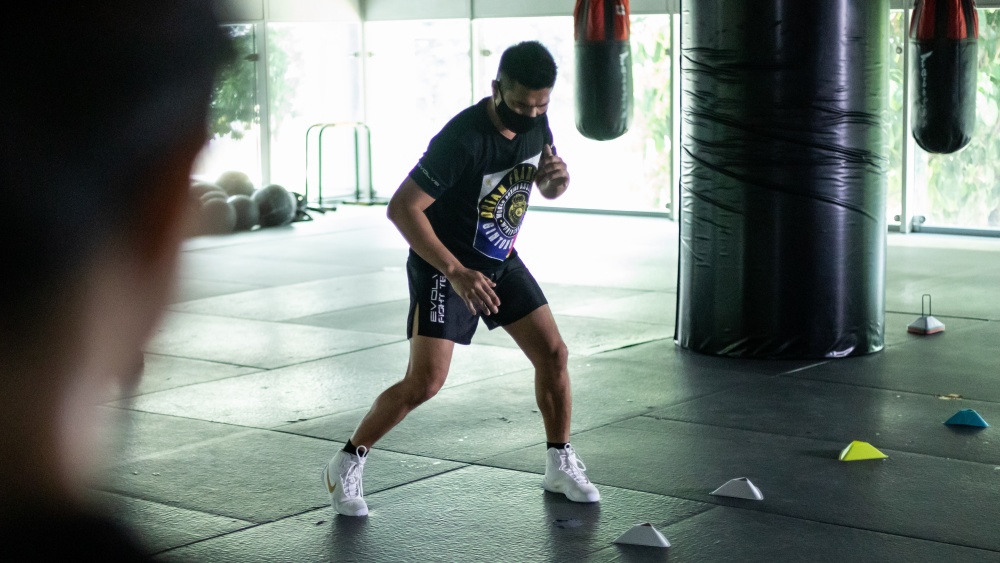 Some of the things boxers can do to improve their pivoting skills include:
Ladder drills

: These are great for improving your foot coordination.

Jumping rope

: Jumping rope is another effective way to improve your pivoting and overall footwork. It teaches you how to move on your toes and heels, and it also increases your endurance and stamina.

Focus mitt drills

: Focus mitt drills allow you to mimic the movements you use inside a boxing ring. You get to work on your punches while moving around the ring and pivoting to create better angles.

Slip cord drills

: These drills are mainly used to improve bobbing, weaving, and slipping skills, but it also works on your movement. Pivot inward and outward when performing this drill to improve your pivoting.

Sparring

: Nothing hones your boxing skills like sparring does. You get to test out all you've learned against a resisting opponent. It's a chance to practice how to use your pivots as offensive and defensive tools/
Get More Boxing Tips
Learning how to pivot effective improves your offensive and defensive capabilities inside a boxing ring. Want more boxing tips? Attend one of Evolve's complimentary introductory classes for more training tips.
Book your complimentary trial class with our World Champions below!
If you have any other questions regarding Evolve MMA and the programs we offer, you can get in touch with our membership executives at the following locations:
Evolve MMA (Far East Square)
26 China Street
Far East Square #01-01
Singapore 049568
Phone: (65) 6536 4525
Evolve MMA (Orchard Central)
181 Orchard Road
#06-01 Orchard Central
Singapore 238896
Phone: (65) 6536 4556
Evolve MMA (KINEX)
11 Tanjong Katong Road
#02-52 KINEX
Singapore 437157
Phone: (65) 6288 2293
Evolve MMA (Clarke Quay Central)
6 Eu Tong Sen Street
#04-18 Clarke Quay Central
Singapore 059817
Phone: (65) 6226 2150
Evolve MMA (Star Vista)
1 Vista Exchange Green
#02-26A The Star Vista
Singapore 138617
Phone: (65) 6539 9590