Time stood still once again for the boxing world as fans witnessed yet another amazing spectacle at the T-Mobile Arena in Las Vegas.
The biggest fight of the year went down on Saturday, April 22nd, between undefeated 135-pounders Gervonta "Tank" Davis and Ryan "KingRy" Garcia, and the highly anticipated showdown did not disappoint.
It was a fight the entire boxing industry was buzzing about since it was announced a few months ago, and one that certainly lived up to its billing. Gervonta Davis vs Ryan Garcia was full of action, drama, and excitement, which only the biggest fights can deliver.
In the end, it was Davis who emerged victorious behind a dominant performance, knocking Garcia down once in the second round with a counter left, and then for good in the seventh round with a shovel hook to the body.
The fight was stopped at the 1:44 mark, with Davis adding another knockout victory to his unblemished record, and securing bragging rights as "The Face of Boxing" in the modern day. It was a very interesting clash of styles, to say the least, and there's a lot to unpack here. But let's analyze what went down between the two lightweights and see what we can learn.
Here are three things we learned from watching Gervonta Davis vs Ryan Garcia.
1) Precision Beats Power, Timing Beats Speed
Conor McGregor said it best: "Precision beats power, timing beats speed." But Davis gave this adage proof of life.
Judging by Garcia's belittling of Davis' average punch output, which he says was the lowest in the division, it appears "KingRy" planned on outworking "Tank." Davis countered that he prioritized accuracy above everything else, and it showed in their fight.
Davis was pinpoint with his shots, and conservative with his offense but connected when it mattered. More importantly, Davis' defense was exceptional, as he nullified Garcia's speed with superior footwork and head movement. As Garcia grew impatient with Davis' elusiveness early, the Mexican-American star pressed the action and threw an ill-advised lead left hook, one that "Tank" countered with a left of his own that sent "KingRy" crashing to the canvas on the seat of his pants.
That marked only the second official knockdown of Garcia's career, and it had the T-Mobile Arena crowd on their feet.
The final knockdown came in the seventh round when Garcia threw a right hook off the break and Davis countered with a shot to the liver, sending his opponent backward. Garcia tried to power through the pain, but eventually took a knee and could not beat the 10-count.
Where Garcia tried to beat Davis with sheer athleticism and punch output, Davis used his cunning and patience to pick his spots and throw punches that did real damage.
2) Experience Is A Huge Advantage
Davis came into this fight 28-0, while Garcia boasted of a 22-0 slate. And while they were only separated by six fights on their records, the quality of opposition Davis had faced in his career up to this point gave him a distinct advantage in experience – and it showed. Davis exercised patience and resolve, staying calm in the face of adversity, even as Garcia landed a few stinging shots early. "Tank" said in the post-fight presser that he consciously avoided overcommitting on his attacks because he respected Garcia's speed and knockout ability.
On the other hand, Garcia admitted to getting "bored" in the middle of the fight and rushed the action, proving his inexperience. "KingRy" tried too hard to make a fight happen, and ended up leaving himself vulnerable in the process. Fans and pundits alike wondered why Garcia gave up his height and reach advantage when it was working so well for him.
It was certainly the wrong strategy and proved disastrous as Davis used his experience to bait Garcia into traps, capitalizing on the 24-year-old's mistakes and making him pay for his recklessness.
3) It's Not The End After A Loss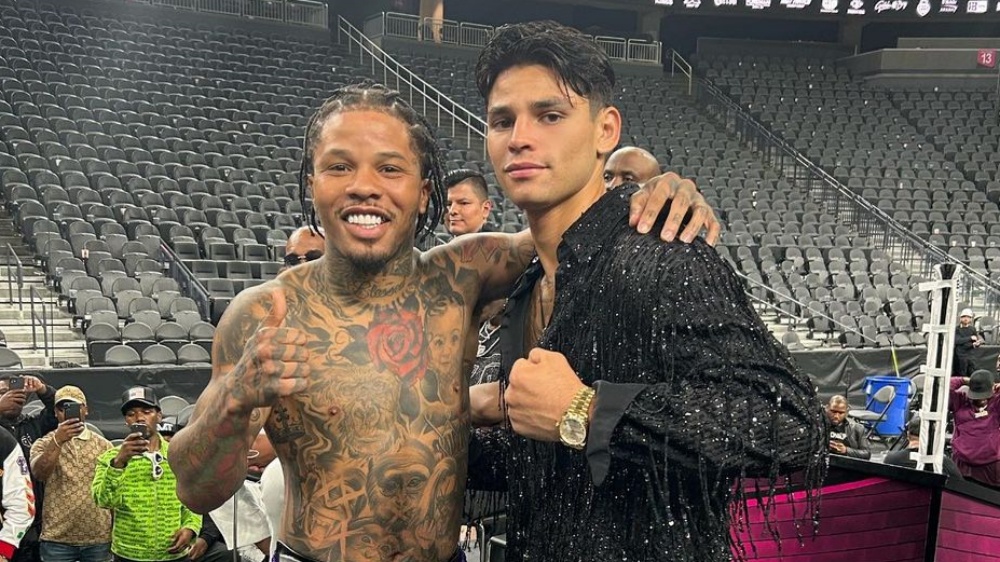 Despite Garcia's defeat, the social media sensation gave a great account of himself and showed flashes of brilliance, particularly with his signature speed and left hook. When Garcia is on point, he's on point. His particular style didn't work against Davis, but a few tweaks here and there, and Garcia should reemerge as his formidable self once again.
There's no denying Garcia is an incredible talent and has a very bright future ahead of him, if he can learn from this experience and grow as a fighter.Garcia has announced a permanent move to the 140-pound division and has expressed his intent to win a world title at junior welterweight. There are surely incredible matchups available for "KingRy" here, including fights with Hector Luis Garcia and Joe Cordina, both holders of alphabet titles.
As for Davis, the sky's the limit. He may be too small to move to 140 at the moment, which is why he was unwilling to meet Garcia anywhere higher than 135. Another superfight lurks on the horizon, as Davis could end up fighting the winner between Vasyl Lomachenko and Devin Haney, which will happen on May 20.
You may also like:
4 Major Boxing Belts And Organizations Explained: WBA, WBC, IBF, WBO & More