We all know that exercise has many benefits. First, you get physically fit and have more energy with a regular workout routine. Exercise is not only good for your body, but also for your mood. Exercising improves mood by releasing endorphins (feel-good chemicals) in your brain, which helps you think of new creative ideas and generally have a more positive outlook. Just look at this blog article to see what Benjamin Kheng, a well-known Singapore pop star, says about how Muay Thai helped improve his mood disorder!
So while exercise is one of the best things you can do for yourself, we also know how hard it is to stay motivated – especially if you have a sedentary desk job! So If you're looking for a place to get your heart racing, here are three of our favorite places to work up a sweat in Singapore.
1) Mixed Martial Arts Gyms In Singapore
Ever heard of boxing, Muay Thai, or Brazilian Jiu-Jitsu (BJJ)? No? You might have seen stunt doubles in action flicks displaying fantastic, stunning martial art skills. While these martial arts have distinct differences in how they are practiced, they all share the same positive outcomes. By taking up martial arts in Singapore, you strengthen your body and equip yourself with self-defense skills. And that can come in handy in challenging situations!
The structured martial art classes will gradually help you build strength and speed so you work up a sweat while learning something new. Besides, when you are training hard to the beat of pumping music and your trainer's instructions in a martial arts gym, your mind is focused only on what your body can do. That's a great way to vent the stress of a busy workday! You may also meet like-minded martial arts practitioners. It can be challenging to form close friendships as an adult, and the workplace is not always the best place to do so. Try going to a martial arts gym in Singapore instead!
2) Indoor Climbing Gyms
Another unconventional place to work up a sweat is indoor climbing gyms in Singapore. These are well-located in air-conditioned malls and usually have different levels depending on your ability. Rock climbing is fun for beginners because it's a great way to work up a sweat. It also helps you build up your strength and stamina, which is especially important if you're still trying to figure out what kind of physical activity works best for you. Finally, rock climbing will teach you to trust yourself while working out and alone on the wall. That's one of the most important skills you can have in any activity!
Like martial arts, rock climbing is also a great way to escape everyday stresses because it requires you to focus entirely on something else. When you're climbing, all of your attention has to be on the task at hand. Furthermore, it's also a great bonding activity because you must coordinate with your friends or family to climb together. You can try Funan Mall, where you can experience various sports activities, including climbing. Besides, it's just a short walking distance away from Evolve MMA (Clarke Quay)!
3) Head To A Club
By that, we don't mean to go clubbing. While you can certainly work up a sweat dancing to loud thumping music in a club, many fitness activities are now popularly held in a club!
For instance, Zouk offers a fun spin class in a studio with its atmosphere recreated to resemble a dance club. Imagine club hits and high-energy dance moves on a bicycle, all in the daylight. For those who miss your youthful clubbing days, a spin class with strobing lights and plenty of hot, sweaty bodies around you might be the solution.
Don't mind working outdoors? Then download the Health Promotion Board app, and look for Glow Stick Party at Raffles Place. This class combines cardio, toning, and plyometric workouts in which everyone can participate regardless of fitness level. Bright and colorful glow sticks are provided, so participants can groove while waving their sticks in the air. It's also a relaxing way to get active rest if you've worked hard at an intense martial arts training session!
Fitter Body, Stronger Mind: Try Martial Arts At Evolve MMA Today!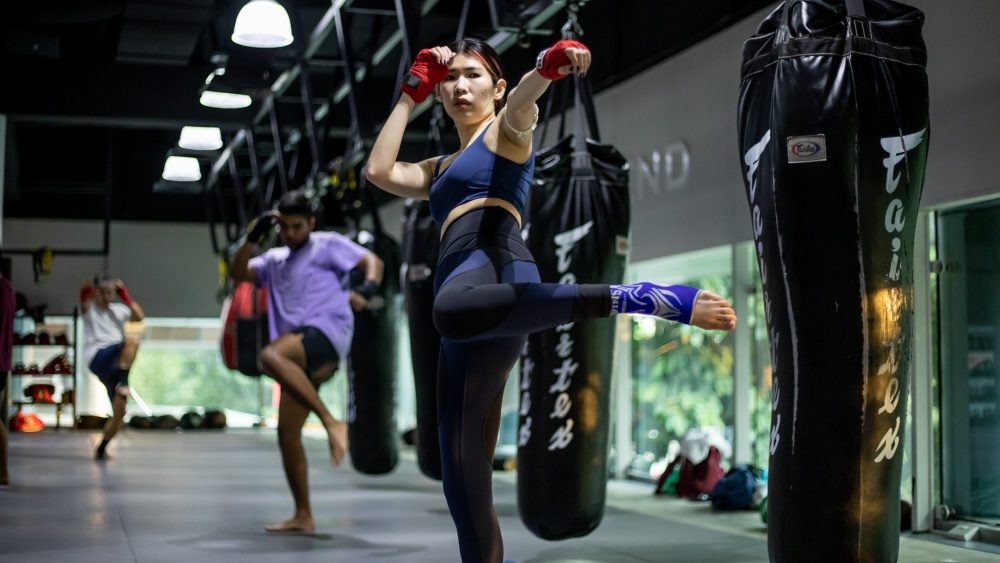 To find an exercise routine that helps you work out a sweat and not get bored, you need to find something that takes you out of your comfort zone and challenges your body in new ways.
You might also wonder how to choose the martial arts you like. As mentioned, different martial arts may emphasize highly specific skills. For instance, BJJ has many grappling techniques, whereas Muay Thai is known for high kicks. So while you can go to a specialized BJJ gym or Muay Thai gym in Singapore, you might miss out on trying other martial arts. It's best to find a mixed martial arts gym like Evolve MMA. Such gyms offer students the chance to try various sports or take mixed martial arts, combining techniques from boxing, BJJ, and Muay Thai.
With world-class facilities and dedicated instructors who are also World Champions in their own sport, Evolve MMA is one of Singapore's top martial arts gyms. So if you want to find a routine that you'll enjoy and stick to, book a trial class, and who knows, you might just find a sport you can do for life.
Book your complimentary trial class with our World Champions below!
If you have any other questions regarding Evolve MMA and the programs we offer, you can get in touch with our membership executives at the following locations:
Evolve MMA (Far East Square)
26 China Street
Far East Square #01-01
Singapore 049568
Phone: (65) 6536 4525
Evolve MMA (Orchard Central)
181 Orchard Road
#06-01 Orchard Central
Singapore 238896
Phone: (65) 6536 4556
Evolve MMA (KINEX)
11 Tanjong Katong Road
#02-52 KINEX
Singapore 437157
Phone: (65) 6288 2293
Evolve MMA (Clarke Quay Central)
6 Eu Tong Sen Street
#04-18 Clarke Quay Central
Singapore 059817
Phone: (65) 6226 2150
Evolve MMA (Star Vista)
1 Vista Exchange Green
#02-26A The Star Vista
Singapore 138617
Phone: (65) 6539 9590