Starting martial arts training can be a life changer for many people. These combat styles offer more than fighting techniques you can use to defend yourself; they provide you with a healthy way of life, one that helps you manage all the stress you have to deal with and turns you into a healthier version of yourself.
Learning a martial art like Brazilian Jiu-Jitsu is a lifelong journey that will enrich other areas of your life.
"Martial arts has given me a lot of balance in my life," Michael explains. "There are a lot of people who have busy lives, who have stressful work lives. When you walk in the doors and hit the mats, you have to be focused on what you're doing in front of you and that has huge therapeutic value in your life. When you have the sort of ability to focus on one thing and have presence of mind, it's almost like meditation."
To get the most out of your martial arts training, it is important that you find a martial arts gym with competent instructors.
"One of the other things that I really like about Evolve is that it has become a destination for top instructors, fighters, legends of the sport. To be exposed to that level of person in the sport is quite a special thing," Michael continues. "I don't know too many other places that can offer that."
As important as it is to have good instructors, it's equally important to find a gym that has a positive, family-friendly atmosphere. You want a well-equipped gym and instructors who don't play favorites. That is another of the things that Michael really likes about training at Evolve MMA. The culture stresses respect and the students look out for each other. Training at a gym like that allows students to grow to their full potential.
"When I moved to Singapore in 2010, there weren't as many BJJ and MMA clubs," Michael adds. "I was obviously doing my research and came across Evolve MMA. I saw the quality of the instructors they had here with huge accomplishments in the sport and professional fighters as well. I showed up for a class and was really impressed with the instruction. I really liked the quality of the gym, the culture of the gym. It seemed like a great environment. It was a no-brainer; I kept coming back. For me, Evolve has a really great community. We spend a lot of time on the mats but at the end of the day, we give each other a handshake and we're friends off the mat. I really appreciate that. I really like that kind of culture and environment. It's a really respectful place."
The positive atmosphere at Evolve MMA has made it possible for Michael to stick to the training since 2010. His reward? He's in better shape than ever, his focus has improved, and he recently earned his BJJ black belt under the tutelage of BJJ World Champion Leandro Issa.
"Earlier this year, I was extremely honored and privileged to get my black belt from Leandro 'Brodinho' Issa, who is my friend and instructor. That represented a lot of hard work that I have put in over many, many years in this sport. It's not really supposed to be about the belt, but there is that great feeling when you feel like I've done something here, that I've accomplished something here."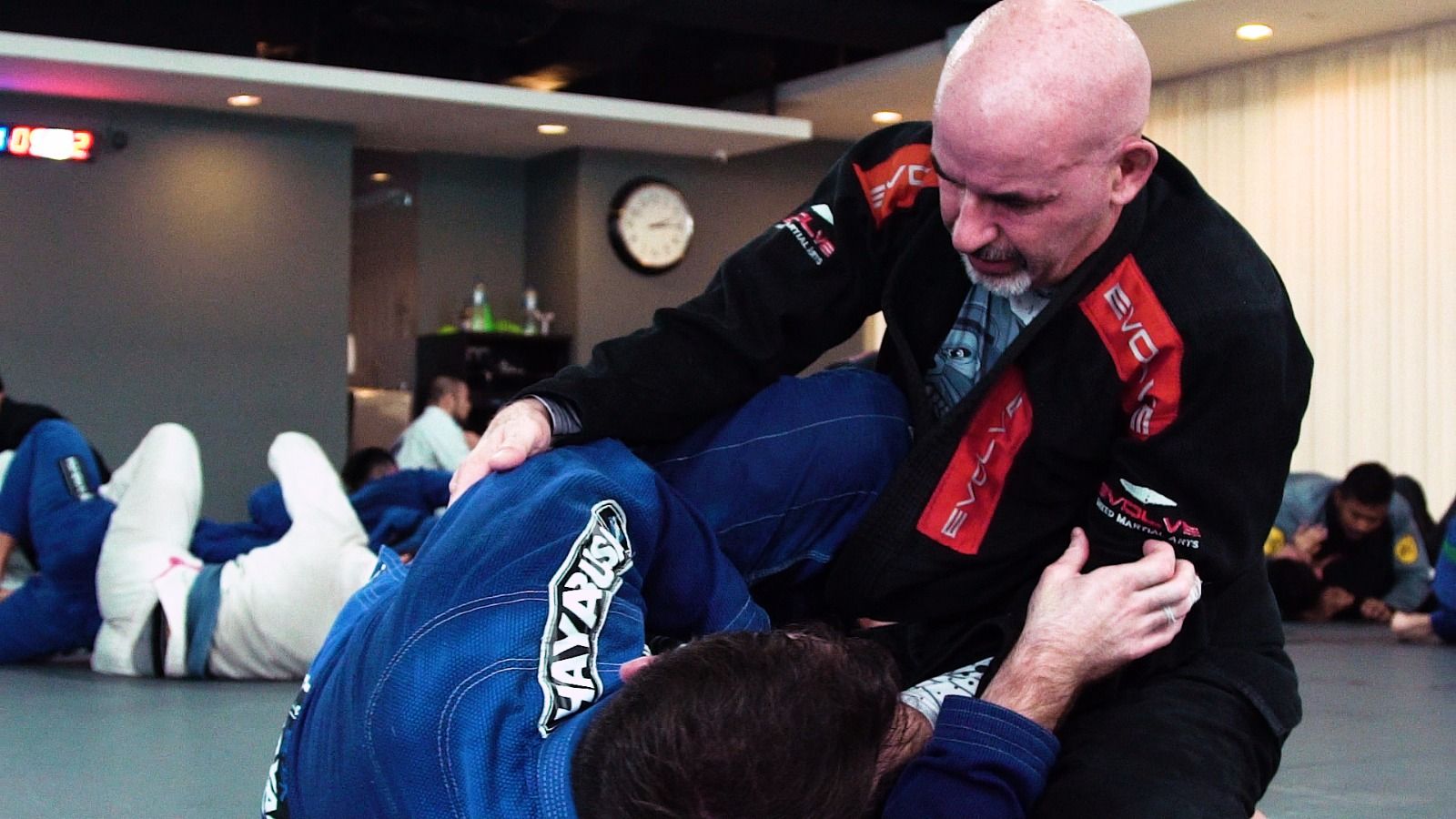 Michael's instructors are impressed with his dedication and growth over the years, and they credit his quick progression through the ranks to his positive attitude and work ethic.
"Since he started [training], we can see he is in much better shape right now," Issa explains. "One thing I've realized is that every time he walks into the academy, he is very happy because he is going to have a good time. He loves to be on the mat; he's very friendly on the mat. He's a very good example for everyone. After a few years of training, right now he is a black belt. It's very good to promote a guy like him."
With over eight years of training under his belt, Michael couldn't be happier with his decision to give Brazilian Jiu-Jitsu a try. For him, the mental benefits of training have been the most influential in his life and have also given him a new perspective on many things.
"What martial arts has given me is a lot of perspective and balance in my life," Michael says. "When you're on the mat and training, BJJ has never been about winning or losing for me. It's about improving, getting better and learning in any situation. There's a saying in BJJ, 'You're either the hammer or the nail.' Some days you're the hammer and some days you're the nail. You learn in both situations."
Now 49, it is safe to say that Michael is fully hooked on BJJ. He plans to continue training and has some advice for those who might be interested in learning Brazilian Jiu-Jitsu.
"When I'm rolling on the mat, it doesn't matter what my job is or what the person I'm facing's life and job is," Michael explains. "Brazilian Jiu-Jitsu is a great leveler. That sense of humility in the sport can carry on into all parts of your life and benefit how you interact with the world."
Brazilian Jiu-Jitsu really is a great leveler. You'll get to meet all sorts of people, many of whom will become lifelong friends, and you'll get a phenomenal workout every time you train. Brazilian Jiu-Jitsu is also one of the most effective martial arts in the world, making it a great way to defend yourself if the need ever arises.
It's never too late to start reaping the benefits of training in BJJ. Anyone, regardless of fitness level, gender or age, can start training.
Ready to become a better version of yourself? Schedule a complimentary introductory BJJ class with Evolve MMA today.
Book your complimentary trial class with our World Champions below!
If you have any other questions regarding Evolve MMA and the programs we offer, you can get in touch with our membership executives at the following locations:
Evolve MMA (Far East Square)
26 China Street
Far East Square #01-01
Singapore 049568
Phone: (65) 6536 4525
Evolve MMA (Orchard Central)
181 Orchard Road
#06-01 Orchard Central
Singapore 238896
Phone: (65) 6536 4556
Evolve MMA (ONE KM)
11 Tanjong Katong Road
#02-52 ONE KM
Singapore 437157
Phone: (65) 6288 2293
Evolve MMA (PoMo Mall)
#03-11 PoMo Mall
1 Selegie Road
Singapore 188306
Phone: (65) 6337 0082