Many legendary figures have shaped the landscape of Brazilian Jiu-Jitsu. Some made their name by winning high-profile tournaments during their competitive careers. Others prefer to teach and have built large championship-level teams. However, only a few have done both. It is very difficult to reach the pinnacle of a sport as fast evolving as BJJ. Building a team of monsters is an entirely different beast of its own as well.
The Mendes brothers – Guilherme and Rafael Mendes, are part of a select few who have successfully transitioned from being world champions to becoming world-caliber coaches. Today, we'll talk about their rise, style, and overall influence on the sport.
Background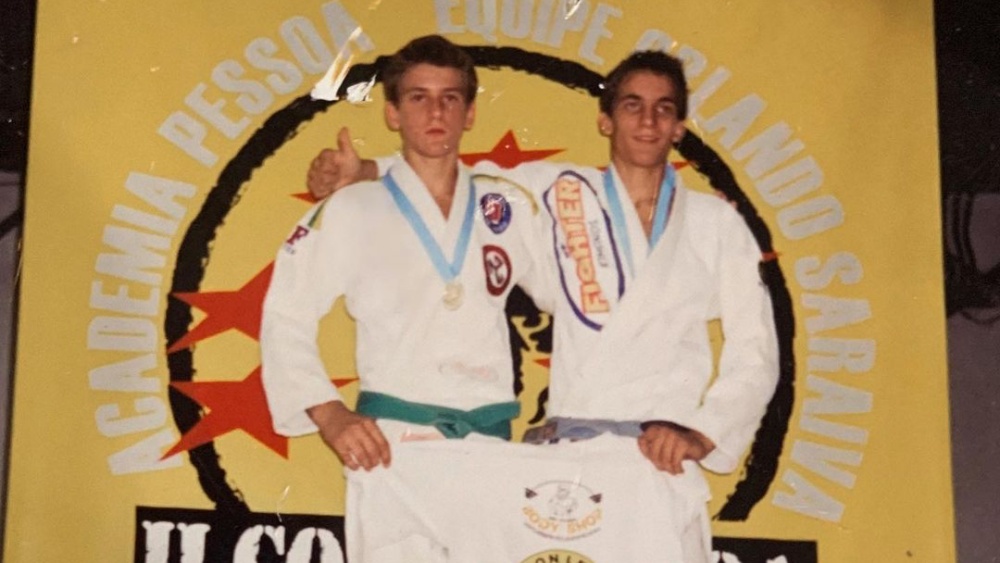 Guilherme (Gui) and Rafael (Rafa) Mendes are Brazilian BJJ black belts under Ramon Lemos. The brothers won the IBJJF Worlds multiple times, with Gui earning gold four times and Rafa bagging six. They were important members of Team Atos Jiu-Jitsu but have since branched out by creating their academy, Art of Jiu-Jitsu. Both are highly proficient in gi and no-gi grappling.
The Mendes brothers are two of the most active competitors of the 2010s. They are famous for their highly technical approach to BJJ and have garnered recognition for winning the most prestigious tournaments from white to black belt.
The brothers started training at a young age. In 2001, their cousin, Thiago Mendes (a BJJ purple belt under Leonardo Santos), encouraged them to train in BJJ. Thiago saw that the brothers had a natural affinity to grappling, so he took them to the academy HQ, where Leonardo Santos and Ramon Lemos taught. Lemos is a key person in their development as athletes. He also became a father figure of sorts as the brother's parents separated during this time.
As they continued their training, more and more people saw their potential. They dominated the scene as colored belts and won most of the important tournaments they competed in. Both received their BJJ black belts in 2008.
As their coach Ramon Lemos changed affiliations, so did Gui and Rafa. After careful consideration, they decided that it was a good decision to move to the United States. They settled in California and continued their training under the Atos banner while creating their academy. Their affiliation with Andre Galvao and the rest of Atos further elevated their games. At the same time, it made their popularity even more prominent as they continued competing in many events across the United States and the rest of the world. In 2010, they announced their official split from Atos.
As mentioned in the introduction, the brothers became very successful competitors and won the IBJJF World Championships multiple times. Rafa also secured two gold medals in the ADCC World Championships. It is curious to note that Gui and Rafa retired relatively young, all things considered. Gui retired in 2015 when he was just 26 years old. Rafa took a little longer, retiring in 2017. This is staggering if you think about it. Both still had years of competition ahead of them, but they decided to move on to other endeavors, one of which included coaching the next generation.
Speaking of coaching, both are excellent in teaching BJJ to people of all ages. Their team, Art of Jiu-Jitsu, is a hotbed for young talent in particular. The Mendes brothers made it a point to focus on the future by investing in their kids' program to build new grappling superstars. They have produced many high-level black belts, including Jonatha Alves, Tainan Dalpra, and Jessa Khan. They were also the former coaches of the Ruotolo brothers, as well as Mikey and Tammi Musumeci.
Technique And Influence
The Mendes brothers were instrumental to the development of BJJ during the 2010s. Their games are heavy on using techniques like 50/50, de la Riva guard, and berimbolo. Rafa prefers to use a floating approach to passing the guard, while Gui likes to crush opponents using pressure.
To truly appreciate the genius of Rafa and Gui Mendes, let's go ahead and watch a couple of their highlight videos. This first video is a nice introduction to Rafa's game. Notice that his passing style is so dynamic that it's almost impossible to predict his plan of attack. He is masterful at taking the back as well. He can take the back from the de la Riva; he can also create scrambling situations where back exposure becomes almost inevitable. Thank you to Takedown Breakdown for the awesome compilation.
This next video highlights the crushing top game of Gui Mendes. It's crazy how someone from a lower weight class can create immense pressure in their matches. In true Mendes fashion, he is also a master of using the berimbolo to expose the back. The last part of the video shows a couple of his finishes using the collar choke. Kudos to TheJiuJitsuLab for creating this video.
A constant theme that you see in their matches includes using angles and movement to overwhelm their opponents. Both of them prefer to keep their foot on the gas, staying on the offensive to dictate the pace of the match. You'll rarely see a match where they don't fight to gain an advantage.
Lots of BJJ athletes openly praise Rafa and Gui for their skills. The Miyao brothers have said that a big part of their games was inspired by the Mendes' and have great respect for them.
Conclusion
The Mendes brothers are true innovators of our sport. Their contributions, both competitive and coaching-wise, are legacies that will last for generations to come. If you are new to Brazilian Jiu-Jitsu, we recommend that you watch videos of the best competitors of the past and present. Doing so will help you understand how the sport has progressed from what it was to what it is today. As their academy name suggests, Jiu-Jitsu is indeed an art that should be enjoyed by people from all walks of life.
You may also like: