The history of Brazilian Jiu-Jitsu is filled with many legendary names. These exemplary competitors have shaped the sport from a purely self-defense art back in the day to the global phenomenon that we now enjoy.
One of these competitors is the one and only Marcelo Garcia. Marcelo is a multiple-time gi and no-gi world champion. He is known for his unique and forward-thinking approach to BJJ, and is the inspiration for many modern competitors that we see today. In this article, we'll discuss how this man rose through the ranks to become one of the best to ever wear the gi.
Background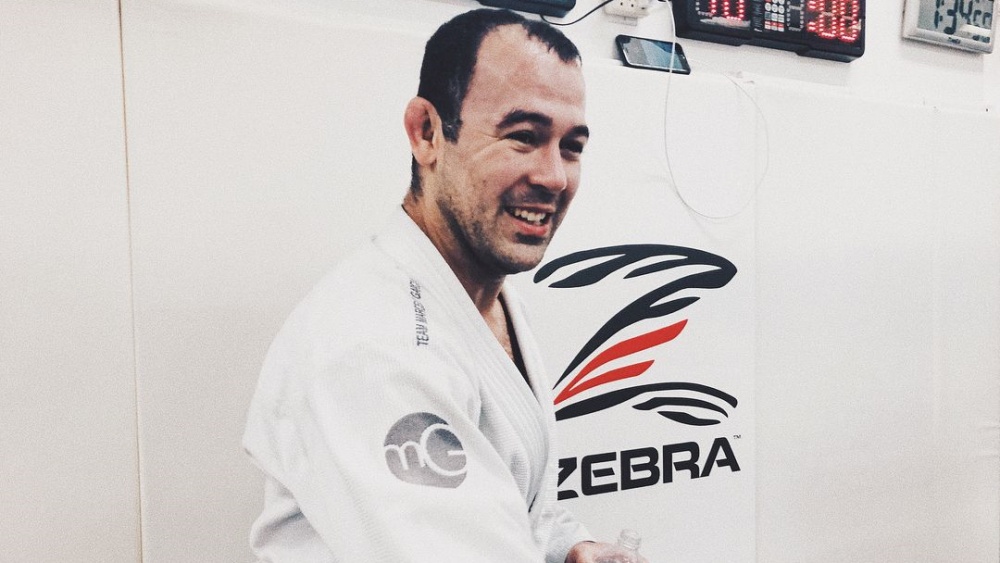 Marcelo Garcia is a Brazilian martial artist and coach under the great Fabio Gurgel. He represents the Team Alliance banner. Marcelo had a fantastic competitive career and won many prestigious tournaments in both gi and no-gi Jiu-Jitsu. This includes winning the IBJJF World Championship (5X) as well as the ADCC title (4X). He mainly competed in the middleweight division but has also competed in the absolute multiple times.
He started his martial arts journey by training in Karate at a young age. After a while, Marcelo thought that the rigidness of Karate training might not be a good fit for him, so he stopped training after being immersed in the art for four years.
After Karate, Marcelo switched to the Japanese art of Judo under the guidance of Judoka Fabiano de Souza. This was Marcelo's first foray into the world of grappling. He started liking Judo and entered many local competitions during this time. In order to add more weapons to his game, he decided to also train in Brazilian Jiu-Jitsu as his Judo coach was also cross-training several times a week. The two trained BJJ in the neighboring city of Devinopolis, under the tutelage of BJJ black belt Iran Brasileiro.
His development as a BJJ athlete required him to try different gyms to further expand his game. He had a pretty decent top game at this point (due to his Judo training in the years prior), but he had to also round out his style by working on his guard. He met Paulo Rezende in a tournament and began training in his gym in Poco de Caldas. Paulo gave him free accommodation in exchange for Marcelo to perform daily errands.
Marcelo knew that this was an excellent chance to level up his BJJ, so he capitalized on the opportunity. He trained tirelessly at this point. He trained up to four times a day and was very open to absorbing new techniques.
As his confidence grew, Marcelo also competed in more tournaments. He started competing in absolute divisions to sharpen his technique. This trait carried throughout his career as he fearlessly grappled against monsters during his championship run.
He started his winning streaks at this point, besting many local and international competitions, including the prestigious IBJJF World Championship as a brown belt.
His then-girlfriend and now wife, Tatiana, suggested that it would be good to move to Sao Paulo as it was a hotbed for competitive BJJ. Marcelo accepted an invitation from Team Alliance's Fernando "Terere" Augusto to become an assistant instructor in his gym. He then moved to Team Alliance's HQ and trained under Fabio Gurgel. This move was instrumental as it helped him become the great champion he is today.
Techniques And Influence
If you've watched a Marcelo Garcia highlight, you'll notice that his game is different compared to his contemporaries. Marcelo likes to play a more dynamic style of open guard, utilizing the butterfly guard as his main base of attack. From the butterfly, he has the option of using the x and single leg x guard as secondary guards if the opponent gets too close. His submission repertoire is nasty as well. Marcelo likes to finish his matches by using a variety of chokes to submit his opponents. He is a big fan of the high elbow guillotine, north-south choke, and rear naked choke (RNC).
This video perfectly exemplifies Marcelo's game. Notice that he likes to play the seated guard to initiate his offense. As mentioned above, he prefers a more open game, similar to how many modern grapplers approach their matches. His x and single leg x guard are great for off-balancing and sweeping opponents. These guards (especially the single leg x and reverse x guard) are also useful if you like to use leglocks.
Another weapon that he likes to use is the arm drag. The arm drag is a wrestling technique that has a ton of offensive potential when used in submission grappling. It can be used from almost any position and creates exposure to back attacks. Kudos to Riccardo Ammendolia for this compilation.
Not only is he an exemplary athlete, but he has also blossomed into an excellent coach. His academy is regarded as one of the top schools in the United States. He has produced many world-class competitors, including stars like Gianni Grippo, Dillon Danis, Mansher Khera, and ADCC champion Matheus Diniz.
Many top grapplers and fighters worldwide frequent his academy not only because of the quality of instruction but also because Marcelo has gained the respect and admiration of his peers. He is famous for his kind demeanor and is a champion on and off the mats. More than anything, this is perhaps Marcelo Garcia's greatest contribution to our sport.
Conclusion
Marcelo Garcia is definitely a name you'll hear for decades to come. His legacy as both a competitor and instructor is unparalleled. If you think about it, his game is absolutely influential to BJJ's current meta, especially when it comes to guard play. Regardless of whether you play gi or no-gi, you'll surely find nuggets of wisdom studying his style of BJJ.
You may also like: