John Danaher is widely known today as one of the innovators of modern-day Brazillian Jiu-Jitsu. The fourth-degree black belt holder under Renzo Gracie is the mastermind of the Danaher Death Squad (DDS), which dominated the international grappling scene with their reputable leg lock game. John has never competed professionally in BJJ because of hip and leg-related issues, despite being one of today's best coaches. How is this Jiu-Jitsu master from New Zealand, able to lead one of the most successful grappling teams of the modern era? Today, let's look at the rise of the modern BJJ master, John Danaher, from his early days to becoming one of the most recognized coaches up to date.
Early Life
John Danaher was born in the year 1967, in Washington, D.C. The United States. His father was a New Zealand Airforce pilot who was assigned to Washington shortly after he was born. John was still young when he and his family moved back to New Zealand, his parents' native country. John spent his youth as the youngest of six children in his family in Whangaparaoa while his father continuously served in the Air Force. He spent his adolescent years practicing striking martial arts such as boxing and kickboxing, as those were the only available combat sports in his area with grappling being disregarded at that time.
John relocated to Mairangi Bay as a teenager to attend the University of Auckland, earning his Bachelor's degree and later on a Master's degree in philosophy. He trained karate in Auckland in 1991; it was not until John was about 28 years old when he learns about Jiu-Jitsu.
Living In Manhattan
The 24-year-old John Danaher received a full financial scholarship to continue his doctorate studies in philosophy focused on epistemology at Columbia University in New York. Two weeks after arriving in Columbia, Danaher found himself low on cash and realized perhaps it's time to look for a job.
While walking down an avenue, Danaher saw an older man getting beaten up by a stronger and more aggressive younger guy. John quickly helped the man by throwing the young guy down the street. The older man turned up to be an owner of a nightclub that offered John a job as a bouncer. John spent his time teaching philosophy during the day and worked as a bouncer for the club at night. Learning with his co-workers as a bouncer, John latches onto the practicality of grappling with unwanted guests of the club instead of knocking them out.
A colleague of Danaher from Columbia University encouraged him to try a class of Brazilian Jiu-Jitsu as he was aware of Danaher's nature of work. Inspired by the events of how BJJ dominated the early days of UFC where BJJ fighters submit their lanky-bodied opponents. Danaher took up a BJJ class which was initially led by Craig Kukuk, an assistant of Renzo Gracie, with Renzo later taking over the classes.
Teaching At The Renzo Gracie Academy
It was around 1999 that Renzo Gracie wanted to write a book about BJJ, with Danaher the only one capable of writing, this left him no choice but to become better in Jiu-Jitsu, thus, placing Danaher directly under Renzo's wing. Renzo wanted to focus more on his fighting career along with his other students who wanted to start their school, namely Matt Serra, Ricardo Almeida, and Roger Gracie. Renzo wanted Danaher to take over the academy teaching students, leaving Danaher with no other option.
Danaher started out doubting his ability to transfer knowledge, thinking it would lower the expectation of the students, together with the thoughts about his future and whether he should coach BJJ or continue his academic route teaching philosophy.
It was until the year 2002 when a young Canadian fighter named Georges St-Pierre came in to train and attended the introductory classes. Watching the VHS of St-Pierre, Danaher was convinced that the young Canadian could be the future of MMA as he considered him a perfectly well-rounded fighter. Building a strong teacher-student relationship throughout the years, the then local Canadian fighter turned up to be one of the greatest MMA fighters of all time.
Danaher Death Squad And Leg Locks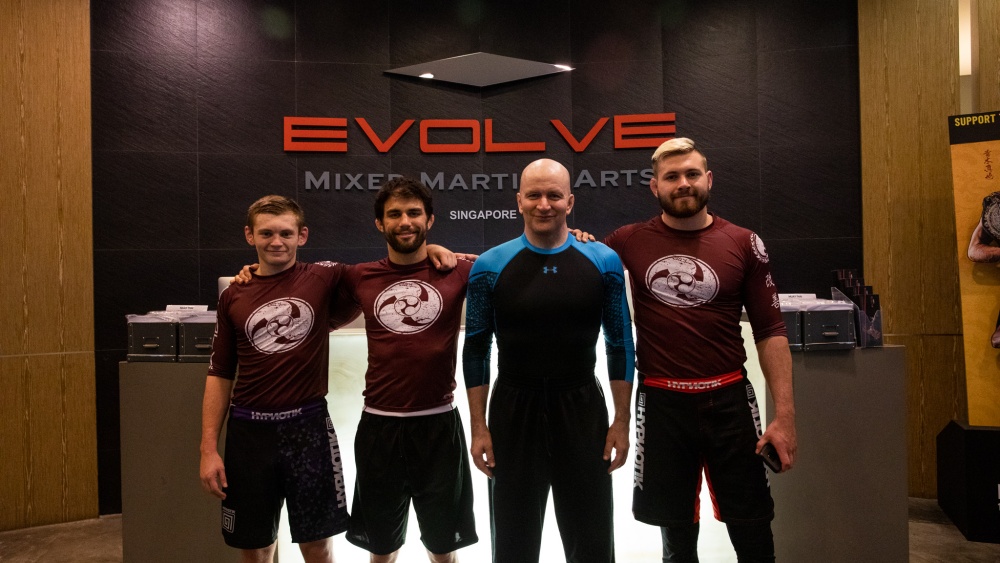 In the early 2000s, Matt Serra invited the famous Dean Lister to train, along with other higher belt students and Danaher. Dean and Danaher got into a philosophical conversation that led to leg locks, particularly the straight ankle lock, which was not given recognition at that time.
"Why would you ignore 50% of the human body?" – The line left by Dean that changed Danaher's outlook in Jiu-Jitsu.
The Danaher Death Squad (DDS) is a group of people known for their leg locks, specifically the heel hook. A big reason for this is their effective control of their opponents' leg also known as the 411, inside sankaku, honeyhole, or saddle. This denies the opponent's ability to react and roll over as one of their legs is trapped, and the other is open for attacks.
The founding members of the DDS were Eddie Cummings, who was 26 years old when he started training and was also involved in university academics similar to Danaher, is also known as one of the innovators of leg locks for the squad to follow, Garry Tonon, one of the key players that popularized the leg locks as he dominated EBI's with it, and Gordon Ryan who was initially known for his leg locking skills, is now known as an indomitable force in all positions in grappling, and also one of the best no-gi grapplers.
As Danaher's influence on grappling grew, so did the squad. More members have joined the DDS, namely, Nicky Ryan, which Danaher refers to as a young master and a BJJ prodigy, Ethan Crelinsten and Oliver Taza, both BJJ prodigies from Canada, Nicky Rodriguez, a Division III college wrestler who is also known as the black belt slayer who won ADCC silver medal as a blue belt, and Craig Jones who is already a well-known grappler before joining DDS and is arguably the best grappler from Australia.
The Split Of Danaher Death Squad
Recently, the squad announced their relocation to Puerto Rico, bringing the entire team there to train in their new gym. However, after a few months of staying in PR, the squad called it quits. Gordon, Taza, Tonon, and Danaher opened a gym in Austin, Texas. They've since renamed their team to be called the New Wave Jiu-Jitsu. On the other hand, Jones, Nicky Ryan, Rodriguez, and Crelinsten formed their team known as B-Team Jiu-Jitsu.
Final Thoughts
John Danaher is not known for competing as he never really competed professionally in BJJ. It was the embodiment of his students, his exceptional teachings and philosophy that brought him and the squad success, winning prestigious grappling competitions such as the ADCC, EBI, and IBJJF Worlds, leaving a mark in the BJJ community and the grappling world.
You may also like: