Brazilian Jiu-Jitsu (BJJ) is one of the most popular martial arts in the world. It has grown exceptionally fast over the last few years with people from all walks of life trying this fantastic martial art. Professional fighters, weekend warriors, children – even celebrities, are becoming fascinated by this unique fighting style.
People who train Brazilian Jiu-Jitsu have their preferences on how they like to grapple. This is usually defined by what they wear when training. The 2 main training types are Gi and No-Gi BJJ.
Today, Evolve Daily will explore and debunk the differences between Gi and No-Gi BJJ to help you understand the intricacies of both.
Different Yet Similar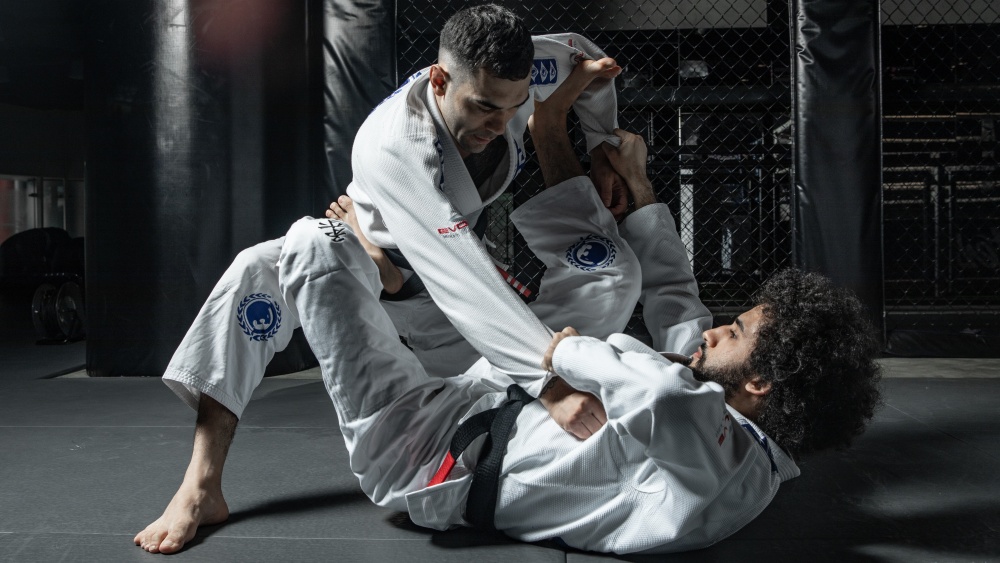 The interesting thing about Brazilian Jiu-Jitsu's sport is that training with Gi or No-Gi can be different yet similar. Let's explain what we mean by Gi and No-Gi first. To define, the Gi is a uniform traditionally worn in BJJ. It originated from Japan and is usually worn by other traditional martial arts in the East. The Gi, which means "dress or clothing," is generally made of a thick cotton jacket, reinforced drawstring pants, and a rank-signifying belt.
The Gi can sometimes be referred to as a Kimono, especially in countries like Brazil. So to put simply, Gi BJJ is training Brazilian Jiu-Jitsu with a Gi on. No-Gi BJJ, on the other hand, means to grapple without the use of the traditional uniform. Most people use rash guards when training No-Gi as it is non-intrusive when grappling on the mats. However, some people do train using compression shirts.
Fundamentally speaking, grappling Gi or No-Gi should feel very similar. You are still grappling to either improve your position or to submit your opponent. If you focus your BJJ purely on the proper body mechanics, you should have a strong game regardless of whether you wear a Gi or rash guard. Please take note that your mileage may vary, of course.
Key Differences – Ways To Attack And Defend
Gi-based attacks depend on using the fabric to either control or support an attack. As the Gi provides additional control points, establishing, stripping, and re-establishing grips are of primary importance in Gi BJJ. Watch the video excerpt from American BJJ legend Rafael Lovato Jr.
An example of a gi-based position is the spider guard. The spider guard is an open guard in which you control your opponent's arms with both your arms and legs. To begin, grab each sleeve of your opponent's gi jacket and place the soles of your feet at the crease between their biceps and forearms.
After you've established the initial grips of the spider guard, it is crucial to shift to one side, so you can add another layer of control by using the body position. Shift to your side with your bottom leg bent, top leg stretched upwards, and high elbow contacting your knee.
Gi-specific guards like the spider guard can mean more controlling options for those who prefer to focus on Gi BJJ. This is the case for submissions as well, especially when it comes to strangles using the lapel.
No-Gi BJJ, on the other hand, has a much more dynamic feel. The pace is usually faster due to the limited grips available. This means that you have to be more active in controlling your opponent. This can also mean that while technique is still king, being athletic in No-Gi grappling can greatly benefit your game.
One of the greatest benefits of No-gi BJJ is its similarity to the grappling aspect in mixed martial arts. It teaches you positional dominance without depending on things like the Gi. If you are training MMA, adding No-Gi BJJ to your weekly routine is the best thing to do!
Key Differences – Rulesets
In terms of rulesets, Gi BJJ has more restrictions, especially in the IBJJF context. The IBJJF limits the use of leg-based attacks that you can use in Gi-based competitions. This means that competitions in the Gi are usually not as dynamic as No-Gi grappling. It is also much slower in pace as the Gi has more controlling options like previously stated.
The ruleset of No-Gi BJJ is less strict because more leglocks are allowed in competition (IBJJF or otherwise). As of 2021, brown and black belt adult competitions will allow heel hooks and reaping. This ruleset creates an environment where movement is more open. The same can be said for ADCC style rulesets where all submissions are allowed.
Specialize But Train Both
There are benefits to both training styles – Gi BJJ teaches you to always work on grips and to stay technical in all positions. No-Gi BJJ teaches you to not be over dependent on Gi grips as they won't be available all the time. It is not wrong to specialize in one style over the other if that's what you like.
Say you prefer Gi BJJ, what you can do is you can prioritize it for most of your training week. Try including at least 1 day of No-Gi training to mix things up, keeping things balanced, at the end of the day, grappling is still grappling. Training these 2 styles alongside each other will definitely help improve your overall game.
Final Thoughts
It is important to understand that these 2 styles are both Brazilian Jiu-Jitsu. Both are incredibly effective forms of self-defense. Both are also excellent vehicles for helping you improve your self-confidence.
Whatever you choose, make sure that you train with the intent of developing a well-rounded game. Understand that it will take a lifetime to learn all the techniques in BJJ, so prioritize building a game that involves the best of both what the Gi and No-Gi BJJ can provide.
Also, while you're working hard, don't forget to have fun while you're on the mats. That way, you're more likely to enjoy and continue training for as long as possible!
Train Both Gi And No-Gi BJJ
If you are interested to train in both Gi and No-Gi BJJ, consider a complimentary trial class with us! Evolve MMA is the largest BJJ gym in Singapore and is home to the first and only Renzo Gracie Brazilian Jiu-Jitsu gym in Asia. Our BJJ classes are led by the largest and most accomplished BJJ instructor team in Asia. Our professors are authentic Brazilian Jiu-Jitsu World Champions and National Champions from Brazil. While training at our BJJ gym in Singapore, you will have access to our premier BJJ program. Equally important, as a BJJ student in Singapore and our gym, you will be exposed to a variety of BJJ styles due to the diverse backgrounds and BJJ lineage of our instructors.
Book your complimentary trial class with our World Champions below!
If you have any other questions regarding Evolve MMA and the programs we offer, you can get in touch with our membership executives at the following locations:
Evolve MMA (Far East Square)
26 China Street
Far East Square #01-01
Singapore 049568
Phone: (65) 6536 4525
Evolve MMA (Orchard Central)
181 Orchard Road
#06-01 Orchard Central
Singapore 238896
Phone: (65) 6536 4556
Evolve MMA (KINEX)
11 Tanjong Katong Road
#02-52 KINEX
Singapore 437157
Phone: (65) 6288 2293
Evolve MMA (Clarke Quay Central)
6 Eu Tong Sen Street
#04-18 Clarke Quay Central
Singapore 059817
Phone: (65) 6226 2150