The history of Brazilian Jiu-Jitsu is filled with outstanding male and female athletes. The amazing thing about BJJ is that it was built around the idea that a trained individual can neutralize a bigger and stronger person, especially if the assailant is not skilled in ground fighting.
This means that regardless of size, gender, and age, becoming proficient in BJJ is a valuable tool to have. In this article, we'll talk about the best female BJJ athletes in the history of our sport.
1) Yvone Duarte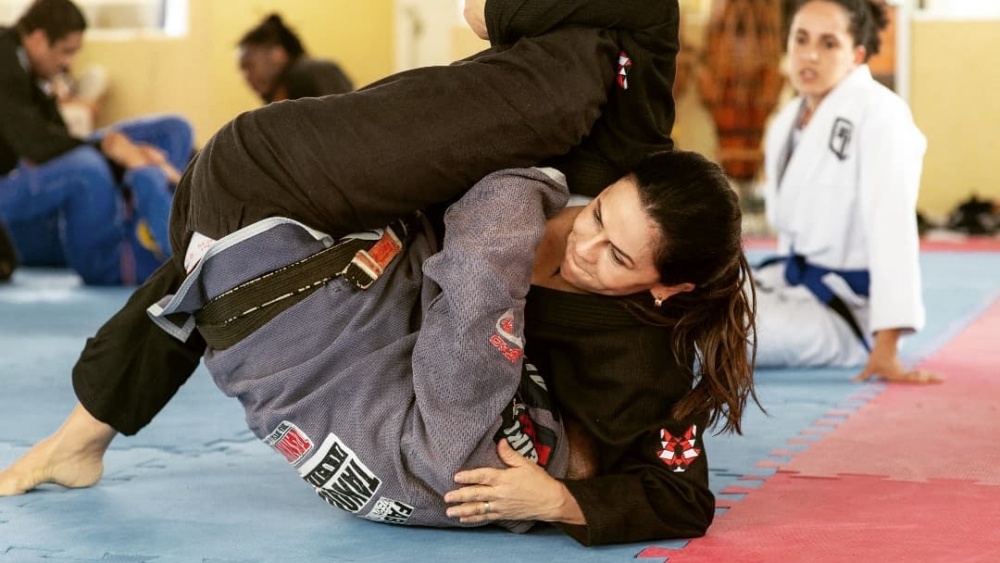 First on the list is a woman pioneer of the sport and the first female black belt Yvone Duarte. Yvone started training BJJ relentlessly at 15, first taught by her brother and now BJJ coral belt, Pascoal Duarte.
Yvone didn't want her intense training to be put to waste, so she tried to convince everyone she knew in Rio de Janeiro to start a female division as it was relatively new at that time. Her initiative made great strides in introducing BJJ to more female practitioners during that period.
Yvone was a consistent competitor and remained undefeated for over 10 years in her career (take note that this was in the 1980s), making her the first woman to do so.
More than an influential figure for female athletes, she's also instrumental for the development of BJJ in Brazil, linking the unorganized Brasilia Jiu-Jitsu Federation with the Confederação Brasileira de Jiu-Jitsu (CBJJ), known today as the IBJJF. Yvone recently achieved the milestone of becoming the first female coral belt in BJJ last August 2021.
2) Mackenzie Dern
Mackenzie Dern is one of the most talented female grapplers of her generation. Mackenzie was a former number 1 ranked IBJJF competitor before transitioning to MMA. She currently fights for the UFC.
She has won the world championships in all belt levels starting from the colored belts to a black belt. She is the only female to win gold in five of the highest IBJJF gi tournaments, solidifying her spot as one of the world's best black belt female featherweights.
Mackenzie started training BJJ at 3 with her father, the renowned Wellington "Megaton" Dias, and stepmother Luciana Dias, also a black belt. At 14, she began competing in the adult division under her father and Leticia Ribeiro's guidance, which helped her win multiple world championships. Mackenzie ultimately received her black belt at the age of 19.
3) Beatriz Mesquita
Beatriz, famously known as Bia Mesquita, is one of the best female grapplers ever. She trains under Leticia Ribeiro, another key figure in women's BJJ. Bia has trained and competed in Judo, swimming, and wrestling. She shortly abandoned all three as a teen to focus on BJJ.
Bia is known for her multiple achievements as a colored belt by winning major tournaments inside and outside the IBJJF, including numerous world championships. She continued to conquer the scene as a black belt by winning major tournaments, including the worlds in both gi and no-gi and ADCC, cementing her status as one of the best of all time.
4) Leticia Ribeiro
Leticia Ribeiro is a BJJ Hall of Famer and coach of Mackenzie Dern and Beatriz Mesquita. She has won 9 world championships in gi and no-gi, solidifying her legendary status competing for many years while leading the Gracie Humaita, regarded as one of the best female BJJ teams in the world.
5) Claudia do Val
Claudia do Val is a well-known grappler under Ricardo De La Riva. She first started training in Judo at 18 and then added BJJ when she was 21, hoping to improve her ground game. Training BJJ quickly fascinated her, which replaced her ambitions in Judo.
Claudia rarely competed as a colored belt, having competed thrice as a white belt and once as a blue belt. A turn of events happened during her brown belt years when she came back to competition and instantly won major IBJJF tournaments such as the European, Rio Open, and Worlds. Claudia won multiple IBJJF World Championships and many other significant achievements inside and outside the IBJJF circuit.
6) Gabi Garcia
Gabi Garcia is one of the most famous female grapplers of all time and is known for her impressive stature and dominance in the female division. Gabi has reigned the over 151-pound division due to her overwhelming physicality on the mats.
Gabi is a highly respected grappler as well and has won multiple times in prestigious grappling tournaments, including the ADCC and IBJJF World Championships.
7) Luiza Monteiro
Luiza Monteiro is a top athlete in the female division, having won many large tournaments in the IBJJF and other organizations. She is known for her well-rounded game in both gi and no-gi and has competed in numerous weight classes from featherweight to medium-heavyweight.
Although she didn't compete much as a colored belt, she has achieved all her notable achievements as a black belt, gathering 5 IBJJF World Championships in gi and no-gi.
8) Kyra Gracie
Kyra Gracie is a member of the well-known Gracie family and is an ADCC Hall of Famer. During her teens, her family tried to talk her out of the sport because of the rough nature of competition. Kyra was stubborn and continued training and competing.
She eventually dedicated her life to BJJ and became a highly accomplished competitor. Kyra Gracie has won multiple ADCC and IBJJF World Championships.
9) Michelle Nicolini
Michelle Nicolini is a black belt under Robert Drysdale and is a legendary figure in the competition scene. She won the IBJJF World Championships 8 times and twice in no-gi Worlds. She also won ADCC gold in 2013.
One of the best moments of Michelle's career was when she competed four divisions above her weight class in 2010. Since then, she has continued winning major tournaments, adding numerous world championships to her credentials.
10) Hannette Staack
Hannette Staack started training in BJJ at 18. This is typically a bit late compared to other athletes, but this did not hinder her hidden talents as she became a very successful grappler.
She is known for her very technical game and is not afraid to scrap with the best in the world. Hannette has won 6 world championships along with her double gold in ADCC 2007, in which she won the last match in the absolute division by flying armbar.
You may also like: