On Oct 1, 5-time IBJJF black belt World Champion Mikey Musumeci will be making a shot to be the inaugural holder of the ONE Flyweight Submission Grappling World Championship title. The American has established himself as a Brazilian Jiu-Jitsu fighter to watch closely since his days as a colored belt.
As a juvenile blue belt, Musumeci won the IBJJF Pan American No-Gi Championship and IBJJF World No-Gi Championship in 2011, and the IBJJF Pan American Championship and the IBJJF World Championship in 2012/2013. Musumeci continued his reign as a purple and brown belt in 2014 and 2015 respectively, winning the world championships consecutively.
Musumeci focused the international BJJ community's eyes on him when he won the IBJJF World Championship as a black belt for the second time in 2018, becoming the first American to win IBJJF world titles more than once.
Here are three reasons to catch Mikey Musumeci as he fights for the inaugural ONE Flyweight Submission Grappling World Championship at ONE Fight Night 2!
1) Grappling Phenom On Track To Greatness
Once Musumeci received his black belt, he continued dominating the international BJJ competitive scene. Musumeci continued his title run at the black belt level, winning the IBJJF World No-Gi Championship in 2016 and IBJJF World Championships in the gi from 2017 till 2021.
Musumeci, not content with just these accolades, went on to capture the inaugural WNO (Who's Number One) bantamweight championship after submitting Richard Alarcon in Oct 2021 with a modified heel hook dubbed the "Mikey Lock". In a discipline with a mind-boggling number of moves, having one named after him is a testament to Musumeci's depth of knowledge.
In April 2022, Musumeci joined the renowned EVOLVE Fight Team and signed on to ONE Championship. In his debut at ONE Championship, Musumeci submitted Japanese MMA trailblazer Masakazu Imanari in under four mins via a rear-naked choke in a submission grappling match and earned a $50,000 bonus along the way.
With this pedigree and deep experience, at ONE Fight Night 2, this grappling wunderkind will be sure to put on a fight to be remembered!
2) End To The Trilogy With Cleber Sousa
View this post on Instagram
Cleber Sousa is no pushover when it comes to BJJ: he won the CBJJF Juvenile Brazilian Nationals in 2012/2013 and the IBJJF Pans Championship in 2013 as a blue belt. As a brown belt, Sousa took home the IBJJF Sao Paulo Pro, IBJJF South American Championship and IBJJF World Championship in 2016. Once promoted to black belt, Sousa won the IBJJF Sao Paulo Open 2017, CBJJF Brazilian Nationals 2019, and the IBJJF Pans Championship in 2019.
"Darth Rigatoni" – Musumeci has a deep love for pasta and pizza – has faced Cleber Sousa twice in his career history: first at the 2017 Pan Jiu-Jitsu IBJJF Championship where Musumeci lost by decision, and again at the 2017 Abu Dhabi World Professional Jiu-Jitsu Championship, this time beating Sousa by points. The clash on Oct 1 will be their third meeting.
Both men will be stepping into the Circle with a wealth of experience competing at the absolute highest levels of BJJ, and are intimately familiar with each other's BJJ games.
This will be Musumeci's chance to demonstrate – definitively – that he is the more deserving athlete to take home the inaugural ONE Flyweight Submission Grappling World Championship on Oct 1.
3) Biggest Fight Of His Life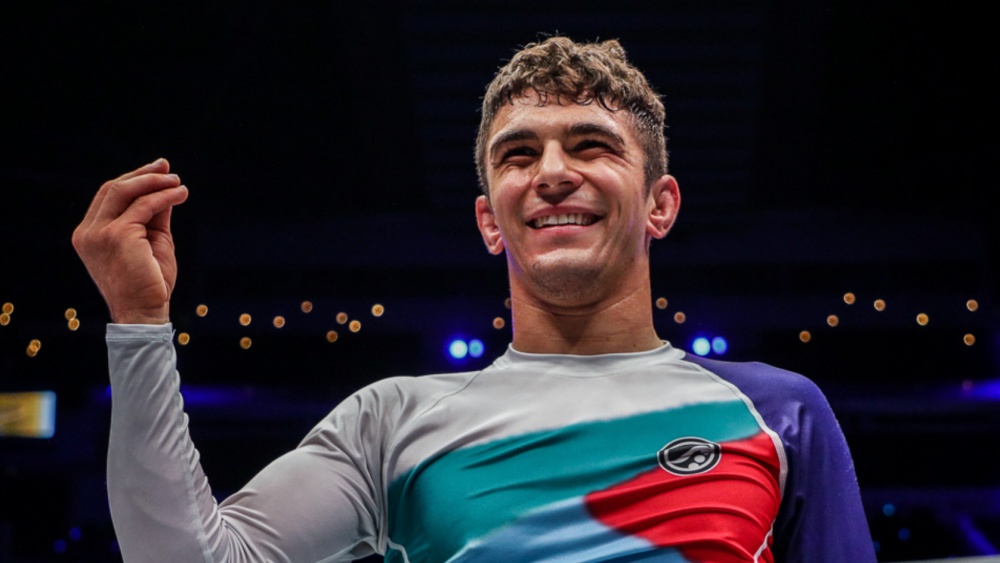 While Musumeci is no stranger to competing on the international stage, ONE Fight Night 2 will be the biggest fight of Musumeci's career thus far. The ONE Flyweight Submission Grappling World Championship is the first belt in submission grappling in ONE Championship.
Earlier in April this year, ONE Championship and Amazon Prime Video announced "a multi-year agreement for Prime Video to broadcast 12 live ONE Championship martial arts events annually."
Chatri Sityodtong, Chairman and CEO of ONE Championship, reaffirmed the commitment to expand the reach of ONE Championship:
"ONE Championship is thrilled to work with Prime Video, one of the largest premium sports content providers in the world, to bring our live events closer to fans in the United States and Canada. As the world's largest martial arts organization, we believe our collaboration with Prime Video will allow us to reach a wider North American audience that is hungry for an authentic and differentiated product you simply cannot get with any other organization."
Musumeci's astonishing ascent to BJJ stardom has largely been out of the mainstream spotlight. ONE Fight Night 2, and the fight for the first-ever submission grappling belt in ONE Championship will effectively be Musumeci's introduction to the mainstream martial arts community on the international stage. There is simply no doubt that this is the biggest fight of Musumeci's life.
Don't Miss Musumeci's March Towards Greatness
After the thrills we had from ONE Fight Night 1, ONE Fight Night 2 looks set to be another high-octane event. With the inaugural submission grappling belt on the line, mark your calendars, clear your schedules, and don't miss Mikey Musumeci's march towards greatness!