Personal fulfillment is not just attaining fame and fortune – true happiness comes from ensuring that the people around you are happy and proud of you and your achievements. This month, we are proud to introduce an aspiring MMA fighter into the #WarriorsOfEvolve community.
This month's Warrior is 27-year-old Soe Wai Yan Naing, a native of Myanmar who hails from the state of Kayin. An affable man, Soe is a specialist mechanical technician by profession, but his soul is that of an aspiring mixed martial arts (MMA) fighter. Soe moved to Singapore for work and ignited his love for MMA while training at Evolve MMA.
His dream is to become a professional MMA fighter, and thus Soe trains in Muay Thai, Boxing, Brazilian Jiu-Jitsu (BJJ), Wrestling, and MMA. He describes himself as having two distinct but intertwined lives: he spends eight hours a day at his job, eight hours pursuing his dream, and eight hours for rest. This simple dedication to pursuing has led Soe to achieve Level 2 certifications in Muay Thai and Boxing, as well as a four-stripe white belt in BJJ. Soe won his first amateur MMA competition in May 2022, winning by submission via a devastating anaconda choke.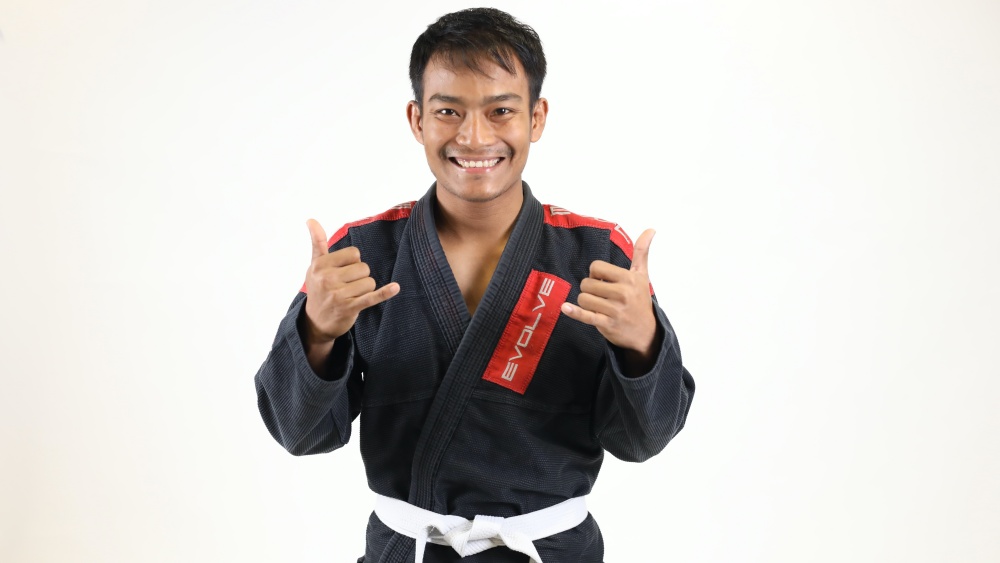 Soe draws his motivation to persevere with his training and endurance to being away from home from just one place: his family. And when it comes to his family, Soe's goal is straightforward – he just wants to make them happy.
On a more personal level, Soe describes himself as an honest and determined person who does not give up once he has set a goal for himself. This personality trait may come from his father, who is his biggest inspiration in life. Soe's father gave everything to the family, and Soe is doing just that for his family.
Nothing brings as much joy and gives as much fulfillment as making sure that the people around you are happy – and that puts Soe squarely among the #WarriorsOfEvolve.
Book your complimentary trial class with our World Champions below!
If you have any other questions regarding Evolve MMA and the programs we offer, you can get in touch with our membership executives at the following locations:
Evolve MMA (Far East Square)
26 China Street
Far East Square #01-01
Singapore 049568
Phone: (65) 6536 4525
Evolve MMA (Orchard Central)
181 Orchard Road
#06-01 Orchard Central
Singapore 238896
Phone: (65) 6536 4556
Evolve MMA (KINEX)
11 Tanjong Katong Road
#02-52 KINEX
Singapore 437157
Phone: (65) 6288 2293
Evolve MMA (Clarke Quay Central)
6 Eu Tong Sen Street
#04-18 Clarke Quay Central
Singapore 059817
Phone: (65) 6226 2150
Evolve MMA (Star Vista)
1 Vista Exchange Green
#02-26A The Star Vista
Singapore 138617
Phone: (65) 6539 9590