Leandro Lo is widely regarded as one of the best BJJ athletes to ever compete in Brazilian Jiu-Jitsu. He was an eight-time World Champion and holds the record for most IBJJF World titles in five different weight classes. Fans, practitioners, competitors, and former rivals of Leandro were dismayed by the tragic news of his sudden passing. He was still a relatively young man full of passion and vigor for life.
Let's look at Leandro's greatest moments inside and outside the mat.
Guard Passing Machine
Leandro is a sports icon and an influential figure to many. His relentless way of passing the guard has captured the eyes of many grapplers, both young and old. Because of him, countless grapplers developed a passing style similar to his game, moving around using the toreando and knee cut pass.
Leandro Lo's passing game can be defined as aggressive with constant use of movements and feints. His approach uses lateral and forward movement to pass through and around different types of guards. He was definitely a sight to behold in this regard.
Training Under Cicero Costha
Leandro first began training Jiu-Jitsu in 2004 at the age of 15 in Projecto Social Lutando Pelo Bem (PSLPB) in São Paulo, Brazil. PSLPB, which translates to "Social Project Fighting for Good," is a social project that aims to help adolescents from the marginalized community change their lives for the better.
PSLPB is a team that produced many world champions like the Miyao brothers, and was Leandro's first BJJ team. Most of what made Leandro the championship-level grappler that he was came from the PSLPB mats. Leandro became a leader within the team and slowly made a name for himself in the competition circuit.
Battling Against The Best Of The Best
Leandro fought against the best of the best athletes in the sport. To become an 8-time World Champion is never a simple task to accomplish. He competed against the likes of Gilbert Burns, Kron Gracie, Lucas Lepri, Felipe Pena, Andre Galvao, Romulo Barral, Nicholas Meregali, and Marcus Almeida. Regardless of the result, his intensity and drive to be the best stayed consistent for many years.
World Championship 2012
In 2011, Leandro started getting the spotlight after defeating two legends of the sport, Celso Vinicius and Michael Langhi. This was a big deal because Langhi was considered the best lightweight at that time. In the succeeding year, Leandro secured his place in history as he became the best lightweight in the world.
In the 2012 IBJJF World Championship, Leandro Lo and Lucas Lepri met once again after Leandro defeated Lepri in the finals of the Pan Asian 2012.
The match started with Leandro pulling guard making use of his butterfly guard. He started wrestling in the middle of the match but returned to playing guard after a few exchanges. Leandro played an excellent guard game throughout the match, leaving Lepri unable to pass. The match ended with Leandro becoming the 2012 lightweight world champion.
World Championship 2014
In the 2014 World Championship, Leandro moved up a weight class (from lightweight to middleweight) and faced the tough Otavio Sousa in a constant back-and-forth final match. He started the match by pulling guard and attempted a back take by doing the KOD, and ended up in top position looking to pass the guard. Otavio wrestled up and took Leandro down, forcing him to play the guard. The match went back to the stand-up halfway through the match.
Leandro tried to pull guard, but Otavio had 2 points counted as a takedown instead. Leandro wrestled up and took Otavio down for 2 points, with the points tied and 3 minutes left on the clock.
Otavio attacked and used what looked like a deep omoplata, but Leandro managed to escape. Leandro passed the guard with a switch base, ending up in the north-south and back-to-side control to secure the position, gaining 3 points. Otavio escaped the side control pin and attempted an omoplata once again; this resulted in an open guard reset.
Otavio attempted a desperate knee bar in the last seconds of the match, but Leandro was up 3 points on the scorecard. Leandro Lo prevailed and became the 2014 World Champion.
Pan 2017's Most Exciting Match
Leandro always delivered the excitement in his matches. As he moved up weight classes, Leandro maintained his winning ways and won many grappling competitions in both gi and no-gi.
In the finals match of open weight Pan 2017, he fought against the ultra heavyweight João Gabriel Rocha. Despite the size disadvantage, Leandro managed to take João down and scored a total of 4 points in the match before finishing it with a quick toe hold 5 minutes in.
Jiu-Jitsu New School Brotherhood
In September 2015, Leandro started his own academy called the Jiu-Jitsu New School Brotherhood in Sao Paulo, Brazil. This is where some of his teammates moved along with him.
NS Brotherhood carries the value of PSLPB, where grapplers learn techniques and drills at the start of training sessions and rolled hard every training session.
This approach dramatically helps the athletes, especially the aspiring competitors. As the team captain, Leandro shared the knowledge, tactics, and tricks he used to win championships.
Remembering Leandro Lo
"As you go through things, you see that everything is about moments. The more you get along with people, the better you get." – Leandro Lo.
An Absolute Legend
Leandro lived a life bigger than Brazilian Jiu-Jitsu, helping the sport grow not just technically but socially as well. He was one of those guys who fought hard on the mats and captured the adoration of his peers and rivals.
He may have passed, but his achievements and legacy will continue to live on. May his relentless style of Jiu-Jitsu inspire people from all walks of life to step out and fight for their dreams.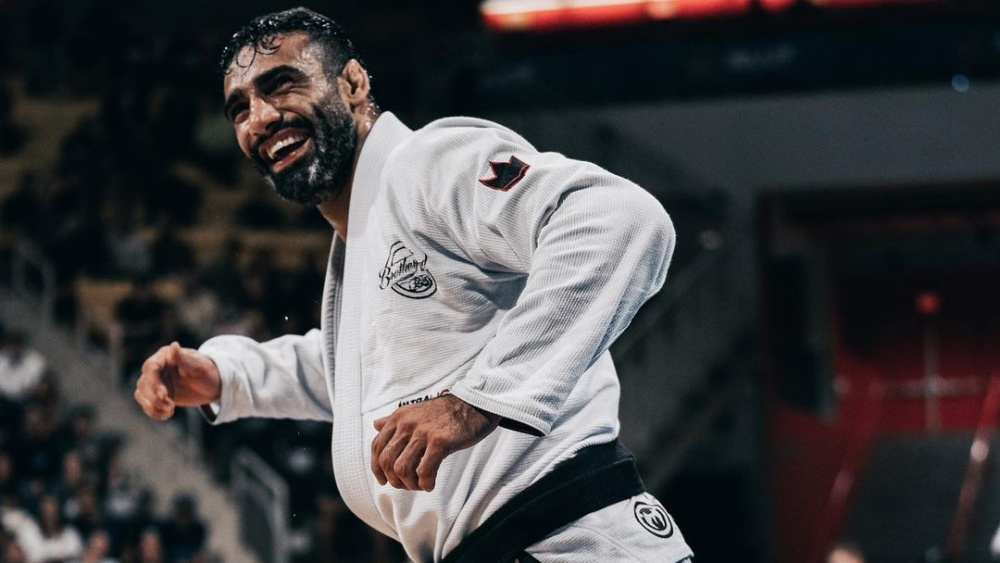 Rest in peace, Leandro Lo. The BJJ community will never forget you.