Singapore's Central Business District (CBD) is a dynamic centre of activity where commerce, culture, and coffee intertwine. Professionals buzzing between high-rise offices, tourists marvelling at the city's impressive skyline, and locals navigating their daily routines create a vibrant tapestry, all fuelled by the energising elixir of caffeine. Whether you identify as a coffee connoisseur, with a discerning palate fine-tuned to the subtleties of single-origin beans, or you're simply a busy individual in search of a quick and satisfying caffeine fix, the CBD is teeming with locations to cater to your needs.
From cosy hideaways tucked within the pulsating heart of the city, offering a serene oasis amidst the urban rush, to chic, modern establishments that combine architectural aesthetics with culinary craftsmanship, the city's coffee scene is as diverse as it is dynamic. We've taken the pleasure of curating the top five coffee shops within the CBD, each one offering a unique coffee experience. These spots cater to a wide array of tastes and preferences, satisfying both the discerning coffee aficionado and the casual sipper in search of a flavourful escape from the day's demands.
For fitness enthusiasts, particularly those training in martial arts at Evolve Far East Square or Evolve Clarke Quay, these coffee spots serve as an added incentive to integrate some activities into your fitness regimen. Several of these cafes are conveniently located less than a 20-minute walk away, allowing you to jumpstart your workout with a brisk walk or jog. Engage your senses, boost your endorphins, and reward yourself post-training with an exquisite cup of coffee. With the city's lively tapestry as your backdrop, grab your cup of joe and embark on a flavourful journey through Singapore's bustling CBD.
1) Nylon Coffee Roasters

Tucked away in the Everton Park housing estate, Nylon Coffee Roasters is a hidden gem well worth the detour. Founded by passionate coffee enthusiasts Dennis and Jia Min, the café boasts a strong commitment to sourcing and roasting quality beans, ensuring that every cup is brewed to perfection. Their minimalist interior exudes a welcoming, relaxed atmosphere, making it the perfect spot to escape the hustle and bustle of the CBD. Don't miss their signature Gibraltar, a cortado-style coffee that balances strong, velvety espresso with just the right amount of milk.
2) The Glasshouse: Specialty Coffee & Toast Bar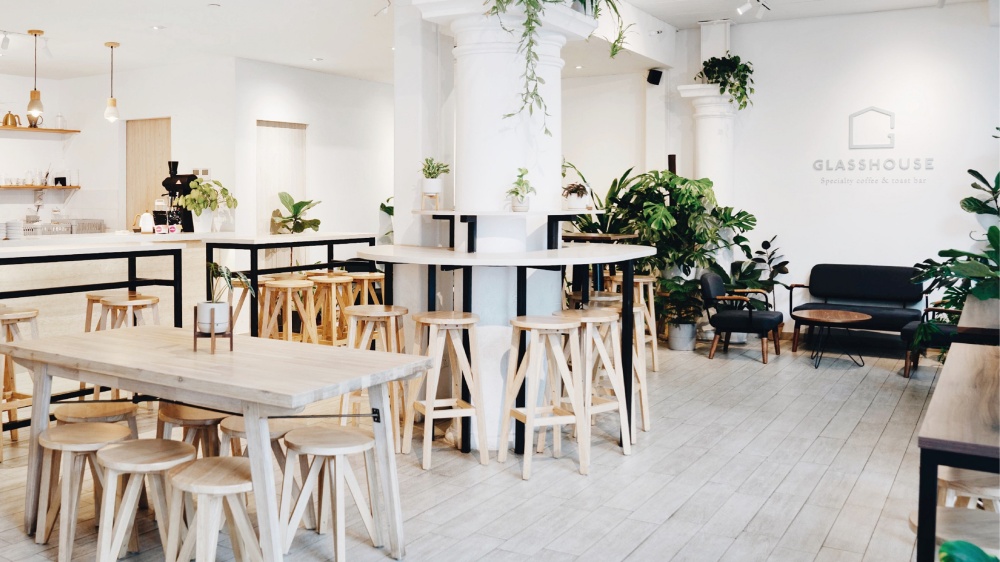 Nestled within the historic Chijmes complex, The Glasshouse is a serene oasis amid the hustle of the CBD. This specialty coffee and toast bar offers a curated selection of single-origin beans and a seasonal menu of gourmet toasts, making it an ideal destination for a leisurely breakfast or afternoon treat. The light-filled, botanical-themed interior features floor-to-ceiling windows and lush greenery, creating an airy, tranquil atmosphere that invites patrons to linger over their beverages.
Their skilled baristas craft exquisite pour-over and espresso-based drinks, ensuring that each cup is brewed with precision and care. For a unique experience, try their signature Gula Melaka (palm sugar) Latte, which combines robust espresso with the rich, caramel-like sweetness of gula melaka. The Glasshouse's commitment to quality and aesthetic beauty makes it a must-visit for coffee enthusiasts seeking a serene sanctuary in the heart of the CBD.
Located in the heart of the CBD, Lunar Coffee Brewers is a sleek, modern café that offers specialty coffee and gourmet fusion cuisine. Helmed by the same team behind Atlas Coffeehouse and Columbus Coffee Co., Lunar Coffee Brewers presents a diverse menu of single-origin pour-over coffees, espresso-based drinks, and even matcha lattes for those seeking an alternative caffeine fix.
For those working out at Evolve Far East Square looking to spice up their food choices, their innovative food menu features a range of unique dishes, such as miso salmon soba and mentaiko pasta, making it an ideal spot for a satisfying lunch break.
4) Jewel Coffee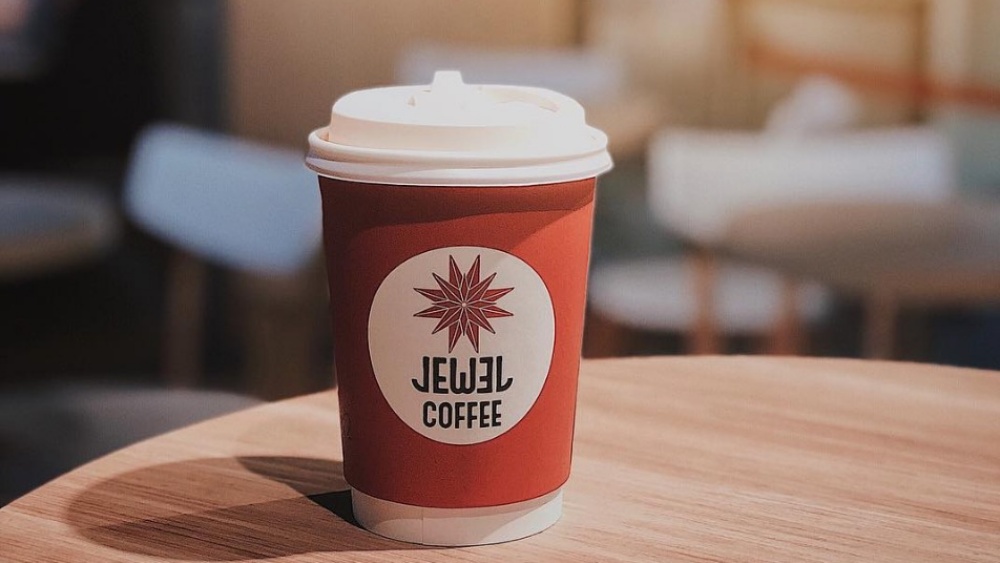 Conveniently situated within the bustling CBD, Jewel Coffee is a popular choice among professionals seeking a caffeine boost during the workday. Known for their artisanal brews and commitment to quality, Jewel Coffee features a rotating selection of single-origin beans, ensuring that coffee aficionados can sample a diverse range of flavours.
Their menu features a wide array of choices for the discerning coffee lover. From their standard espresso-based drinks to the specialty pour-overs, there's something to suit every palate. The single-origin pour-overs are a must-try for those who appreciate the nuanced flavours of different coffee varieties. The beans are ground fresh for every cup and brewed manually, demonstrating the art and craft behind each serving. Their modern, minimalist interior provides a calming atmosphere, perfect for taking a break from the daily grind.
5) PPP Coffee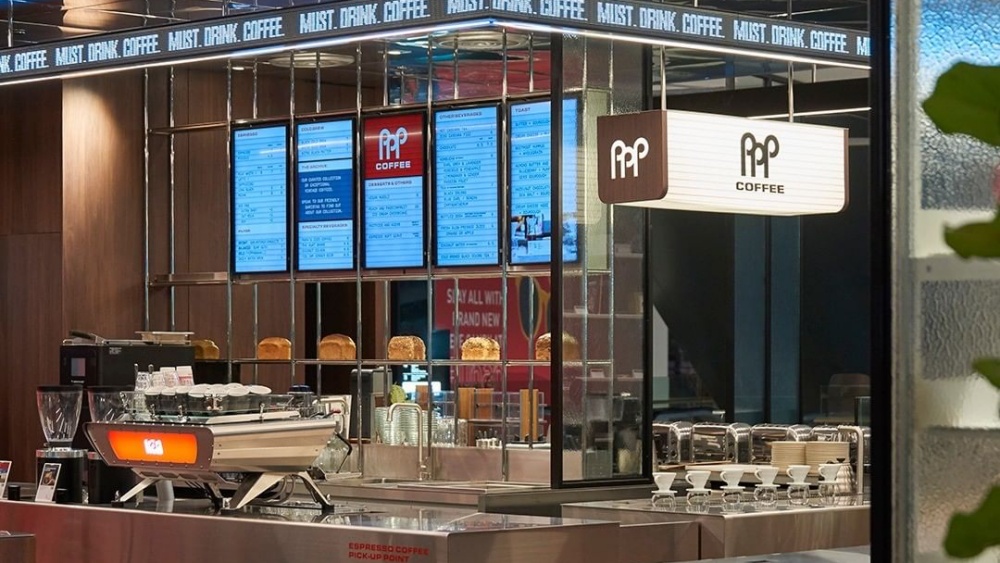 Wrapping up our list is PPP Coffee, a homegrown specialty coffee roaster that takes pride in its direct and meaningful relationships with coffee farmers across the globe. Located within the vibrant Funan Mall, just a stone's throw from the CBD, PPP Coffee provides an excellent spot for coffee lovers to refuel while indulging in some retail therapy.
Their expertly curated coffee menu covers a wide array of brewing methods, including V60, AeroPress, and Chemex. Visitors can also participate in workshops and coffee appreciation classes to deepen their knowledge of this beloved beverage.
Slide In A Workout With Us At Evolve MMA!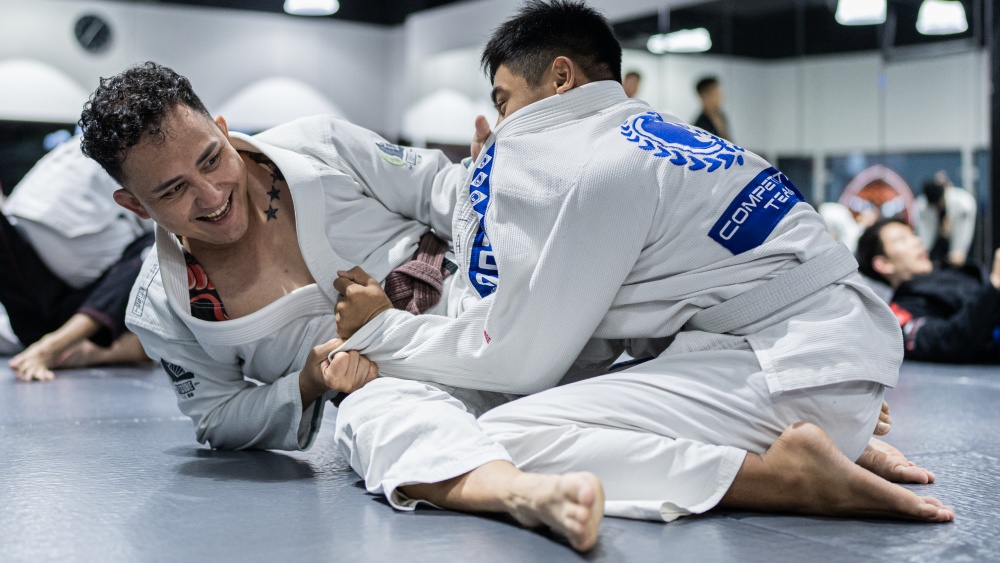 Whether you're a seasoned coffee enthusiast or simply in search of a pick-me-up, the Central Business District in Singapore offers a variety of exceptional coffee spots to suit every palate. These five establishments, each with its unique charm and offerings, are guaranteed to provide a memorable experience for coffee lovers traversing the CBD. So, don't hesitate to explore these hidden gems and savour a delightful cup of coffee before or after your workout at any of our Evolve MMA outlets. Cheers to your next caffeine adventure!
Book your complimentary trial class with our World Champions below!
If you have any other questions regarding Evolve MMA and the programs we offer, you can get in touch with our membership executives at the following locations:
Evolve MMA (Far East Square)
26 China Street
Far East Square #01-01
Singapore 049568
Phone: (65) 6536 4525
Evolve MMA (Orchard Central)
181 Orchard Road
#06-01 Orchard Central
Singapore 238896
Phone: (65) 6536 4556
Evolve MMA (KINEX)
11 Tanjong Katong Road
#02-52 KINEX
Singapore 437157
Phone: (65) 6288 2293
Evolve MMA (Clarke Quay Central)
6 Eu Tong Sen Street
#04-18 Clarke Quay Central
Singapore 059817
Phone: (65) 6226 2150
Evolve MMA (Star Vista)
1 Vista Exchange Green
#02-26A The Star Vista
Singapore 138617
Phone: (65) 6539 9590