Chinatown is one of Singapore's most vibrant and bustling areas, known for its rich heritage, colourful culture, and delectable food. From historic temples to bustling street markets, there are plenty of things to see and do in Chinatown. In this article, we will explore 5 things to try and see around Chinatown in Singapore, giving you a taste of the sights and sounds this fascinating neighbourhood offers. Whether you're a foodie, a history buff, martial arts fanatic, or just looking for a unique cultural experience, Chinatown has something for everyone. So come along and discover Chinatown in Singapore!
1) Visit The Buddha Tooth Relic Temple, A Majestic Landmark Beaming Between Chinatown's Bustling Streets And Skyscrapers.
Visiting the Buddha Tooth Relic Temple is an incredible experience that takes you on a journey through time and culture. Located in the heart of Chinatown, this majestic landmark is a beacon of peace and spirituality amidst the bustling streets and towering skyscrapers of the city.
The temple's name comes from its most treasured possession, a tooth relic of the Buddha said to have been found in Myanmar in the late 1980s. This relic is enshrined in a magnificent stupa on the temple's fourth floor, surrounded by intricate carvings and colourful murals depicting the Buddha's life.
As you enter the temple, you'll see a stunning courtyard filled with lush greenery and intricate statues of various deities. The temple's architecture blends traditional Chinese and Buddhist styles, with ornate columns, pagoda roofs, and colourful tiles adorning its facade.
Inside the temple, you'll find a tranquil atmosphere that invites you to pause and reflect. There are intricate carvings and richly coloured murals depicting scenes from Buddhist scripture and legend adorning the hall. You'll also find many Buddhist artifacts and relics, including statues, paintings, and intricate tapestries. If you're lucky, you may even glimpse the temple's resident monks, who often meditate or perform rituals in one of the many prayer halls.
2) Bring Home Cute Souvenirs From Pagoda Street, A Pedestrian Street Lined With Shops Selling Souvenirs, Antiques, And Traditional Chinese Medicine.
If you're looking for the perfect souvenirs to take home from your trip to Singapore, look no further than Pagoda Street. This pedestrian street, located in the heart of Chinatown, has many shops selling souvenirs, antiques, and traditional Chinese medicine.
Traditional Chinese tea sets are one of the most popular souvenirs to buy on Pagoda Street. These sets come in various designs, from simple and elegant to ornate and intricate, and are a great way to bring a taste of Chinese culture back home. Assorted cute keychains also feature Singapore's mascot, the Merlion, which you can pick up as souvenirs. A tourist's favourite is the colourful 'I Love Singapore' tee shirts, another wonderful souvenir you can bring home. Another popular item to pick up is a traditional Chinese fan. These fans come in various colours and designs and are perfect for keeping cool on hot summer days or as a decorative piece to display in your home.
And in case you're interested in traditional Chinese medicine, there are plenty of shops selling herbs, teas, and other remedies that are said to cure a variety of ailments. No matter what you bring back with you, a stroll down Pagoda Street is an experience. The vibrant colours, bustling crowds, and eclectic mix of shops make it a must-visit destination for anyone exploring Singapore's Chinatown.
3) Check Out The Chinatown Heritage Center Museum, Which Showcases The History Of Singapore's Chinatown.
History buffs, you must visit the Chinatown Heritage Centre museum. If you're interested in learning about the rich history and cultural heritage of Singapore's Chinatown, then the Chinatown Heritage Center Museum is your destination. Located in the heart of Chinatown, this museum offers a fascinating glimpse into the lives of the early Chinese immigrants who helped to shape this vibrant neighbourhood.
As you enter the museum, you'll be transported back to the early 19th century, when Singapore was still a British colony and Chinatown was a bustling hub of trade and commerce. Through a series of interactive exhibits and displays, you'll learn about the challenges and hardships faced by the early Chinese immigrants who arrived in Singapore in search of a better life.
One of the museum's highlights is the recreated shophouse, which offers a glimpse into the early Chinese settlers' cramped and crowded living conditions. Complete with period furnishings, antique tools and utensils, and even a traditional opium den. The shophouse provides a fascinating insight into daily life in Chinatown.
Another interesting exhibit is the section dedicated to the history of Chinese medicine, which explores the traditional remedies and techniques used by the early Chinese settlers to treat various ailments. From herbal teas and acupuncture to cupping and moxibustion, you'll gain a new appreciation for the art and science of Chinese medicine.
Throughout the museum, you'll also find a variety of artifacts and memorabilia, including vintage photographs, documents, and personal belongings of the early Chinese settlers. These items provide a unique glimpse into the lives of the people who helped to build Chinatown into the thriving neighbourhood it is today.
4) Eat At The Maxwell Food Centre, A Hawker Centre That Offers A Wide Variety Of Local Food.
When you get hungry from browsing all the eclectic items on offer, it's time to fill your stomach! For a quintessential Singaporean dining experience, head over to the Maxwell Food Centre. This bustling hawker centre, located in the heart of Chinatown, is renowned for its wide variety of local dishes, from traditional Chinese fare to Malay and Indian cuisine.
As you go through the crowds of hungry diners, you'll be greeted by the sight and smell of dozens of stalls offering everything from spicy laksa and succulent satay to savoury rojak and crispy chicken rice. The atmosphere is lively and friendly, with locals and tourists alike jostling for a seat at one of the communal tables.
One of the most popular dishes to try at Maxwell Food Centre is the famous Tian Tian Hainanese Chicken Rice. This dish is a true Singaporean classic, featuring succulent steamed chicken served over fragrant rice cooked in chicken stock with spicy chilli sauce and ginger paste. Tian Tian is in the Michelin Guide and has even won praise from celebrity American chef Anthony Bourdain.
Another popular option is laksa, a spicy noodle soup made with coconut milk, chilli paste, and various seafood, including prawns, fish cakes, and cockles. Get the dish at Old Nyonya, a popular stall at Maxwell. Don't forget to get some local pastries at Heng Heng (Xing Xing) Ondeh Ondeh and Tapioca Cake for those with a sweet tooth. Ondeh-ondeh is a soft, chewy bite-sized ball-shaped dessert made of glutinous rice flour, filled with palm sugar and flavoured with pandan leaves. Heng Heng has been in business for over 50 years and attracts a steady stream of long-time customers!
5) Workout At Evolve MMA Far East Square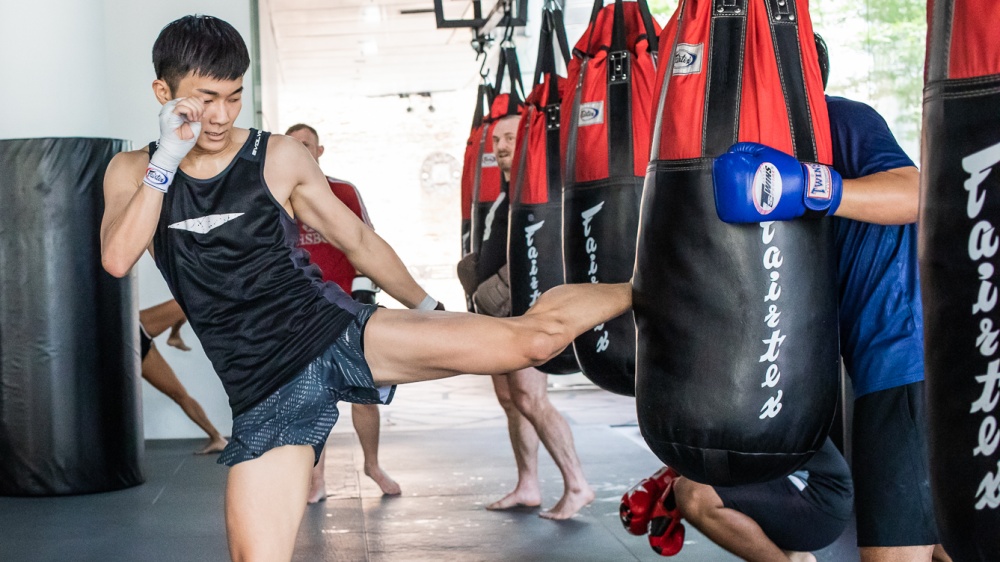 Finally, after all that feasting, it's time to try martial arts at Evolve MMA Far East Square. The gym is just a ten-minute walk away from Maxwell Food Centre.
Whether you're a complete beginner or an experienced martial artist, Evolve MMA Far East Square offers a wide range of classes to suit all skill levels and interests. There's something for everyone, from Brazilian Jiu-Jitsu and Muay Thai to Boxing, Wrestling, and Mixed Martial Arts (MMA).
Evolve MMA has experienced and highly skilled coaches who are World Champions in their respective disciplines. They are passionate about sharing their knowledge and expertise with students, helping them improve their technique, fitness, and overall well-being. Additionally, you'll find a community of like-minded friends who also enjoy martial arts. You can spur each other to achieve your martial arts and fitness goals!
If you're looking to try something new and exciting after enjoying some of the best local cuisines in Singapore, Evolve MMA Far East Square is definitely worth a visit. Its convenient location, world-class training programs, and supportive community make it a great place to start your martial arts journey.
Book your complimentary trial class with our World Champions below!
If you have any other questions regarding Evolve MMA and the programs we offer, you can get in touch with our membership executives at the following locations:
Evolve MMA (Far East Square)
26 China Street
Far East Square #01-01
Singapore 049568
Phone: (65) 6536 4525
Evolve MMA (Orchard Central)
181 Orchard Road
#06-01 Orchard Central
Singapore 238896
Phone: (65) 6536 4556
Evolve MMA (KINEX)
11 Tanjong Katong Road
#02-52 KINEX
Singapore 437157
Phone: (65) 6288 2293
Evolve MMA (Clarke Quay Central)
6 Eu Tong Sen Street
#04-18 Clarke Quay Central
Singapore 059817
Phone: (65) 6226 2150
Evolve MMA (Star Vista)
1 Vista Exchange Green
#02-26A The Star Vista
Singapore 138617
Phone: (65) 6539 9590