Brazilian Jiu-Jitsu is one of the fastest-rising martial arts today. Its emergence into the limelight has paved the way for the discovery of some of the most talented and hungry grapplers worldwide. While it is no accident, the rise of the younger generation of grapplers has been more prominent than ever before.
Champions protect their rightful throne – until it's time to be taken over by a stronger, hungrier, and younger challenger. In the world of modern grappling, BJJ superstars Tye and Kade Ruotolo are among the best young athletes of the current generation. Raised in the Jiu-Jitsu lifestyle from a young age, the twins are on track for something extraordinary: to take over the world of grappling. Let's take a closer look at two of the best grapplers of the modern generation, the Ruotolo brothers.
The Ruotolo Brothers
Twin brothers Kade and Tye were born in Hawaii on January 22, 2003. They had their first competitive experience at 3, and their dominance in the local scene during their childhood has caught the eye of many grappling fans. This led to their first sponsorship from RVCA, a popular surfing, and boarding lifestyle company, at the age of 10.
The twins started training under Cleber Luciano, a multiple-time IBJJF World Champion under Royler Gracie. Having won many local grappling competitions at a young age, they moved to study under BJJ legends Guilherme and Rafael Mendes at AOJ (Art of Jiu-Jitsu) for nearly four years. AOJ, at that time, was still an affiliate of Atos Jiu-Jitsu, the team that the twins moved on to train at and are still part of.
Since then, they have competed in various tournaments and super fights with great success, usually competing against more experienced grapplers. The Ruotolo brothers got promoted to black belt in 2021 by one of the best grapplers of all time, Andre Galvao.
Ruotolos In Action
Their grappling experience is vast, considering their age. Competing against grown men since they were early teenagers, Kade and Tye have medalled in many prestigious grappling tournaments such as the ADCC, IBJJF Pan, European, and World Championships, WNO Championship, Combat Jiu-Jitsu, and ONE Submission Grappling. The brothers are only 19 at the time of this writing; therefore, we are guaranteed to see them compete at the highest level for many years to come.
The last ADCC showcased Kade and Tye's amazing Jiu-Jitsu abilities. Kade won gold in the 77kg division and Tye won bronze in the absolute division.
The 77kg division of the 2022 ADCC is considered by many as the most stacked division in the competition's history. Kade submitted the likes of Lachlan Giles, Roberto Jimenez, PJ Barch, and another young prodigy who was also favored to win the division, Mica Galvao.
The 88kg division was a mix of top-level competitors from both current and new generations. One of the most exciting matches of the tournament was between Atos standouts Tye Ruotolo and former ADCC bronze medalist Josh Hinger. It was a back-and-forth affair and is a match that will be remembered forever.
The brothers are also part of the faces of ONE Championship's submission grappling circuit. Tye's first grappling match in ONE Championship was against one of the best grapplers of the modern era and a key figure in the leg lock revolution, Garry Tonon. Tye submitted Garry in less than two minutes via D'Arce choke.
The match between Kade and Shinya Aoki was a clash of generations. Kade secured the match with a dominant performance to win by decision against the Japanese MMA legend and former ONE Lightweight World Champion, with a tight buggy choke attempt before the end of the match.
The inaugural ONE Lightweight Submission Grappling World Title between Kade Ruotolo and Uali Kurzhev was a slugfest. It was not only a clash of styles but also generations. Kurzhev is a multiple-time Sambo World Champion and is an accomplished judoka who has been at the top of both grappling martial arts for nearly a decade. Kade submitted Uali via heel hook less than five minutes into the fight.
In a recent match, Tye competed against former ONE Featherweight World Champion Marat Gafurov. It was all action, as we've come to expect from the two competitors. Tye caught Gafurov in a tight triangle armbar to secure the win.
A Different Approach To Jiu-Jitsu
While there have been many Jiu-Jitsu champions over the years, not all have the mindset (and ability) to relentlessly attack from seemingly all positions. What makes the Ruotolo brothers special is that you rarely see them back down from a match, regardless of where the fight goes.
Tye did not back down one bit when he competed against his senior and mentor, Josh Hinger. Even against each other, Tye and Kade give it their all, as shown in this video. Regardless of who wins and loses, you can see that the Ruotolo brothers love to compete and are always open to challenges.
Their fighting style is also worth noting as it is very unique. They fully understand their body types and use techniques that fully leverage their build. They use techniques like the D'Arce, leg pins, and buggy chokes to great effect. As the landscape of BJJ evolves, we'll likely see more and more competitors use these techniques to complete their games.
A Move To MMA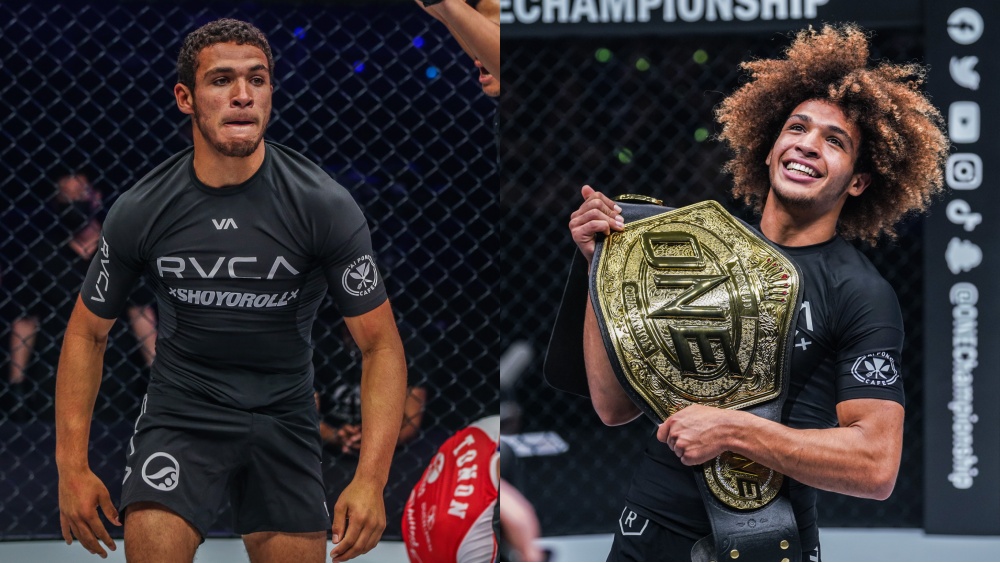 With their success in the grappling circuit, the Ruotolo brothers are looking to add more achievements under their belt, this time in the MMA cage. While no date has been set, their ability to stay aggressive and attack from all positions is sure to attract legions of fans.
Conclusion
At only 19 years of age, the sheer dedication of the Ruotolo brothers is always a treat to watch. Their philosophy towards martial arts comes from a perspective of passion and drive to become the best. The future of Jiu-Jitsu and mixed martial arts looks bright, and we can't wait to see what's next!
You may also like:
20 Best Submission Grapplers of the Modern Era You Must Know