Whether after a tough day at work, when she's feeling down, or simply because she wants to get better at it, martial arts is something that fits the rhythm of this month's inductee to the #WarriorsOfEvolve community.
Ms Kitty Khoo, a 31-year-old public servant, spent 23 years pursuing her interests in ballet, modern, contemporary and Chinese dance. However, she was looking for something different, something new that would challenge her in a different manner. It wasn't long before she found something that fit her needs and desire for spontaneity – martial arts seemed to fit that gap perfectly.
Kitty describes herself as being quite easygoing and laidback, but when she sets her mind on doing or learning something, she wants to be very good at it. Since she took that first step on her martial arts journey four years ago, Kitty has earned a Level 3 certificate in Muay Thai and a 2-stripe white belt in Brazilian Jiu-Jitsu.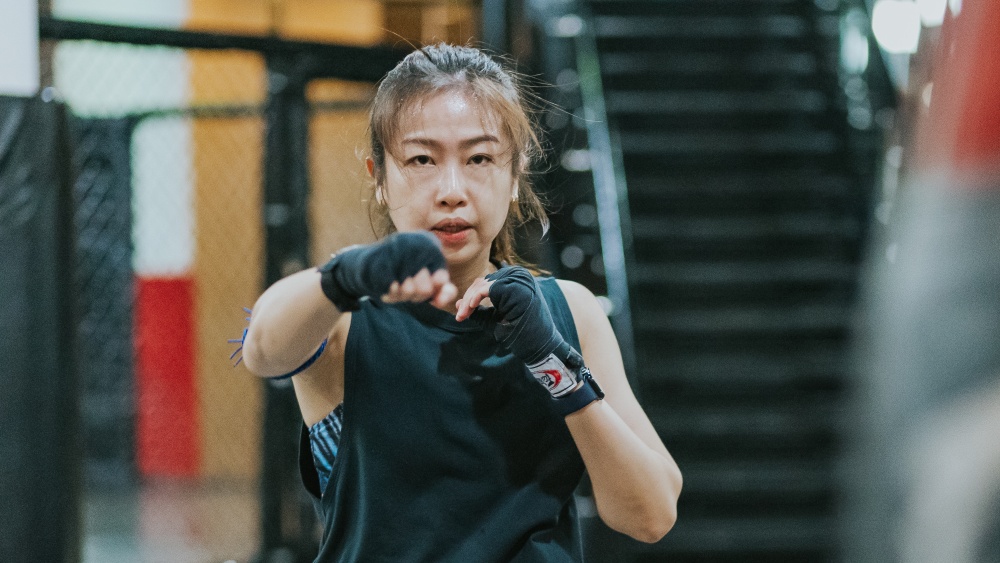 This relentless pursuit of self-improvement and personal excellence has helped Kitty to always be ready to deal with any challenges that come her way. That same desire to excel has led Kitty into a career in public service where she works at the national level to positively influence the built environment and economy.
One thing that Kitty is striving to overcome is her introversion. While martial arts has boosted her confidence levels, she admires people who exude natural confidence as they speak. Kitty sees herself as a happy and strong woman, but also curious about the world in general. She looks up to Michelle Obama among many other inspirational figures, particularly how the former first lady champions for a more equitable world.
#WarriorsOfEvolve don't see what they cannot do: they only see opportunities to learn, excel and unleash their greatness – and Ms Kitty Khoo's desire for continuous self-improvement and excellence is a perfect example of how anyone can be a part of #WarriorsOfEvolve.
Book your complimentary trial class with our World Champions below!
If you have any other questions regarding Evolve MMA and the programs we offer, you can get in touch with our membership executives at the following locations:
Evolve MMA (Far East Square)
26 China Street
Far East Square #01-01
Singapore 049568
Phone: (65) 6536 4525
Evolve MMA (Orchard Central)
181 Orchard Road
#06-01 Orchard Central
Singapore 238896
Phone: (65) 6536 4556
Evolve MMA (KINEX)
11 Tanjong Katong Road
#02-52 KINEX
Singapore 437157
Phone: (65) 6288 2293
Evolve MMA (Clarke Quay Central)
6 Eu Tong Sen Street
#04-18 Clarke Quay Central
Singapore 059817
Phone: (65) 6226 2150
Evolve MMA (Star Vista)
1 Vista Exchange Green
#02-26A The Star Vista
Singapore 138617
Phone: (65) 6539 9590