Bullying is every parent's nightmare. We often worry about what our children experience when we're not there to watch over them, and if other children are treating them nicely. We send our kids off to school every day and place great trust in our educators and the school system.
The reality is, however, that bullying is a real problem in today's society. Adults certainly try their very best to mediate rough behavior between children. Sometimes, however, parents and teachers don't always recognize that bullying is happening under their watch.
Through the power of martial arts, we have the power to end bullying once and for all.
Martial arts is for everyone, whether your child is the bully or the one being bullied. Enrolling your child to martial arts class will instill in them the knowledge and the wisdom of self-defense, all while teaching them true values like respect, sportsmanship, responsibility, and camaraderie.
Some of the most popular martial artists today were bullied when they were kids. And the moment they discovered martial arts, it gave them a sense of confidence and pride and taught them how to be responsible for their actions.
Martial arts is an amazing gift to humanity. Let's take a look at how it impacted some of today's biggest MMA stars.
Today, Evolve Daily shares five MMA stars who experienced bullying when they were kids and used martial arts to change their lives for the better.
1) Georges St-Pierre
Former UFC welterweight champion and UFC middleweight champion Georges St-Pierre was heavily picked on and bullied as a child, so much so that he established his own anti-bullying organization.
When he was young, St-Pierre admits to being very scrawny. Growing up in the small town of Isadore, Quebec, Canada, St-Pierre became a frequent target for older bullies who teased him about his acne.
St-Pierre once detailed in his own book, 'The Way of the Fight', one experience he can recall as a child when three older kids ambushed him, stole his lunch money and stripped him of his clothes with other kids just watching and laughing.
Years later as an MMA star, St-Pierre returned to his former school and spoke to students about how to overcome the challenges of bullying.
Not long after that bullying incident, St-Pierre began training in martial arts and gained his confidence and the ability to defend himself.
His message to other bullying victims is that, whether or not they follow in his footsteps to train in martial arts, bullying doesn't last forever, and mental strength is most important of all.
2) Bruno Pucci
Raised in Curitiba, Brazil, 27-year-old BJJ World Champion Bruno Pucci from the Evolve Fight Team looked nothing like he does today. As a child, Pucci was short, overweight, and had a growth disorder that plagued him as a teenager.
As a result, other children often made fun of and teased Pucci because of his height, so much so that he developed a bad temper. The young Brazilian would often get called to the principal's office in school as he frequently lashed out at his classmates when they teased him about his physical appearance.
Pucci was soon diagnosed with a pediatric growth hormone deficiency which saw him undergo 5 long years of daily treatment which robbed him of a normal childhood. Because of his condition, Pucci was made to adhere to a very strict diet and exercise routine.
It was by pure chance, however, when he and his father passed by a martial arts academy, that Pucci discovered his passion.
Taking up Brazilian Jiu-Jitsu, Pucci honed his natural talent, lost weight and achieved supreme fitness, transforming himself into a world-class athlete. Subsequently, he learned how to defend himself. Needless to say, the bullying stopped not long after.
3) Daniel Cormier
Daniel Cormier is one of the most well known martial arts stars, renowned for his incredible toughness, strength, and world-class wrestling ability. But when he was young, Cormier was a victim of bullying.
At the age of 10, Cormier was picked on frequently by another kid at school. For some reason, this kid just didn't like him and would cause him grief for most of his formative years. Cormier once joked during a television interview that the kid was '99-1' against him in playground fights.
One day, however, Cormier decided to once and for all defend himself after learning how to wrestle and finding out he was a natural at it.
"As soon as he went to get me I took his ass down, put him in a Half Nelson. He's, like, flopping around on his belly, like, 'what is going on here?' I said, 'See, this is your life now if you try to kick my ass again!" Cormier said in an interview.
Years later, Cormier became a US Olympian and captain of the US National Wrestling Team, competing in the 2008 Olympic Games in Beijing. He also now owns a 20-1, 1NC professional record and is the reigning UFC Light Heavyweight Champion.
4) Ronda Rousey
Former UFC Women's Bantamweight World Champion and a pioneer in women's MMA, "Rowdy" Ronda Rousey began her martial arts journey at a very young age. But because she was more muscular than other girls, it led to her being cast out by groups of kids at her school.
Other kids gave her the nickname "Miss Man", and she was often called a savage. As a result, Rousey hid under her baggy zip-up hoodies as she became ashamed of her own skin. It got so bad that Rousey even developed bulimia, a common eating disorder.
One day when Rousey was out with friends watching a movie, another girl kept kicking at her seat and putting her feet up next to her head as well as verbally berating Rousey in front of other kids.
It was then that Rousey decided that enough was enough. She grabbed the girl's shoe and threw it across the movie theater. Two boys came to confront Rousey, which led to a physical altercation in which the Judoka connected on several strikes and used her now world-famous Judo to slam one of them impressively to the floor. They never bothered her again.
Rousey would go on to win a bronze medal at the 2008 Summer Olympic Games in Beijing, star in movies like 'Furious 7', and pave the way for women's MMA to flourish in modern times.
5) Anderson Silva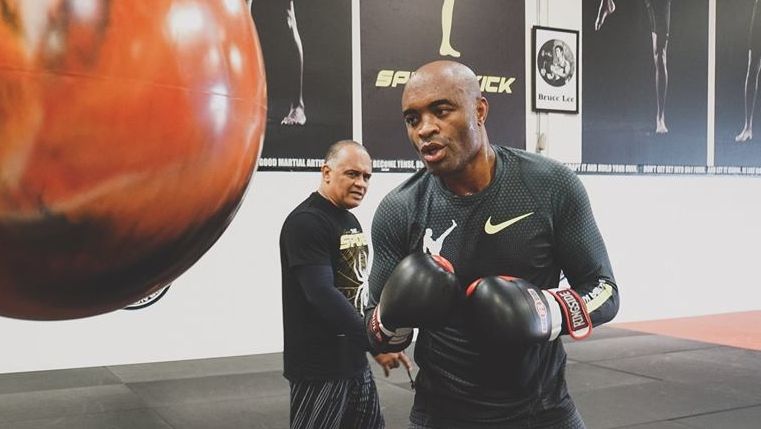 Nicknamed "The Spider", Anderson Silva is considered by many to be the greatest MMA fighter of all time. His unique striking style, championship swagger, and pinpoint accurate striking is legendary, but these are skills he didn't have when he was a child which led to him being bullied by other kids growing up in Curitiba, Brazil.
Silva grew up being forced by his aunt and uncle to take ballet and tap-dancing as a punishment for mischievous behavior. For a young male being raised in the rough streets of Brazil, becoming a ballet dancer certainly did not exude the aura of toughness. Together with his naturally high-pitched voice, Silva was an easy target for bullying.
Little did he know at the time, however, that his experience in dancing would lead to him becoming one of the most dangerous strikers in the history of MMA.
After discovering martial arts, Silva learned he was a natural born fighter, dabbling in both boxing, Muay Thai, and MMA over the course of his career. He developed incredible footwork, which he is today known for, and has exhibited for the majority of his fighting career.
Today, Silva is considered a true MMA legend, defeating some of the biggest names in the sport throughout the peak of his career and becoming one of the all-time greats.
If your child is a victim of bullying, it's best to do something about it. Enrolling in a martial arts class can help to instill confidence, social skills, and self-defense skills in him/her, helping him/her to become bully-proof. Try out martial arts today by signing up for a complimentary trial class.
Book your complimentary trial class with our World Champions below!
If you have any other questions regarding Evolve MMA and the programs we offer, you can get in touch with our membership executives at the following locations:
Evolve MMA (Far East Square)
26 China Street
Far East Square #01-01
Singapore 049568
Phone: (65) 6536 4525
Evolve MMA (Orchard Central)
181 Orchard Road
#06-01 Orchard Central
Singapore 238896
Phone: (65) 6536 4556
Evolve MMA (KINEX)
11 Tanjong Katong Road
#02-52 KINEX
Singapore 437157
Phone: (65) 6288 2293
Evolve MMA (Clarke Quay Central)
6 Eu Tong Sen Street
#04-18 Clarke Quay Central
Singapore 059817
Phone: (65) 6226 2150
Evolve MMA (Star Vista)
1 Vista Exchange Green
#02-26A The Star Vista
Singapore 138617
Phone: (65) 6539 9590