Boxing fans should be pretty pumped right about now. We get to witness two legends of the sport face each other for the very first time in the ring, when former undisputed heavyweight world champion "Iron" Mike Tyson takes on multiple-division world champion Roy Jones Jr.
November 28 can't come soon enough.
First of all, this is an exhibition bout, so let's get that straight. It's not a "real fight" per se, although the two men have made many statements in the press that they will for sure try to take each other's heads off. That much is pretty clear.
They won't be wearing headgear, but will supposedly don the 12-ounce gloves, as required by the state athletic commission. They are 50-year olds, after all.
Tyson and Jones will fight eight, three-minute rounds. But while exhibition bouts usually resemble sparring sessions, both men have promised to try their best to entertain the fans who will be looking to get their money's worth.
Most fans tuning in are keen on checking out the type of fight an old Mike Tyson will bring to the ring, after videos of the boxing superstar in phenomenal shape a couple of months ago went viral. Boxing purists, of course, want to see how each man would be able to implement the techniques that made them so popular.
Not sure what to expect with this fight? Let's take a look at how Tyson and Jones stack up against each other right now. Today, Evolve Daily breaks down Mike Tyson vs Roy Jones Jr.
1) Age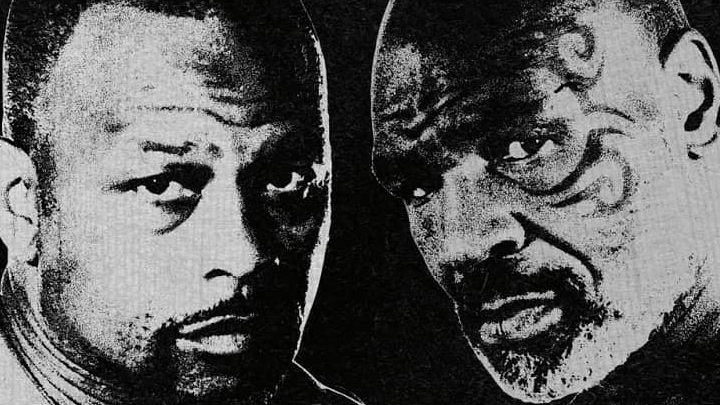 Not many may realize it, but Tyson and Jones aren't that far apart in terms of age. Tyson is 54, and Jones is 51. Tyson began his professional career in 1985, while Jones started in 1989. Both men have about two decades worth of experience in the ring.
Will the extra three years Jones has on Tyson actually matter? On the surface, Tyson seems like more of the 'older man', and it has nothing to do with his age. He has led a rollercoaster of a life, falling into many rockstar-esque vices at the peak of his fame.
Tyson's out-of-the-ring endeavors have been well chronicled — from spending time in jail, to starting epic bar fights. Jones, on the other hand, has largely stayed away from controversy and has led a simple life. He was all about boxing, whereas Tyson was not.
It's obvious Jones has the perceived advantage when it comes to age. But don't ever bet against "Iron Mike" in anything. He has looked absolutely phenomenal recently, and it would be wise not to underestimate him.
2) Experience
Tyson and Jones' career paths also took similar trajectories. They both started their careers out as very strong, dominant forces.
Tyson went unbeaten for the first five years of his career, until he met the infamous James "Buster" Douglas in 1990. Douglas knocked Tyson out in exciting fashion, and no one saw it coming. It was a complete and total shocker.
Prior to that, Tyson just railed opponents, knocking guys out left and right while making it look easy. His most notable victories have come against Trevor Berbick, Michael Spinks, Frank Bruno, "Razer" Ruddock, and the legendary Larry Holmes, to name a few.
On the other side of the spectrum, Jones went virtually 15 years without a loss. He got disqualified against Montell Griffin in 1997, but aside from that, he had no blemishes on his record early in his career.
Jones was once considered the pound-for-pound best fighter in the world. At his best, he was the total package, an athletic specimen that combined incredible speed and power.
Jones' most notable wins came against Griffin (in the rematch), Virgil Hill, Vinny Pazienza, John Ruiz, Antonio Tarver, and Jeff Lacy — no doubt impressive victories. However, when it comes down to it, Tyson just has the better resume.
3) Speed
Both men were known for their speed. It was their greatest asset as fighters.
Tyson was blindingly fast. He was a locomotive, a freight train that just overwhelmed opponents with physicality. Few fighters actually knew how to deal with Tyson's speed, and whoever did usually ended up winning. Needless to say, Tyson's speed, not his power, was what brought him the most success.
Conversely, Jones' was just as fast, but he had more athleticism than Tyson. Jones was a unique fighter in his prime, who could rail off multiple consecutive punches against unsuspecting foes in the ring. Fans started calling Jones "Captain Hook" because of his ability to throw three to four hooks in rapid succession.
Both men were also pretty even when it came to foot speed. They were both nimble and agile, able to get anywhere they wanted in the ring with ease.
Given Tyson's peek-a-boo style was more deliberate, Jones had slightly better ring generalship and could dance around his opponents with great footwork.
At this point, Jones has to use his superior footwork to stay away from Tyson's onward pressure.
4) Power and Skill
Having ended his career at 50-5 with 44 KOs, Tyson has a much better knockout ratio compared to Jones. Jones ended his career at 66-9 with 47 KOs.
It's obvious who has the advantage in this category, as Tyson was incredibly popular at the top of his game due to his otherworldly power. "Iron Mike" won his first 19 professional fights by knockout, 12 of them in the first round. Oftentimes, opponents would be afraid to stand across from him, and they would be mentally defeated before they even stepped in the ring.
Make no mistake about it, however, as Jones definitely has pop in his fists. The difference is that Jones relied more on his technique to bring him stoppage wins, rather than just being a brute offensive force.
Jones represented the United States at the 1988 Summer Olympics, winning a silver medal in the junior middleweight division. But the result of the final bout against South Korea's Park Si-Hun turned out to be one of the most controversial decisions ever in boxing. The consensus was that Jones was robbed of a gold medal finish. It's one of the most infamous moments in the history of the sport.
When it comes to pure skill, Jones definitely has the edge due to his amateur pedigree.
Tyson won gold medals at the 1981 and 1982 Junior Olympic Games, but he didn't have as successful of an amateur stint as Jones had.
5) Style
This is where it all comes down. Tyson and Jones have very different boxing styles.
Tyson is more akin to a battering ram, ready to mow down foes with his brute strength, uncanny head movement, and unrivaled aggression. Jones is more of a tactical swordsmith, brandishing his sharp weaponry and utilizing technique and strategy to break opponents down.
It's more than likely fans will get to witness these two vastly different boxing styles at play in this exhibition bout. Neither man has looked to change his fighting style over the years.
Tyson and Jones have tried to make this super fight years ago when they were younger. But for many reasons, the fight just never saw the light of day. It's only now, in their 50's, that they finally get to tango in the ring.
In boxing, styles make fights, and that doesn't change here. Whoever has the better style and strategy will win this eight-round exhibition.
Whether this is a 'real fight' or not, that remains to be seen. It's a question that will only likely be answered once the two men touch gloves and throw leather for the first time. Until then, it's fun to speculate who wins this once-in-a-lifetime showdown between two all-time greats.
If you found this article interesting, here are some others that you may enjoy:
The 5 Greatest Multi-Division Boxing World Champions In History