For multiple-time Muay Thai World Champion Singtongnoi Por Telakun from the Evolve Fight Team, the toughest battle he has ever fought in his life was not in the ring where he had won multiple world championships — it was outside of the ring, where an encounter with stage three cancer nearly took his life.
If you have ever gotten to know the 37-year-old from Nakhon Ratchasima, Thailand, you will first notice his indomitable warrior spirit. Coaches and colleagues describe Singtongnoi as a fighter who is loyal, hardworking, and devoted to his work and his craft.
Throughout his life, he has had to overcome loads of adversity, whether that was fighting to escape poverty, or taking on fellow legends of the 'Art of Eight Limbs'.
But battling cancer proved to be the most difficult of all, as it forced Singtongnoi to take a long hard look at his life, remind himself what he was fighting for, and then push through pain and sickness to power himself past his biggest nightmare.
At the center of Singtongnoi's triumph over cancer, of course, is his love for both family and martial arts, which have given him the strength and unfailing will to live.
As Singtongnoi prepares to make his comeback to competition on the 18th of May in ONE: Unstoppable Dreams at the Singapore Indoor Stadium, let's take a look at three ways martial arts powered him through his bout with cancer.
1) It taught him to be resilient
When he was hit with the unfortunate news that he had cancer, Singtongnoi could not believe what he was hearing. He was in disbelief. What seemed like a routine trip to the doctor ended up causing his entire life to come crashing down.
But for a man who had achieved victory on the toughest proving grounds of Muay Thai, Singtongnoi was no stranger to adversity. Recalling his epic victories in Thailand's most prestigious stadiums, Singtongnoi is a grizzled veteran of hardship and knows just what it takes to win.
Practicing Muay Thai since the age of 10, Singtongnoi was imbued with the gift of resiliency, learning early that the power of perseverance and the human spirit was greater than any obstacle life could throw at him.
"What I learned from having cancer is that life is valuable and that you should not take it for granted. It's important to love yourself and take care of your loved ones, as you don't know when you'll die," said Singtongnoi.
"I learned that the most important thing is to have a fighting spirit."
By never giving up on his dreams, martial arts taught him to be resilient, and to never surrender. Through his fight with cancer, resiliency played a huge role in his recovery.
2) It reminded him what he was fighting for
Every now and then, we face a problem that truly tests our mettle. For Singtongnoi Por Telakun, that was discovering he had cancer and then having to undergo rounds of treatment. The Thai legend had to endure 36 sessions of radiation therapy, and 7 sessions of chemotherapy — which were all incredibly taxing on his body.
"Once I started the treatment, I wasn't really able to eat, and I lost about 5 kg. I didn't have the energy to do anything. All I could do was sleep. Even the most tiring moments of my fighting career weren't as tiring as this," recalled Singtongnoi.
"It was both tiring and torturous. But I had faith that I would recover, I had faith in the doctors."
In the most trying of times, we all need to be reminded what we are fighting for. Singtongnoi had never once lost sight of that.
Throughout his martial arts career, which started when he was just a little boy, Singtongnoi had always fought to give his family a better life. To this day, that has not changed. Even through his illness, it was his family that pulled him through the hardest junctures.
"There were points during my treatment that I wanted to quit, but what made me fight was thinking about my children's future and the people that I loved," said Singtongnoi.
"When I heard that I had recovered, I was ecstatic. I felt a huge weight lifted and I could once again see the bright future for myself and my family."
3) It gave him mental strength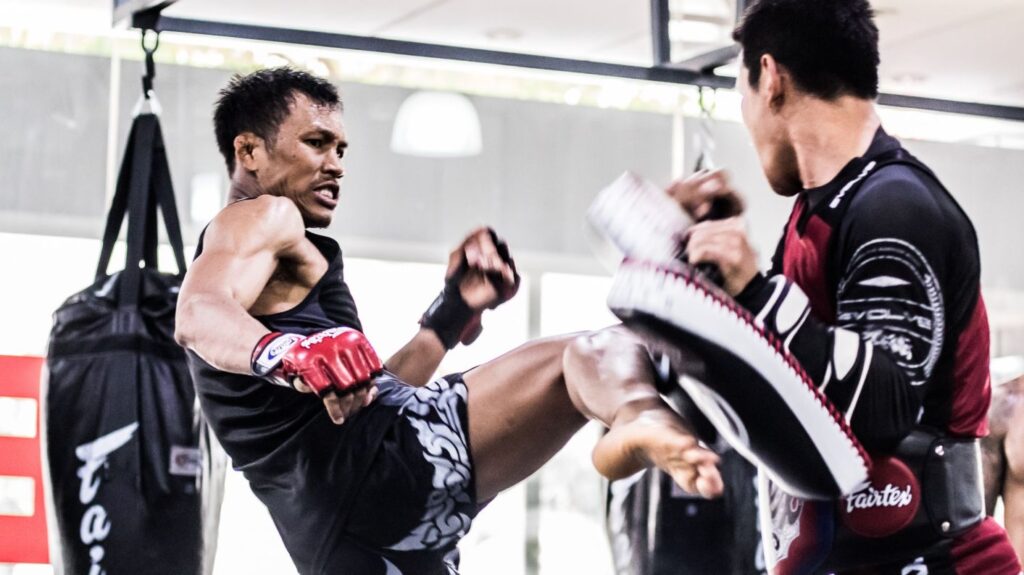 Perhaps more important than anything martial arts ever gave him, was the mental strength to overcome any obstacle in life. Throughout our time on this Earth, things will happen to us that are beyond our control, both good and bad. We will be faced with seemingly impossible circumstances that will test who we are and what we are made of.
It is important that in these moments, we choose to fight and soldier on, looking past our troubles and using the gifts that were given to us to succeed. It is not our situations that define us, but what we choose to do in our most difficult times that truly speak to who we are.
For Singtongnoi, the mental strength he acquired from years of training in martial arts had helped him get past the darkest moments of his life.
"I was stunned. I couldn't believe it. I asked, 'Do I really have cancer?'. I started to cry. I was in disbelief," Singtongnoi recalled the moment he found out about his illness.
"But with my style of fighting, I give it my all and fight until the final bell. I am committed to finding a way to win every fight."
Singtongnoi Por Telakun resumes his legendary career this 18 May, at ONE: Unstoppable Dreams in Singapore. He is set to face former WBC Muay Thai world champion Joseph "Hurricane" Lasiri of Italy in what should be an action-packed contest.