A "sprawl" is a defensive technique used to escape takedown attempts. It is commonly used in mixed martial arts and grappling-based combat styles such as Brazilian Jiu-Jitsu and wrestling. When executed correctly, a sprawl often leaves you on top of your opponent in a position called the top sprawl position. There are multiple ways to go about attacking your opponent from the top sprawl position. You can either go for their neck with chokes like the anaconda choke, grab their ankles and advance to a more dominant position or even force your opponent to carry all your weight as they fight their way back to their feet.
Sprawling is also an effective way to defend against most single and double-leg takedowns in mixed martial arts.
Here's what a basic sprawl looks like:
When the opponent goes for a leg takedown, move your hips back as you swing your legs away from your opponent while reaching for their head with your hands.
As you do this, you should be pulling and pushing your opponent's head and shoulders, pressing them onto the ground with your body weight.
When executed correctly, your torso should be over the upper part of your opponent's back in the end.
The key to a successful sprawl is timing it right. Sprawl too early, and you might end up belly-down on the ground leaving a chance for your opponent to jump on you. Sprawling too late and your opponent might end up grabbing hold of your legs before you have a chance to swing them backward. There are various ways to sprawl in mixed martial arts. Some are better suited for defending against single-leg takedowns, while others are more effective at stopping double-leg takedowns.
Today, let's take a detailed look at 2 key factors that affect how effective your sprawls are in mixed martial arts settings:
1) The Correct Stance
How your hands, legs, head, and hips are positioned affects the effectiveness of your sprawls. The two main stances used when spawling are the staggered and squared stances.
The staggered stance involves the user placing one leg in front of the other while the squared stance involves the user's legs squared, feet pointing towards the opponent during fights as they move around the cage.
Your hands play an essential role when executing the technique; how high you hold your hands affects the effectiveness of your sprawl. They are used to prevent your opponent from closing the distance and to push your opponent's head towards the ground. You've probably noticed mixed martial arts fighters keeping their hands low when going against a good wrestler. Keeping your hands in position to control your opponent's head can even help to defend against takedowns even after your opponent has wrapped their hands around your legs.
2) "Legs Back" Defense
Shooting your legs back to defend against a takedown is called the "legs back" defense. It is particularly effective when an opponent shoots in for takedowns. The key is to get your legs as far as possible from your opponent, preventing them from grabbing your legs. Because ultimately, leg takedowns can't be completed without grabbing the opponent's legs.
Your feet should be off the ground when you sprawl and your body almost parallel against the floor as you drop. Use your hands to break your fall as your upper body and hips make contact with the ground. You may also use your hands to push your opponent's head if they shoot over aggressively. You can sprawl with both sides or just one side of your hips depending on the type of takedown you're defending against.
Single-Leg Sprawl

: Some would argue that this is the easiest version of the sprawl to execute, and an effective way to defend against single-leg takedowns. This involves placing all of your body weight on the side while being attacked. To execute a single leg sprawl, shoot both legs backward and drop to the ground. Turn while dropping to ensure the side of your hip that's being attacked is facing the floor, while the other side is facing up. When executed correctly, you should land on the side of your hip

Square Sprawl

: This is an excellent defense for double-leg takedowns. To perform the technique, kick your legs back and drop to the ground. Use your hands to break your fall just as your hips and upper thigh make contact with the ground. When executed correctly, your hands should end up where your feet were when you started the sprawl.
A Fundamental Technique For Mixed Martial Arts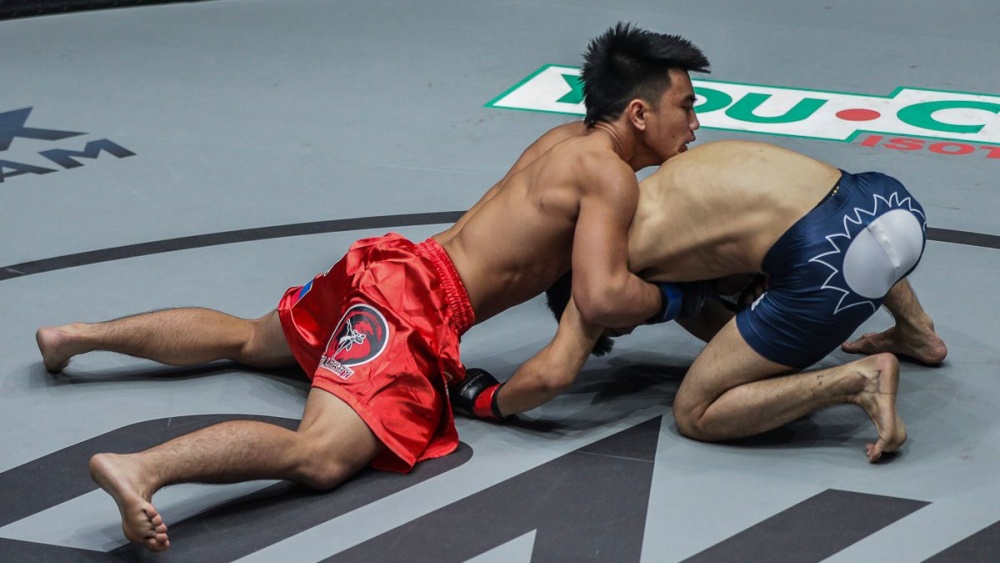 Learning how to sprawl is not optional but essential when competing in mixed martial arts. Fighters score points when they complete takedowns, especially in a closely contested round, a single takedown could be the deal-breaker in such situations. Sprawling away from takedowns can be effective, and has contributed to the evolution of mixed martial arts. The sport's early days were dominated by Brazilian Jiu-Jitsu specialists like Royce Gracie taking opponents down and forcing them into submission.
Since then, the sport has adapted to the challenges that BJJ posed, and the sprawl was one of the first weapons used to neutralize BJJ fighters in MMA. It was even termed "anti-Jiu-Jitsu" at some point, leading to a new fighting style called "sprawl and brawl." Suddenly, the same BJJ fighters who dominated the early days of MMA started to find themselves struggling to take opponents down, forcing them to stand and strike with their opponents. Kazushi Sakuraba used this tactic very effectively and handed Royce Gracie his first loss as a professional mixed martial arts fighter.
Regardless of your fighting style, sprawling allows you to keep fights standing and turn takedown attempts into dominant ground positions that you can use to end fights with chokes or even advance to more dominant positions.
Want to learn more about sprawling? Attend one of Evolve MMA's complimentary mixed martial arts classes for more tips.
Book your complimentary trial class with our World Champions below!
If you have any other questions regarding Evolve MMA and the programs we offer, you can get in touch with our membership executives at the following locations:
Evolve MMA (Far East Square)
26 China Street
Far East Square #01-01
Singapore 049568
Phone: (65) 6536 4525
Evolve MMA (Orchard Central)
181 Orchard Road
#06-01 Orchard Central
Singapore 238896
Phone: (65) 6536 4556
Evolve MMA (KINEX)
11 Tanjong Katong Road
#02-52 KINEX
Singapore 437157
Phone: (65) 6288 2293
Evolve MMA (Clarke Quay Central)
6 Eu Tong Sen Street
#04-18 Clarke Quay Central
Singapore 059817
Phone: (65) 6226 2150