MAJOR NEWS ALERT! You ask and we deliver! We're thrilled to elevate your training experience at Evolve MMA. Prepare for an extraordinary series of seminars featuring not one, but SIX World Champions and Superstars from ONE Championship! Happening right here in Singapore starting from September 2023, this is your chance to learn from the best of the best.
Get ready to dive into an extraordinary journey of learning! These are not your usual seminars; they're designed to ignite your passion and expand your mind. Featuring World Champions such as Angela "Unstoppable" Lee, Mikey "Darth Rigatoni" Musumeci, Tawanchai PK.Saenchai, Stamp Fairtex, Jonathan "The General" Haggerty, and Liam "Hitman" Harrison. Continue reading to discover why these seminars stand out and offer an opportunity to learn from the best of the best in the field.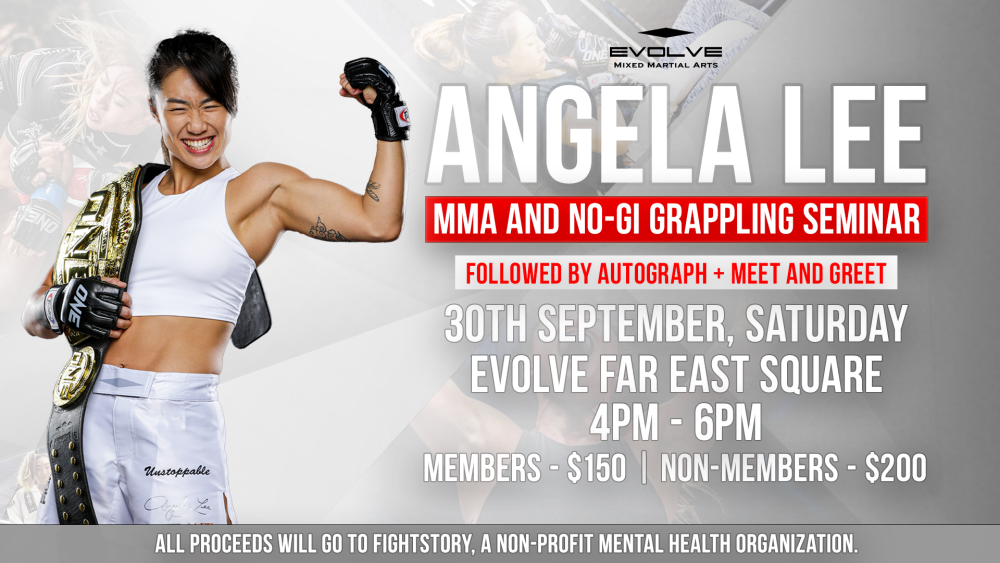 ONE Women's Atomweight World Champion Angela Lee has consistently proven her "Unstoppable" moniker true. Born to highly-decorated martial artist parents, Angela was exposed to the martial arts world from a very young age. She has achieved remarkable success in various martial arts disciplines, thanks to her hard work and determination.
Angela, despite her youth, has the distinction of being the youngest MMA World Champion in history for any major global MMA organization. She made her debut with ONE Championship in 2015 and racked up 5 consecutive submission victories. Her current record stands at 11 wins, with 8 of them via submission.
She holds the current ONE Women's Atomweight MMA World Championship Title and has been a 2-time World Pankration Champion and a 2013 Hawaii State Wrestling Champion. Besides, she has won numerous World, National, and Regional martial arts competitions, including the World Pankration Athlima Federation World Championships and FILA World Championships. Angela possesses a 1st-degree Black Belt in Taekwondo and TDS and a Black Belt in Brazilian Jiu-Jitsu.
Angela Lee will be in town for an MMA and No-Gi Seminar at Evolve MMA on 30 September 2023 from 4PM – 6PM. This is a special one as all proceeds from the seminar will go to Fightstory, a non-profit mental health organization. Secure your spot now!
SIGN UP FOR THE MMA & NO-GI GRAPPLING SEMINAR BY ANGELA LEE NOW!
Mikey "Darth Rigatoni" Musumeci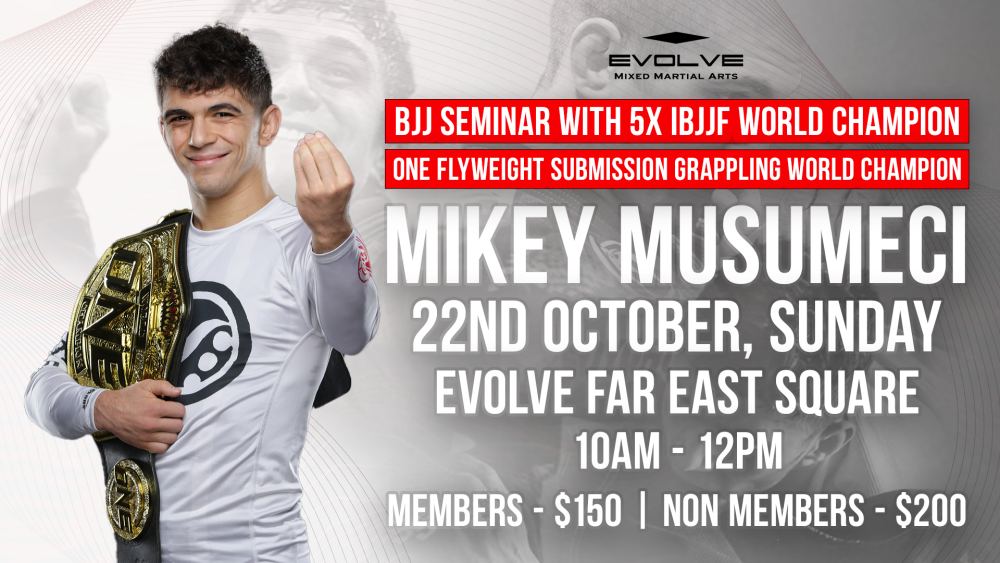 ONE Flyweight Submission Grappling World Champion Mikey Musumeci stands out as possibly the most accomplished Brazilian Jiu-Jitsu (BJJ) practitioner ever born in America. Born in 1996 to an Italian-American family, Musumeci embarked on his BJJ journey at the tender age of 4.
From his early years, he exhibited exceptional dedication, spending numerous hours before and after school, mastering various jiu-jitsu techniques. After a journey adorned with multiple IBJJF World Championships victories at juvenile and colored belt levels, he earned his black belt at just 18 years of age.
Upon stepping into the pinnacle of the sport, he swiftly climbed the ranks, securing the first of his five IBJJF Black Belt World Titles in 2016. In 2019, he set a record with the quickest submission in an IBJJF World Championship final, conquering his opponent with his signature straight ankle lock in a mere 12 seconds.
Mikey, once a young man brimming with potential, had established himself as a premier, world-class grappler. His prowess was soon recognized by ONE Championship, the world's leading martial arts organization, where he made his promotional debut in 2022, defeating the legendary Japanese MMA and grappling artist, Masakazu Imanari, with a rear-naked choke.
Musumeci is renowned for his advanced and innovative techniques, including the berimbolo back-take, usually launching attacks from his guard to keep his adversaries on the defensive. Don't miss out on this one as Mikey will be holding a BJJ Seminar with Evolve MMA on 22 October 2023 from 10AM to 12PM, you might get to learn all about his "Mikey lock" so secure your spot now!
SIGN UP FOR THE BJJ SEMINAR WITH MIKEY MUSUMECI NOW!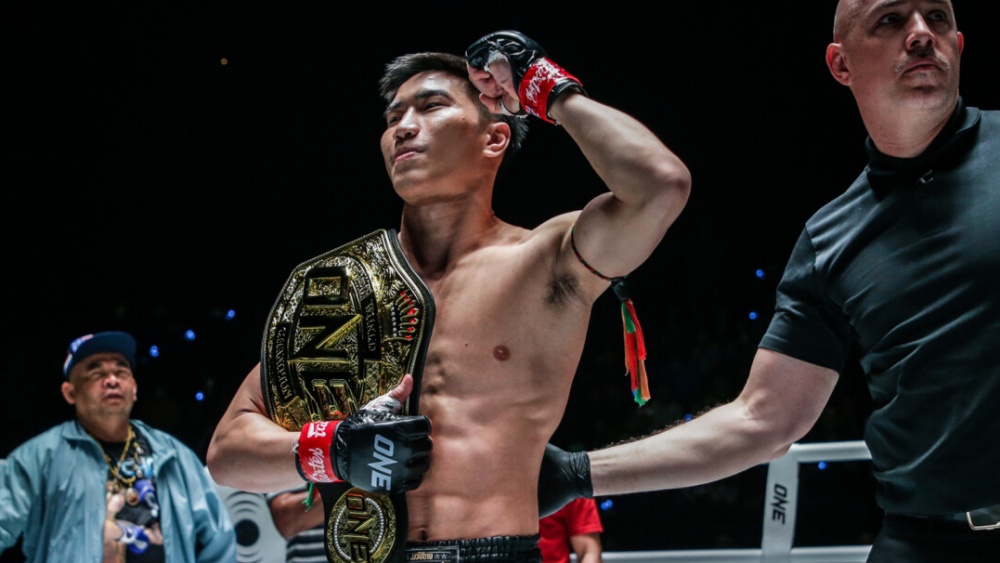 ONE Featherweight Muay Thai World Champion Tawanchai PK.Saenchai has dazzled the world since his entrance into ONE Championship, earning both fan adoration and the awe of opponents. The young combatant from Bangkok is viewed as one of the luminaries of his generation, relentlessly advancing in ONE Championship to eventually secure the featherweight Muay Thai division title.
Tawanchai's journey began at 8 years old, when after witnessing some captivating Muay Thai bouts at Thepprasit Stadium in Pattaya, Thailand, he was compelled to master "The Art of Eight Limbs." He rapidly ascended through the ranks and by 14, had debuted at the esteemed Lumpinee Stadium. His dominating presence on the local scene saw him claiming significant victories and receiving substantial rewards.
In 2018, Tawanchai reached a peak in his Muay Thai career, receiving accolades such as the Lumpinee Stadium, Sports Authority of Thailand, and Siam Kela Fighter of the Year awards. Three years subsequently, he extended his prowess to ONE Championship, presenting his skills on an international platform, all in pursuit of his inaugural World Title.
Tawanchai will be in Singapore for an exclusive Muay Thai Seminar on 19 November 2023. Secure your slots early and keep your notifications on for our social media channels as we will be releasing all the details soon!
SIGN UP FOR THE MUAY THAI SEMINAR WITH TAWANCHAI PK.SAENCHAI NOW!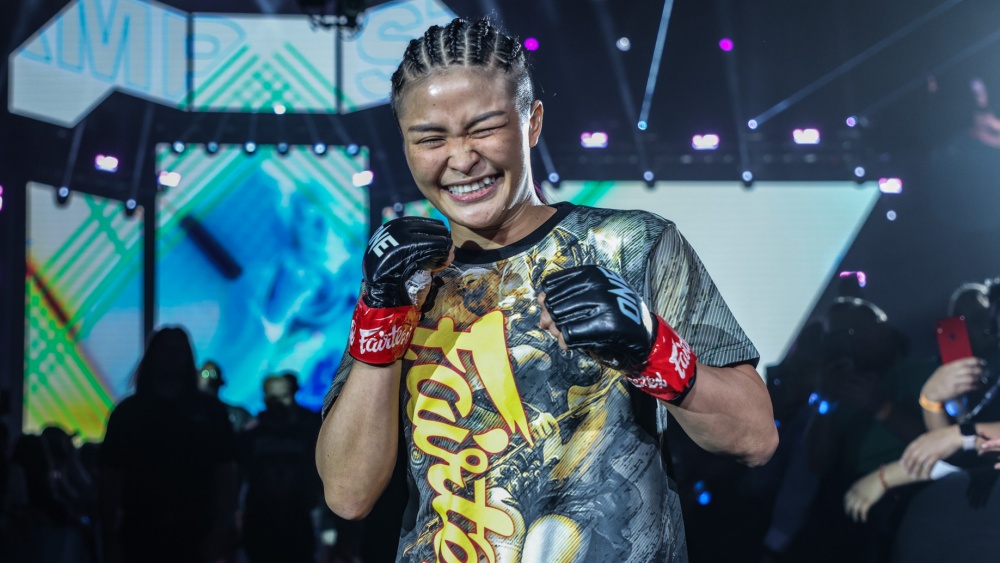 Former ONE Women's Atomweight Kickboxing and Muay Thai World Champion, Stamp Fairtex, had a passion for competing in Muay Thai from the young age of 5. Stamp accumulated over 80 professional Muay Thai fights, earning titles as a stadium champion and a two-division Northeastern Thailand Champion. Born in Rayong province of Thailand, she moved to Pattaya at 18 to follow her aspirations of becoming a full-time combat sports athlete, a journey marked by immense dedication and sacrifice.
Stamp's debut in ONE Championship was met with immediate acclaim as she secured the ONE Women's Atomweight Kickboxing World Title, swiftly followed by her making history by annexing the ONE Women's Atomweight Muay Thai World Title, thus becoming ONE's first two-sport World Champion.
After conquering the striking realms, Stamp pivoted her focus to MMA. In 2021, she clinched the ONE Women's Atomweight World Grand Prix Championship and she is now poised to contest for the ONE Women's Interim Atomweight World Title against Ham Seo Hee at ONE Fight Night 14 on September 29, underscoring her relentless pursuit of excellence in the world of combat sports.
Stamp will be in Singapore to host a Muay Thai and Kickboxing seminar soon. So keep a lookout for our social media for more details as you don't want to miss this unique opportunity to learn from Stamp Fairtex herself!
Jonathan "The General" Haggerty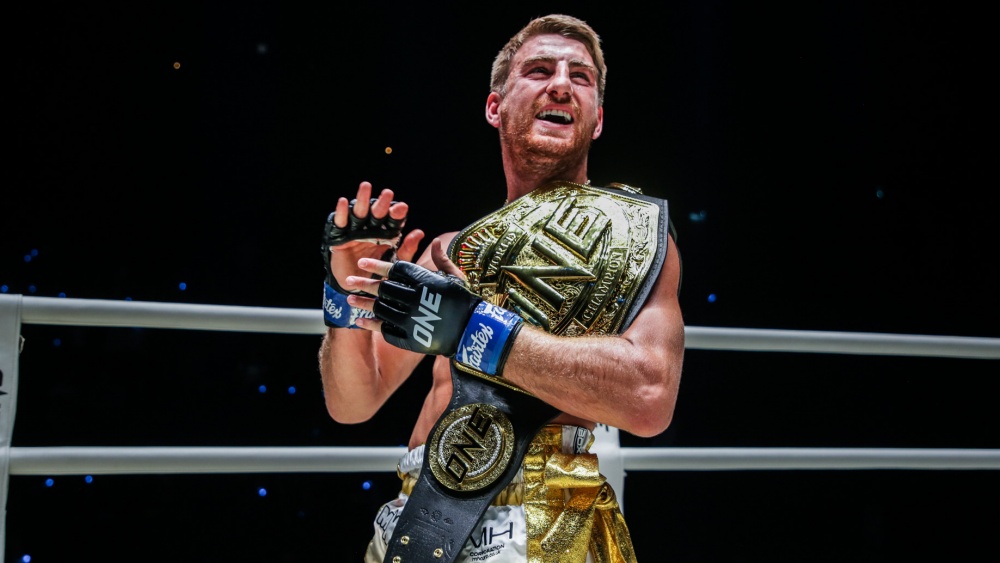 Jonathan Haggerty, even with his youthful years, is an exceptionally accomplished martial artist, having commenced training in Muay Thai at the tender age of 7. Under the meticulous guidance of his father, a competitor himself, he embraced the discipline, experiencing his first bout just a year into his training. His journey since has been a fervent quest to establish himself as the world's foremost striker.
His exceptional trajectory paved his way to ONE Championship, where his debut was nothing short of spectacular, overcoming Muay Thai World Champion Joseph Lasiri. Representing the United Kingdom as one of its finest strikers, Haggerty continued to make global ripples in his subsequent bout, where he triumphed over the legendary Muay Thai World Champion Sam-A Gaiyanghadao in May 2019. This victory allowed him to seize the ONE Flyweight Muay Thai World Title. Despite losing it subsequently to Muay Thai phenom Rodtang Jitmuangnon, Haggerty was able to bounce back quickly with back to back wins, eventually moving up a weight class and defeating another legendary Muay Thai World Champion, Nong-O Gaiyanghadao, thereby claiming the ONE Bantamweight Muay Thai World Title.
Haggerty will be in Singapore for a short while, and will be visiting Evolve MMA during his time here. He will be conducting a Muay Thai Seminar, so stay tuned for the date. More information will be available soon so please keep an eye out for our social media!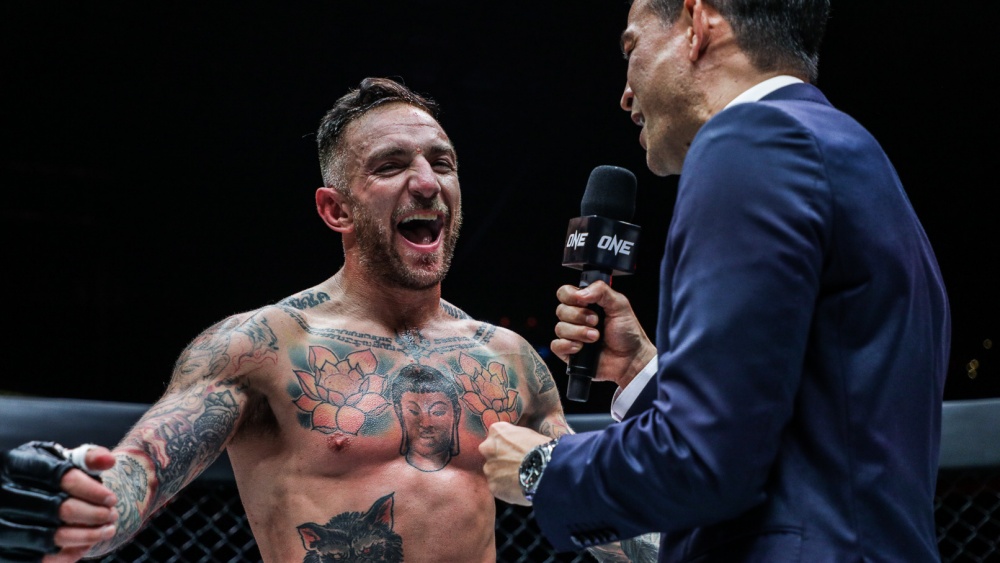 Liam Harrison, the three-time Muay Thai World Champion, almost missed discovering his extraordinary talent in martial arts. Initially, he immersed himself in soccer, demonstrating sufficient skill to play at an elevated level in his hometown of Leeds, England. However, a turning point came at 13 when his cousin introduced him to Muay Thai.
Harrison's affection for this striking art blossomed instantaneously. His zeal for Muay Thai was so intense that he chose to leave school to chase his aspirations of becoming a World Champion. By 15, he had already cultivated a formidable reputation for his knockout power and intensive, aggressive style, earning him the moniker "Hitman."
Harrison's remarkable journey has seen him compete globally, participating in over 100 bouts. He has seized three Muay Thai World Titles in diverse weight categories and rule sets, with a significant number of his victories achieved through stoppages.
Harrison will be in town to conduct a Muay Thai Seminar soon. Be sure to mark your calenders! More information will be available soon so please keep an eye out for our social media!
Get Ready For The Ultimate Training Experience At Evolve MMA!
Six world champions, six seminars here at Evolve MMA! Gather your crew, mark your calendars, and stay alert for notifications on our social media — this is an unparalleled opportunity you won't want to miss! Also, be sure to keep an eye on our events page so you won't miss any of our exciting events!
You may also like:
Angela Lee Returns! 5 Unstoppable Reasons Not To Miss Her Seminar