If you enjoy leisurely walks around the trendy enclave of Paya Lebar-Katong to suss out where the good food options are, then you've probably come across KINEX. The modern mall is about ten minutes away from Paya Lebar MRT and sits opposite older buildings such as Tanjong Katong Complex and City Plaza.
It's a vibrant mall with plenty of foodie options, which makes it very convenient if you want to grab a bite before or after your workout. For many of our students and instructors at Evolve MMA (KINEX), the choices are so plentiful they can get overwhelming – so we've listed some of the best places to eat around KINEX Mall, depending on your meal of the day! Save this list so you know what to eat after your Muay Thai, boxing, Brazilian Jiu-Jitsu, or mixed martial arts sessions at Evolve!
1) For Breakfast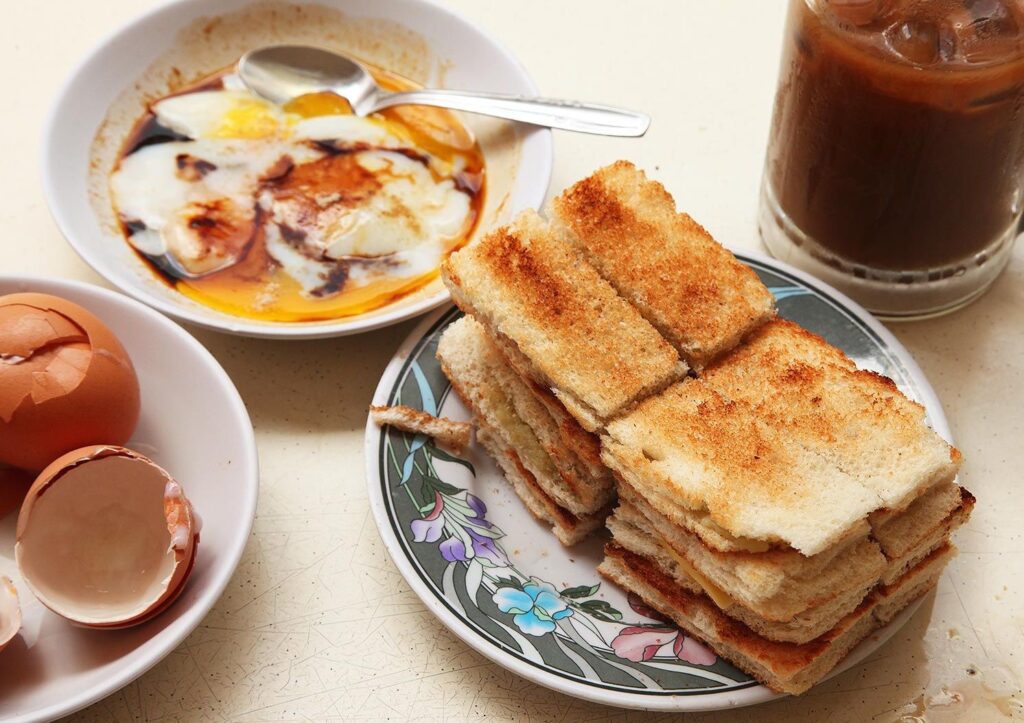 If you're headed for martial arts class without breakfast, stop! It's never a good idea to work out without breakfast. As you sleep, your body releases hormones that help to repair and strengthen muscles throughout the night. That process requires energy, protein, and calcium. So eating a good breakfast helps restore all that before you work out.
There are plenty of food options around KINEX for a hearty breakfast! If you're rushing and just need a quick bite, Ah Khoo Kopi Toast at B1-K3 serves up local favorites. Get your kaya toast and kopi (Hokkien for coffee) here.
Prefer a heartier meal? You can head over to Qiji at B1-K20, for its delicious nasi lemak. Tuck into a satisfying meal of rice, egg, and sides like fried chicken and anchovies. Note though, you need time to digest a heavy breakfast, so make sure you give yourself ample time before you start your martial arts training.
Have more time? Head across the road to Haig Road Market and Food Centre. Have a piping hot bowl of mee rebus at Afandi Hawa & Family Mee Rebus. The stall is famous for its mee rebus, with yellow noodles cooked in an intense meat broth.
2) For Snacks And Light Bites
If you need a light snack post-workout, there are plenty of options at KINEX Mall. Grab an acai bowl to go at Haakon. Located on Level 2, the eatery is well-known for its nourishing superfoods. Acai not only boosts your immunity, but it also reduces the risk of heart disease, arthritis, diabetes, and other chronic conditions. Haakon has several options that you can choose for your acai bowl, or you can get a super juice pumped with antioxidants as well.
For those with time to spare and who are not counting calories, stroll over to Haig Road Market and look for the Traditional Haig Putu Piring. You can see it from the long queue that forms at 12 pm. Putu Piring is a soft, white cake with a sweet, melt-in-your-mouth gula melaka core. Buy them for a lunch meeting or for tea time at home. We guarantee you'll score some bonus points with your colleagues or your family!
3) For A Romantic Dinner Date
Evolve MMA (KINEX) has single shower rooms well-equipped with lockers. So if you need to head out to meet your other half after working out, feel free to bring along your best going-out clothes. After you've had a heart-pumping workout session and showered, it's time to think of where to eat.
KINEX Mall has Hoshino Coffee at Level 2. The Japanese restaurant has made a name in Singapore thanks to its fragrant hand-drip coffee, and delightful cream soufflé pancakes. The pancakes taste best when you can share them, and the cozy booth seats make it easy for you to stare dreamily into your date's eyes.
You can also head to 800° Woodfired Kitchen. The diner has an interesting concept, with all its menu items cooked over a wood fire. From the craft pizza to its rotisserie meat, you're treated to perfectly charred, smokey food. Perfect for a first date if you need a conversation starter.
Need a fancier place for an anniversary? Salvo By Pasta Fresca at Paya Lebar Quarter 3 (PLQ 3) right across the road (three minutes walk) is your answer. It's an Italian casual dining restaurant that serves pasta, pizza, and other mains. They also have an extensive wine menu. The warm, dim lighting and aromatic wines are just what you need to wine and dine with your lover!
4) For A Fun Girls Or Guys' Night Out
So you've got all the endorphins flowing in your body after your weekly martial arts class and you're ready to party. Well, it's time to WhatsApp your friends and get them to join you at KINEX.
Here's where we would recommend you to go with your friends. A rowdy night out is incomplete without a hearty meal, so tuck into handmade, juicy burgers and buffalo wings at Fatburger & Buffalo's (Level 1). They are open until 10 pm, which means you can get together as late as 9 pm! They're also halal-certified, so if you have Muslim friends in the group, this is an ideal spot.
If you need a place where you can stay out a little later, then head over to Tipsy Bird Gastro at Paya Lebar Quarter 1. It closes at 1 am and it's just four minutes away from Kinex Mall. The spacious restaurant with an outdoor area serves local fusion dishes such as Truffle Beef Horfun and XO Carrot Cake. But most diners rave about their delicious Japanese oysters which you can pair with an extensive alcoholic drinks list. There's even a live band line-up, so you get to hear live music every day. With so many choices, there's really no excuse for your friends to cancel on you!
But we've got a better idea: why not get them to work out with you at Singapore's top martial arts gym, Evolve MMA? Martial arts has many physical and mental benefits, so if you want to be a good friend, get them started on that new 2023 resolution to work out by bringing them along to a class!
Unleash Your Greatness At Evolve MMA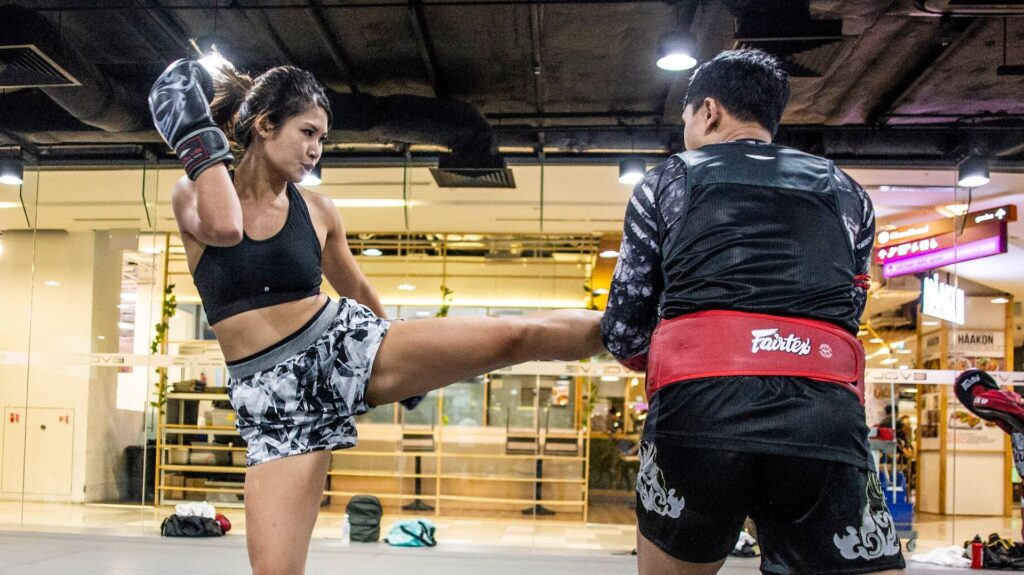 You might disagree on whether it's better to live to eat or eat to live, but there's no denying that a good meal after a hard workout session is the most satisfying experience! We hope all these options we've listed at KINEX Mall will help you decide on your next meal before or after your workouts.
Whether you're 6 or 60, Evolve MMA has martial arts classes suited for everyone. Train under world-class instructors who know their craft well, and experience the adrenaline high of a good workout. Besides, we have multiple locations around Singapore. Apart from Evolve MMA (Kinex), you can also check out other locations where there are plenty of awesome food choices too! So start your 2023 fitness plan early and book a trial class with us today.
Book your complimentary trial class with our World Champions below!
If you have any other questions regarding Evolve MMA and the programs we offer, you can get in touch with our membership executives at the following locations:
Evolve MMA (Far East Square)
26 China Street
Far East Square #01-01
Singapore 049568
Phone: (65) 6536 4525
Evolve MMA (Orchard Central)
181 Orchard Road
#06-01 Orchard Central
Singapore 238896
Phone: (65) 6536 4556
Evolve MMA (KINEX)
11 Tanjong Katong Road
#02-52 KINEX
Singapore 437157
Phone: (65) 6288 2293
Evolve MMA (Clarke Quay Central)
6 Eu Tong Sen Street
#04-18 Clarke Quay Central
Singapore 059817
Phone: (65) 6226 2150
Evolve MMA (Star Vista)
1 Vista Exchange Green
#02-26A The Star Vista
Singapore 138617
Phone: (65) 6539 9590