Ever since ONE Super Series was announced, bringing together the world's greatest striking talents under a single roof, fans have been witness to a handful of memorable battles.
That's natural, of course. When you combine World Champions from Muay Thai, kickboxing, boxing, taekwondo, and the like, you're definitely going to get some instant classics.
The beautiful art of Muay Thai, in particular, has seen a handful of thrilling wars inside the ONE Championship Circle. The "Art of Eight Limbs" is front and center in ONE Super Series, with a bevy of the sport's legends competing for the promotion. As fans, it's amazing to see these matchups play out.
Given how ONE Super Series bouts are typically three rounds (five rounds for World Title fights), of three minutes each, the unique ruleset encourages fighters to start quickly and aggressively. This, in particular, has produced many scintillating performances and results.
Let's take a quick look at some of those epic wars here. Today, Evolve Daily shares the five best Muay Thai bouts in ONE Super Series history.
5) Chamuaktong vs Brown Pinas – ONE: REIGN OF KINGS
This matchup wasn't for a title, but in terms of competitive action, it stands out as a memorable Muay Thai clash. Brown Pinas is one of the more exciting performers in any discipline on the ONE roster. However, he ran into a major threat in Chamuaktong, whose technique and pressure proved to be enough to gain a unanimous decision win.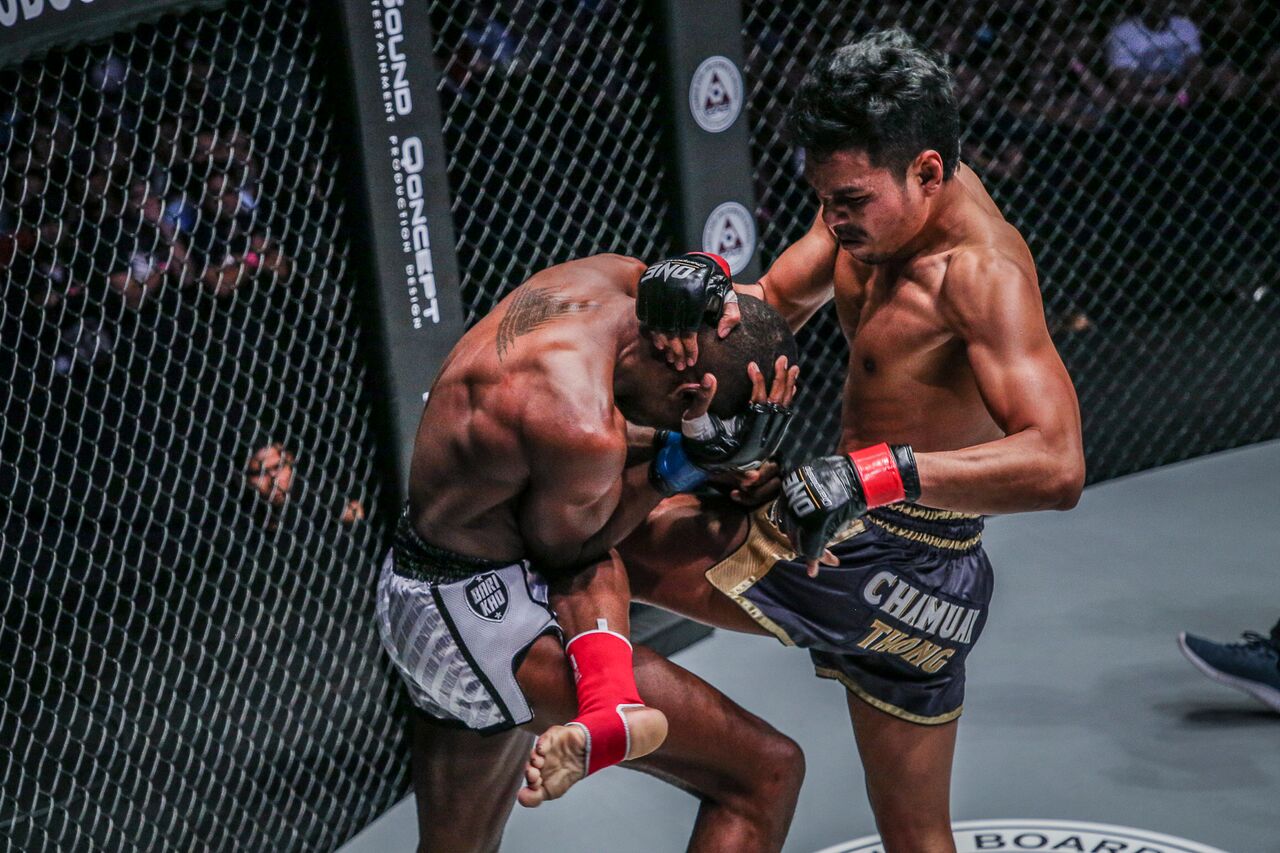 That said, Pinas landed some deadly elbows. Still, Chamuaktong battled through and imposed his will until he emerged victorious. It will be interesting to see what both of these men accomplish in 2020.
4) Stamp Fairtex vs Janet Todd – ONE: CALL TO GREATNESS
Coming in at number four on this list, Stamp Fairtex's bout with Janet Todd for the inaugural ONE Atomweight Muay Thai World Championship was action-packed from beginning to end. From the opening bell, Stamp pushed the pace and threw heavy shots at Todd. The Thai World Champion mixed up her attacks well to keep her opponent guessing.
Todd didn't back down, however. She held her own, fighting fire with fire, answering Stamp's attacks with heavy blows of her own. As the fight went on, Todd seemed to get stronger and was even able to sweep Stamp in the later rounds.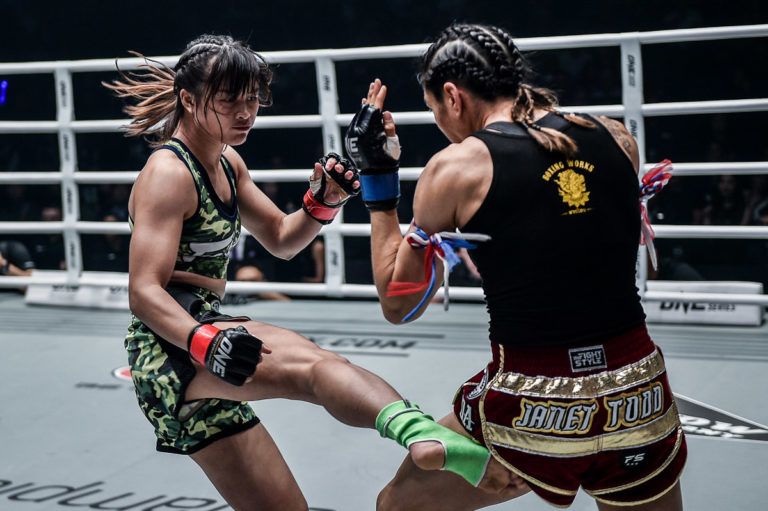 Even while maintaining a high pace, both warriors were able to keep the fight technical, and fans watching at the Singapore Indoor Stadium were no doubt in awe of their skill and heart. After five rounds, with neither fighter backing down, the fight went to the judges' scorecards. All three judges awarded Stamp the win, crowing her the ONE Atomweight Muay Thai World Champion.
3) Sam-A Gaiyanghadao vs Sergio Wielzen – ONE: UNSTOPPABLE DREAMS
Muay Thai World Champion Sam-A Gaiyanghadao from the Evolve Fight Team is a Thai legend, but Sergio Wielzen wasn't intimidated against his opponent. The two men battled for the inaugural ONE Flyweight Muay Thai World Championship at ONE: UNSTOPPABLE DREAMS.
Early on, Wielzen was presenting a problem with his size and quick kicks from the right side. Wielzen's strikes sent Sam-A into retreat initially. However, the change in momentum came as Sam-A took control in the clinch.
Sam-A caught Wielzen off balance on multiple occasions and deposited his opponent on the canvas with a variety of trips.
This technique opened up the elbow game for Sam-A, and the Thai legend fired at will.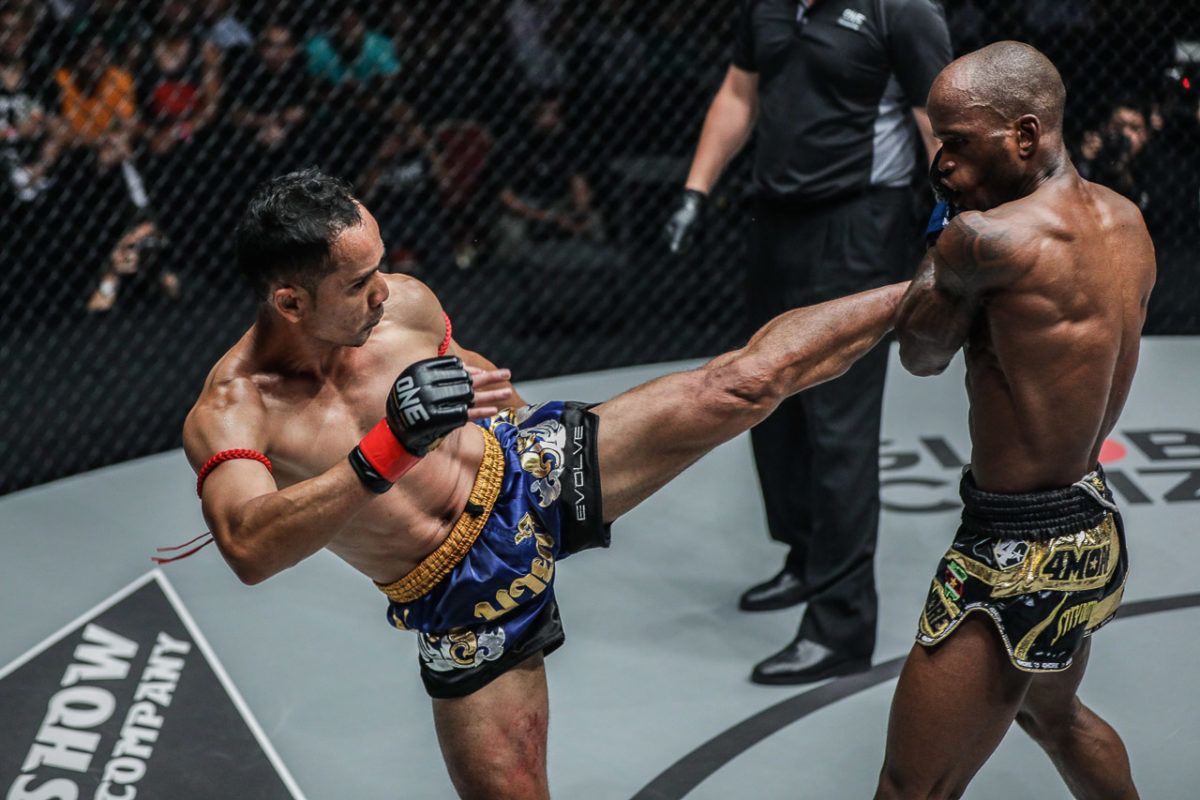 Sam-A's powerful leg kicks came like an unending torrent of thunder and lightning, each packed with power. From the front row, you could hear the unique sound of shin and flesh colliding with impact.
Sam-A, like a deliberate force of nature, eventually scored the knockout and became the ONE Flyweight Muay Thai World Champion. Wielzen put up a great fight, but in the end, Sam-A was just too good.
2) Rodtang Jitmuangnon vs Jonathan Haggerty – ONE: DAWN OF HEROES
Talk about close battles, the ONE Flyweight Muay Thai World Championship battle at ONE: DAWN OF HEROES between Rodtang Jitmuangnon and Jonathan Haggerty was tight.
Haggerty, who came in as the reigning champion, tried to use his length and technique to hold on to the title he'd pried away from former Sam-A Gaiyanghadao in his previous bout. However, it was the constant pressure and fierce shots from Rodtang that led to a unanimous-decision win for the challenger.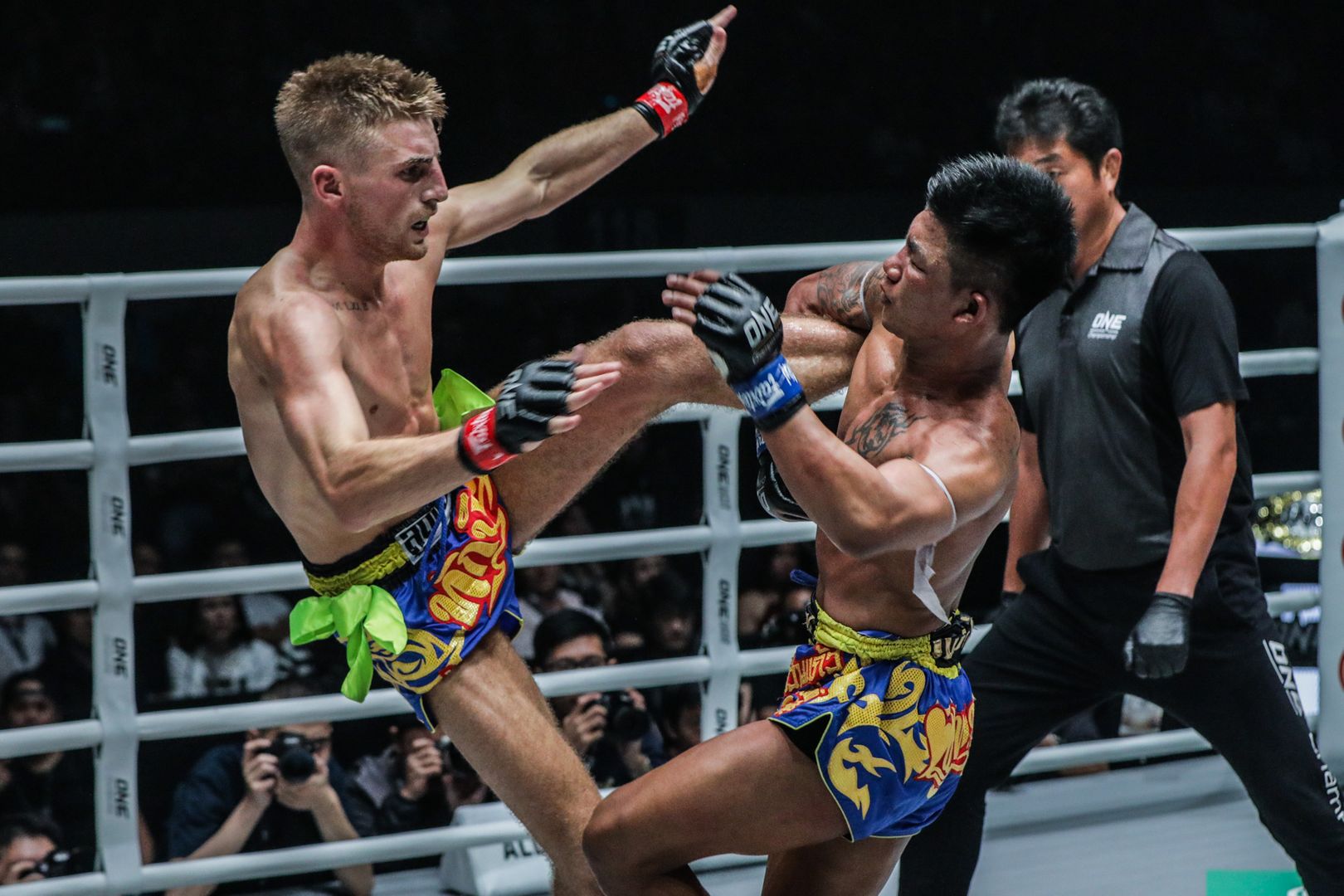 The action was fierce all throughout, and the two men definitely left it all inside the ring. At times, it was baffling how each man remained on their feet despite taking absolute bombs. It proves the tremendous chin both these warriors have. In the end, however, only one would be left standing. The power of Rodtang Jitmuangnon is undeniable.
Rodtang scored a knockdown in the third round on a left-right combination that sent the champion sprawling into the corner. That said, Haggerty did fine work throughout the competition with his front push kicks and strikes to the legs.
Without question, Rodtang was the stronger man, despite giving up height and length, but Haggerty may have out-landed his opponent. Rodtang successfully lifted the title, but not without resistance.
This is a matchup that warrants a rematch.
1) Nong-O Gaiyanghadao vs Saemapetch Fairtex – ONE: EDGE OF GREATNESS
The short history of ONE Championship Muay Thai bouts has already generated a list of some of the more thrilling contests we've seen in the world of martial arts.
Most recently, we saw ONE Bantamweight Muay Thai World Champion Nong-O Gaiyanghadao from the Evolve Fight Team defend his title against Saemapetch Fairtex in Singapore at ONE: EDGE OF GREATNESS. This was the third successful title defense from Nong-O, and likely the toughest he's had since joining the promotion.
Through the first round and into the second frame, the two Thai warriors were exchanging some shots thrown with bad intentions.
Nong-O's powerful right kicks were changing levels from the midsection and up to the head. Nong-O smiled off most of Saemapetch's shots, but the low left inside leg kick did appear to have some effect on the champion.
However, in the second round, Nong-O's power, accuracy, and stamina began to take control of the bout. A scintillating combination that was punctuated with a short series of devastating uppercuts dropped Saemapetch. He'd get up from the canvas only to be dropped again just as the bell rang to end the second frame.
Quite honestly, it looked as if the match was over, but Saemapetch made it to his feet and proved himself capable of continuing. He'd come back in the third round to remind Nong-O he wasn't quite done.
The two men went back to exchange strikes. It was highlighted by some outstanding counter striking from the challenger. Saemapetch landed some hard shots after making the champion miss.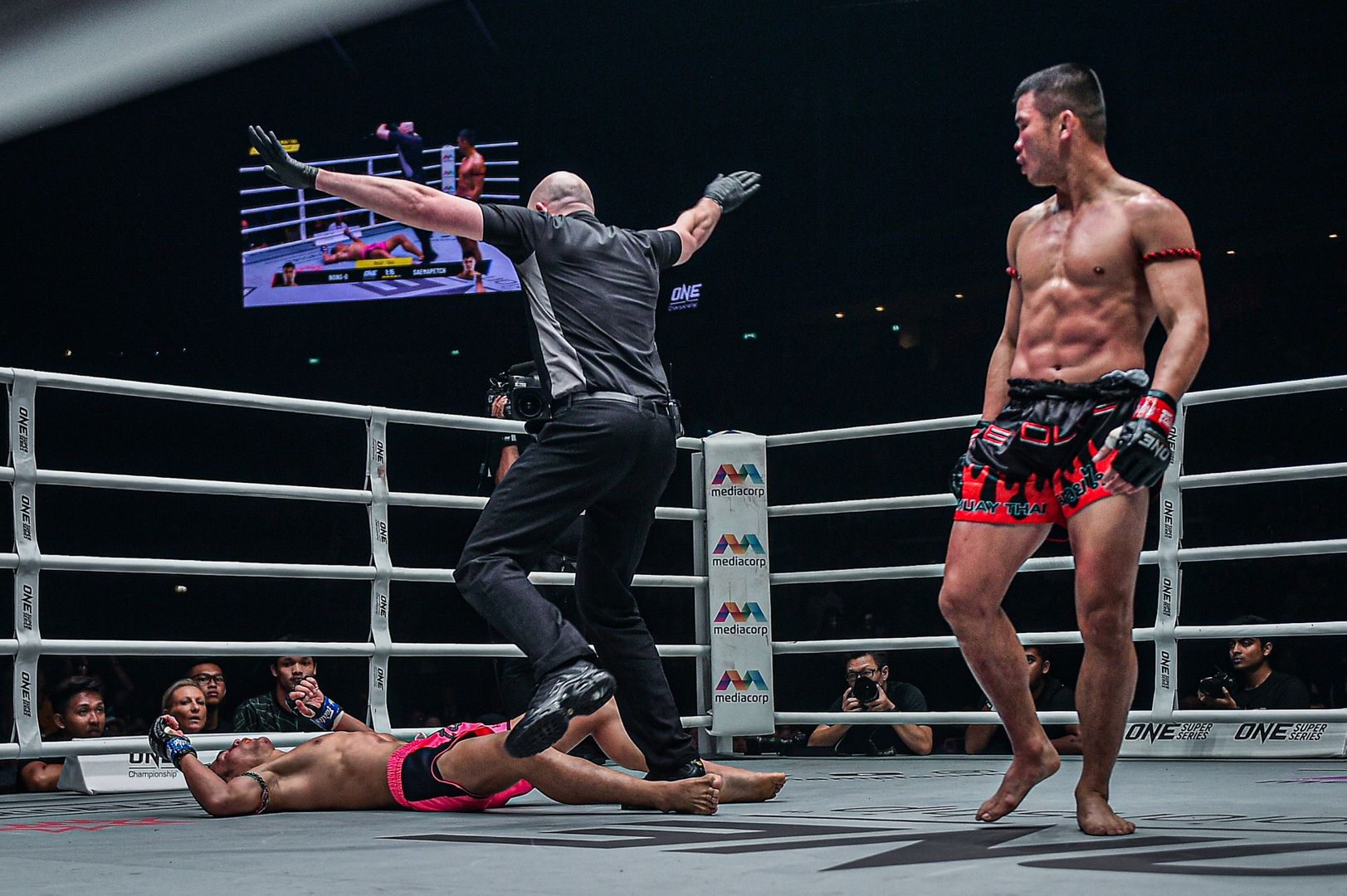 The fourth round proved to be the final frame. Nong-O would land a laser-like right hand that connected on Saemapetch's left eye. The challenger fell back with his arms raised as he crashed to the canvas, and the referee wisely waved off the count, declaring Nong-O the winner.
It was a hard-fought but definitive finish to a spectacular bout. At this point, that match is the greatest Muay Thai bout of all time in ONE Super Series.
You may also like:
Here's Why Trying Out For The Evolve Competition Team Is An Opportunity You Shouldn't Miss