https://evolve-mma.com/blog/watch-muhammad-alis-most-spectacular-knockouts/Imagine being tasked with compiling the greatest exponents of the jab in boxing history.
That alone is one of the single most difficult jobs in the world to perform. As any boxing aficionado knows, there have been some incredible pugilists in the annals of the sport that have used the jab as their single most trusted weapon in the battlefield that we call the squared circle. The "sweet science" would be nothing without its greatest punch – the jab.
Sure, the left hook is as sexy a punch as they come. The uppercut is the showtime punch to some. Hell, if you've ever seen a fighter throw a straight right with bad intentions, you could fall in love with that shot fast.
Regardless of what you may believe, your coach is right when he tells you that the jab is where everything begins. If you are still skeptical, don't listen to me – let these guys convince you instead.
5) Floyd Mayweather Jr.
I implore you to keep in mind that we are talking about boxers that best used their jabs to excel in the sport.
As such, there is no way that we can discount the greatest boxer of the 21st century. After all, Mayweather's use of the jab is one of the most sublime demonstrations of how this crucial punch should be used. For anyone studying how to perfect the fundamentals of boxing, Mayweather should be one of the first examples. Whether you love or hate his ostentatious demeanor, the man knew how to throw a jab.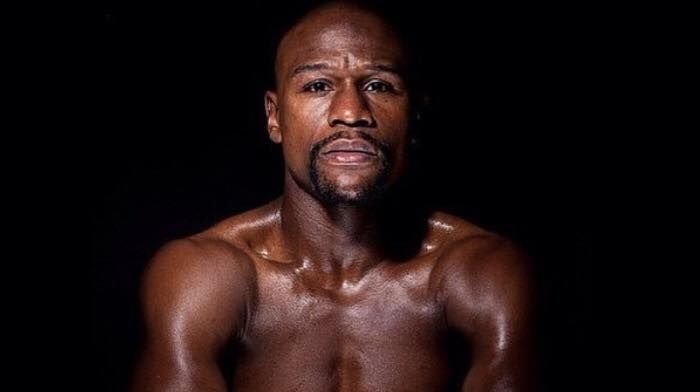 In the later stages of his career, Mayweather was forced to adapt to this fighting style. While one of the everlasting features of his style was his incredible jab, we saw the best use of it in the last decade of his career. Fighting with an ultra-defensive, shoulder-roll style, Mayweather has an incredibly accurate jab and used is as much as a deterrent and precursor to drawing counter opportunities as it was to gauge distance and judge range.
4) "Marvelous" Marvin Hagler
What discussion about an effective jab can be taken seriously without a mention of "Marvelous" Marvin Hagler?
The undisputed champion of the middleweight division for 7 years running, Hagler is widely regarded as the greatest fighter in the history of the division. A heavy hitter, Hagler was feared by everyone within 10 pounds of his weight. The reason for his notoriety was, naturally, his ability to throw that jab out like a python, catching anything within range of its span.
Hagler's greatest attribute was his ability to switch from southpaw to orthodox with ease. As such, his cultured jab with the right or the left hand often felt like straight power punches rather than snapping or jolting leads.
3) Sonny Liston
Sonny Liston has one of the greatest jabs in boxing history.
It is widely believed that Liston was a southpaw that was converted to an orthodox fighter. Of course, what happened here – much like Marvin Hagler – is that Liston developed considerable power in both hands. The ability to throw a jab from either hand – which was described as "getting hit by a telephone pole" by Muhammad Ali's trainer, Angelo Dundee – was part of the reason for his wild success inside the ropes.
Of course, there was more to Liston's punch than raw power. Liston knew how to use the jab as an offensive weapon. He was almost always more dangerous from mid-range, using his shoulder to twist into the jab in order to temporarily blind his opponents before following up with power shots. Given that he had an 84″ reach – which was crazily long for his 6'1″ height – Liston was almost always there first.
2) Larry Holmes
Larry Holmes might not dominate the lists of greatest heavyweights of all time, but there is no doubt that he is up there.
When it comes to the greatest jabs ever witnessed in the heavyweight division – and in boxing, in general – there is no doubt that Holmes deserves more credit. Of course, you can ask any true boxing aficionado to reel off their favorite jabs, and Holmes will more than likely get a mention. If he doesn't, you need to brush up on your boxing knowledge – fast.
What made Holmes' jab so devastating was the power behind it. In 1976, he busted his right hand up so spent his recovery time practicing that monster jab. With that practice came speed as well as power, and an ability to flick it out from all kinds of angles to throw opponents off guard and give them something serious to think about on the way in.
1) Muhammad Ali
There are fewer fighters in the history of combat sports that moved as gracefully as "The Greatest."
Muhammad Ali was more than just a fighter – he transcended boxing, sports, and celebrity to become one of the most beloved souls in modern history. This great man was an accomplished tactician and as brave as they come. He had a skill set and spirit that is unparalleled in the history of boxing. A true icon of combat, Muhammad Ali was a man that words can do no justice to.
The youngest heavyweight champ of all time when he beat Sonny Liston at just 22, Ali's incredible technique was majorly dependent on his incredible jab. The speed and variety of his jab were as legendary as his name. He used this fundamental tool as a weapon to break the guard, will, and spirit of many of the greatest fighters to ever lace up gloves. There is no doubt that Ali's jab was the master key to many of the most stubborn locks in boxing history.
When we think of effective jabs, that of Muhammad Ali should always be remembered as one of the greatest examples of how it should be done. Nonpareil, Ali was his name.
You may also like:
4 Reasons Pacquiao vs Horn Was One Of The Most Controversial Decisions Ever