MMA is an intense game. At its core, MMA is a collection of knowledge throughout history – an amalgamation of unique combat styles meshed into one cohesive philosophy. Many have said it is the purest form of combat.
As a sport, it is the fastest rising in the world. Millions across the globe follow MMA. But only a fraction of those people have attempted to step through the cage doors and practice it. It takes a real special breed of athlete to do it for a living.
If you're one of those who train in MMA, then you understand exactly what it requires both physically and mentally.
ONE Championship lightweight contender Amir Khan from the Evolve Fight Team is a tremendous mixed martial artist. At 25-years of age, Khan has shown much promise. He's already challenged for the ONE Lightweight World Title once before, and he keeps getting better by the day.
Many of his coaches have regarded Khan as the perfect combination of physicality and supreme skill. They've brandished him as the epitome of an athlete. But Khan wasn't just simply born gifted with the ability to fight, he worked harder than anyone else to become who he is today.
Want to be a great mixed martial artist like Amir Khan? He lays out a few pointers here to put you on the right path.
Today, Evolve Daily shares five tips from Amir Khan to help you take your MMA game to the next level.
1) Understand the grind
Hard work beats talent, if talent doesn't work hard. It's a common phrase. Perhaps you've seen it in many gyms, plastered on the wall. There's something to be said about an athlete who can respect and understand the grind, the amount of work needed to succeed at the highest levels.
Khan wouldn't be the athlete he is today if he didn't put in the effort inside the gym. On the surface, most people see the finished product. They rarely see all the hard work that goes on underneath the hood.
MMA training is a constant learning process. It's the everyday routine that turns mere mortals into martial arts superheroes.
"Training is sacred. You have to be dedicated to getting better each day. That's what it means to be a true martial artist," says Khan.
"You put in the work, you reap the results. Sometimes things get hard, but you have to push through it both mentally and physically. You have to will yourself to get up every day and put yourself through the paces. Push yourself to the limit and discover what you are capable of. Over time, you'll improve drastically."
2) Train in pure styles and learn the fundamentals
Mixed martial arts is a combination of many different fighting styles like boxing, Muay Thai, Brazilian Jiu-Jitsu (BJJ), and wrestling, among others. As a mixed martial artist, you have to balance between studying these multiple forms of martial arts disciplines, discover your areas of improvement, and then do what is necessary to improve your skills.
Khan has the benefit of training with some of the world's greatest martial artists at Evolve MMA. Boxing World Champions, Muay Thai legends, Brazilian Jiu-Jitsu World Champions, and the like offer Khan a deep pool of knowledge and experience to draw from.
But like Khan, you must be willing to learn and be coachable enough to absorb the various fundamental skills.
"Dedicate your time to learning the fundamentals of each martial art," says Khan.
"Each martial arts discipline has unique combat sciences and techniques. The striking in boxing, for example, is vastly different from the techniques found in Muay Thai. They may appear similar, but as you train in both, you'll learn they are different. Try to find out what works best for you and apply it to your unique fighting style."
3) Focus on your training sessions
A clear mind is a prerequisite to learning. By giving your complete focus to every training session, you'll be able to absorb all the bits and pieces of information you need to incorporate into your game.
Sometimes going through daily training, it can become easy to miss out on important takeaways. But give your full and undivided attention to training every time you're in the gym, and you'll be sure not to miss the small critical details. This makes all the difference.
"Whenever I'm in the gym, I'm zeroed in on improving every aspect of my game," says Khan.
"If you're mentally distracted during training, it won't be as effective. I make it a point to start my training sessions by clearing my mind and getting myself mentally prepared. It really helps a lot to just take a few minutes to tune out all the noise and just focus on the task at hand."
4) Listen to your coaches
One thing that makes Khan such a great athlete is that he is coachable, which means he trusts and listens to his instructors, coaches, and cornermen. As a fighter, it is easy to let ego and pride rule your mind, thinking you know it all. As a martial artist, you would be wise to heed your seniors.
Khan constantly works on all aspects of his skills. With his world champion coaches at Evolve MMA guiding him forward, the 25-year-old Singaporean is developing at a rapid pace.
"I'm lucky training here at Evolve because there are just so many great world champions to learn from. It's been an absolute honor training beside them and learning all that I can," says Khan.
"Having these guys I call my brothers in my corner, it's invaluable. In a fight, it's tough in between rounds where you have to make adjustments. Good thing I have another set of eyes watching from the corner that can help me make changes mid-fight. It's critical to victory."
5) Stay disciplined outside of the gym
Perhaps the most important to your success as a mixed martial artist is discipline. But not just discipline during training, also discipline outside of the gym.
We all have our own personal lives. When we step outside those gym doors, we have to live our daily routine. Staying disciplined outside the gym means making healthier lifestyle choices like eating clean, getting a good amount of sleep, and engaging in activities that enrich your soul.
"What you do outside of the gym is just as important as what you do inside of it. Every choice you make affects your success," says Khan.
"Keep a level head. Make the right decisions when it comes to your health and well-being. Fuel yourself with proper nutrition and the energy you need to perform at your peak. Get enough rest every day to prepare for intense training sessions. Stay disciplined, even when no one is watching."
Catch Amir Khan from the Evolve Fight Team back action this 28 February at ONE: KING OF THE JUNGLE as he takes on Japanese veteran Kimihiro Eto in a lightweight contest.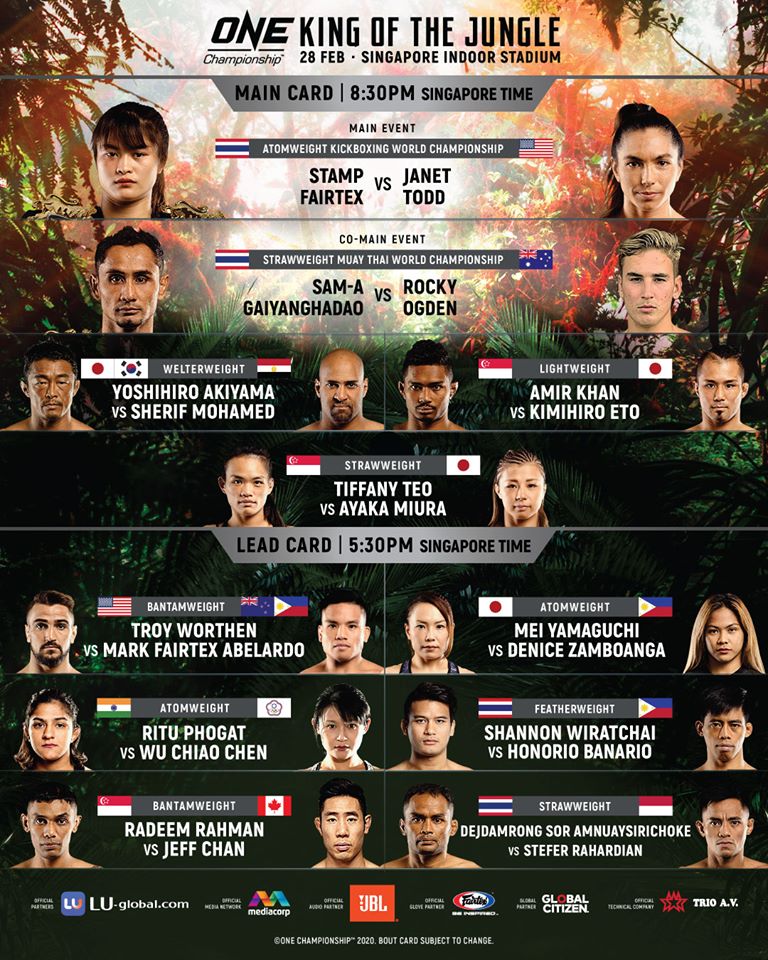 You may also like:
Amir Khan: Here's Why Martial Arts Was The Best Thing That Happened To Me