Brazilian Jiu-Jitsu World Champion Alex "Little Rock" Silva from the Evolve Fight Team is one of the world's top martial artists. The achievements he's been able to garner over the course of his time as a martial artist is long and admirable.
He is a former Copa do Mundo World Champion in Brazilian Jiu-Jitsu with over 15 years of experience. He has won numerous regional and national titles in his native Brazil.
To say that Silva is one of the most capable grapplers in mixed martial arts is a massive understatement. Out of seven victories so far in his mixed martial arts career, Silva owns six wins by submission. He can force opponents to tap with a variety of techniques and is always dangerous on the mat.
This Friday, 17 May at the Singapore Indoor Stadium, "Little Rock" returns to action to face Japan's Yoshitaka "Nobita" Naito in a highly-anticipated rubber match. The two have met twice before, splitting their series at one win apiece. The third bout, scheduled on the supporting card of ONE: ENTER THE DRAGON, will serve as the tie-breaker.
Before Silva takes to the ONE Championship ring this Friday night, let's take a quick look at his time so far in the ONE Circle.
Today, Evolve Daily shares Alex Silva's greatest achievements in an incredible career.
1) Defeating An Entire Clan Of Martial Artists
Filipino martial artists are some of the most talented in the world. When Silva was just starting out in his MMA career, he took on five Filipinos straight, one after the other. He finished four of them, including three from the same clan.
Between 2013 and 2016, Silva fought and defeated three members of the talented Catalan martial arts clan, a family of martial artists and Wushu World Champions. Taking on Rene, Ruel, and Robin Catalan was certainly no easy task, but Silva was able to submit them all in the first round.
He then went on to submit former ONE World Title challenger Roy "The Dominator" Doliguez shortly after.
Silva's victories have proven him to be capable of dealing with even the most dangerous strikers in the cage.
The Brazilian's unique skill set allows him to operate at a certain pace that opponents find hard to keep up with. Of course, when the action hits the ground, it's Silva's world. More often than not, when Silva gets a hold of any limb, he usually never lets go and the submission finish is not far off.
2) Showcasing His Striking Ability
As previously mentioned, six of Silva's seven career victories thus far have all ended in highlight-reel submissions. But "Little Rock" isn't all about grappling. He's a complete, well-rounded martial artist with the ability to trade strike for strike if the situation calls for it.
Of course, this should come as no surprise as the Brazilian trains with some of the greatest strikers in all of martial arts at Evolve, where he has World Champions from Muay Thai and boxing at his disposal.
Silva's striking prowess was on full display in his first encounter with Naito back in December of 2017. After having scored a scintillating first-round submission of the highly-regarded Hayato Suzuki, Silva earned a shot at then ONE Strawweight World Champion Naito in his next bout.
Naito, himself a high-level wrestler and grappler, was expected to go directly to the mat with Silva, but the Evolve MMA representative had other plans. Instead, Silva chose to keep the bout standing and proceeded to dominate Naito with his impeccable striking skills.
3) Winning The ONE Strawweight World Championship
Perhaps the greatest achievement of Silva's professional mixed martial arts career is when he captured the ONE Strawweight World Championship.
It was a masterful performance from Silva, one that proved he is truly one of the top talents in the deep strawweight division. With the ONE Championship belt around his waist, Silva brought honor and glory to his home country, and to the millions of fans who have supported him throughout his career.
Silva aims to make another run at the ONE Strawweight World Title and will begin his road back to the top this Friday night at ONE: ENTER THE DRAGON. Taking on Naito for the third and perhaps final time, Silva has the chance to earn another shot at the strawweight throne.
ONE: ENTER THE DRAGON takes place this Friday, 17 May at the Singapore Indoor Stadium. Also in action is former ONE Strawweight World Champion and Muay Thai legend Dejdamrong Sor Amnuaysirichoke and American MMA prodigy "Super" Sage Northcutt, who makes his ONE Championship debut.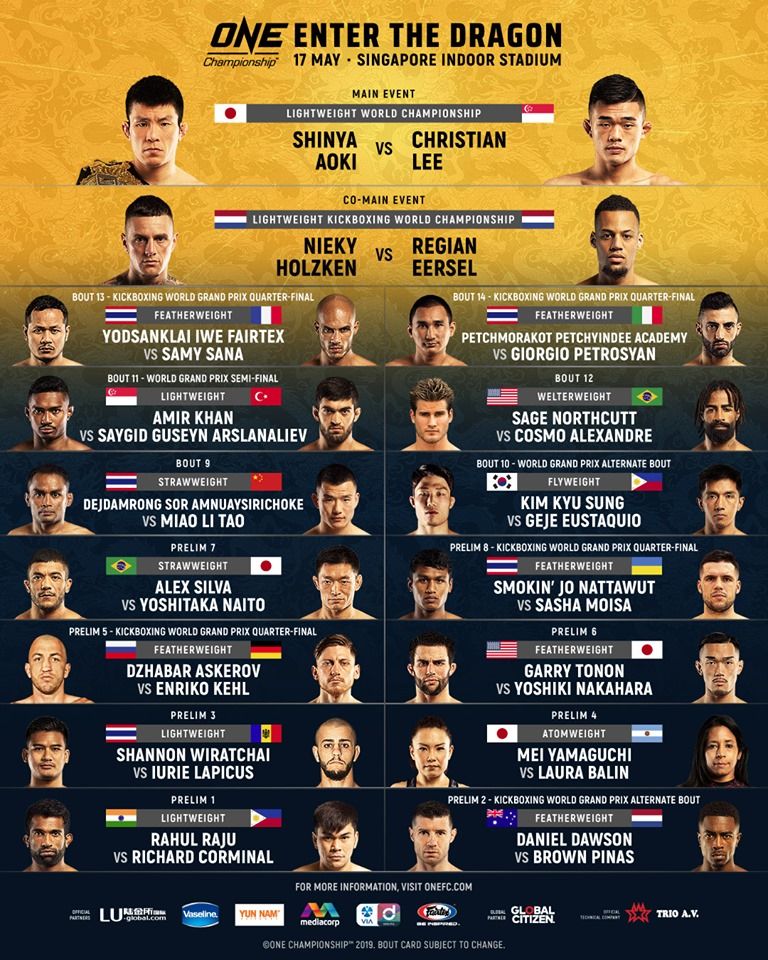 You may also like:
5 Reasons Why ONE Superstar Christian Lee Is The Future Of MMA