The novel coronavirus, official name COVID-19, is a pandemic that has swept across the globe, hampering transportation, paralyzing economies, and preventing people from interacting with one another.
Now more than ever, it is essential to fortify yourself with good health and fitness, so your body is equipped to deal with this disease. This means not only eating healthy and clean, but also getting a good, consistent amount of exercise to boost the immune system.
With a wide range of establishments complying with government orders and temporarily closing to play their part in containing the spread of the virus, it's important that people find time to work out, despite the limiting circumstances.
With Evolve At Home, Evolve MMA is offering daily livestream classes online on both our Facebook page and YouTube channel to help people get through these difficult times. The idea is for people to continue to have access to Evolve's stable of World Champion instructors and be able to watch and follow along, training in the comfort of their own homes as if the world-class instructors were right in front of them in an actual class. With Evolve At Home you will get a good workout, learn some cool technique, and get your live questions answered by our World Champions across Muay Thai, Boxing, Brazilian Jiu-Jitsu, Mixed Martial Arts, Wrestling, WarriorFit, and more!
EVOLVE AT HOME, daily livestream classes by World Champions on the EVOLVE MMA Facebook page and YouTube channel! #EvolveAtHome

Posted by Evolve MMA on Tuesday, March 31, 2020
To ensure that students get the complete experience, there are, however, certain recommended pieces of equipment necessary for you to get started.
Mats
To be able to fully utilize Evolve At Home livestream classes, you should invest in some mats. You'll need an open space in your home to do the classes, and mats should help make that space safer by providing the body with varying amounts of cushion during exercise, as well as a non-slip surface.
Puzzle mats are widely available in Singapore, and you can go to your local sporting goods store to get them. There are a lot of relatively inexpensive options out there, and even online stores like Amazon and Shopee carry them.
Martial arts training gear is also important. Here's a list of more essential gear you might need for Evolve At Home livestream classes.
Training Partner Or Grappling Dummy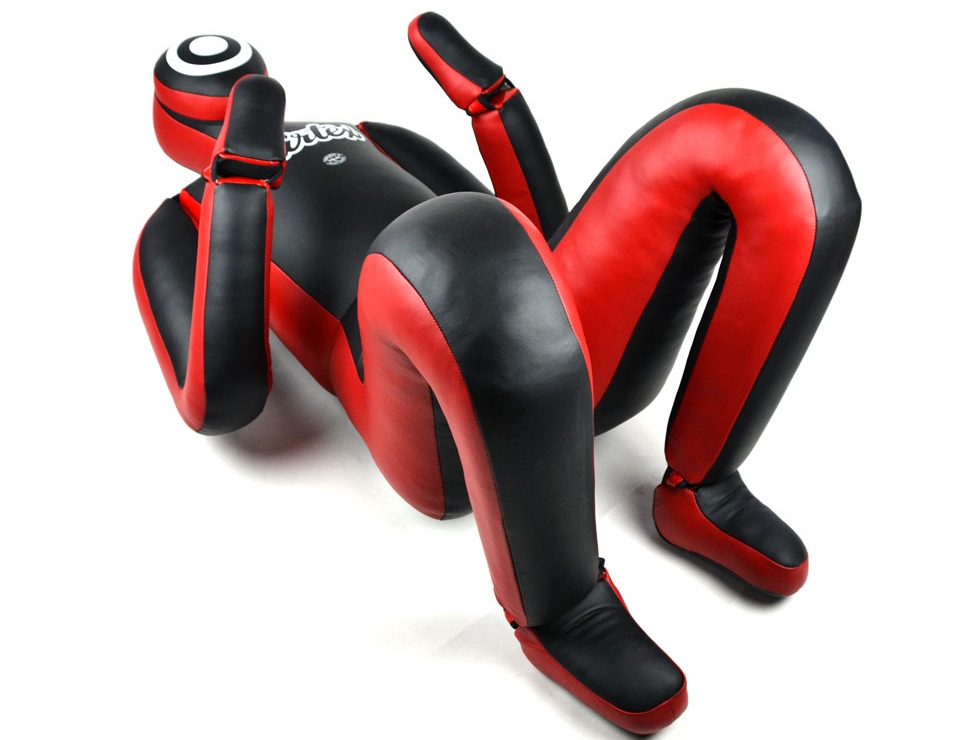 While you don't need a training partner to perform some of the solo BJJ drills, it's still good to work out with a friend or family member. A training partner is definitely required if you plan to roll on the mats.
However, another piece of equipment that could prove useful is a grappling dummy. Grappling dummies are light, flexible, and have legs and arms for you to practice a variety of techniques. You can sit the dummy down or lay it on its back to practice and hone your skills.
You can pick up grappling dummies at specialty stores that sell martial arts, particularly BJJ equipment. If you don't have an easily accessible partner, a grappling dummy may be a worthwhile investment if you want to continue training effectively at home.
You can also look into making your own using a BJJ gi and some padding, if you're up for it.
Muay Thai and Boxing
Training Partner And Pads/Mitts
Heavy Bag
Focus mitts or pads are essential in striking martial arts such as Muay Thai and boxing. They are a really effective way to train your combinations, not to mention extremely fun especially with a friend or training partner.
Practicing combinations is addicting, and one of the best things about training in Muay Thai and boxing. And training in the comfort of your living room is awesome.
If you have extra room in your home, however, you may also want to invest in a heavy bag so you can unload powerful strikes during heavy bag workouts. If you can't hang one up from the ceiling, there are free-standing types available.
Heavy bags are certainly pricey but worth every cent. You can also source them online for a good price.
Of course, basic hand wraps and boxing gloves are a must for both Muay Thai and boxing.
Mixed Martial Arts (MMA)
Training Partner Or Grappling Dummy
Boxing Gloves Or MMA Gloves
Pads/Mitts
Heavy Bag
Mixed martial arts training encompasses the full range of combat drills, including both striking and grappling. A grappling dummy would again come in handy for grappling sequences. But you should also look into getting a pair of focus mitts/pads for the striking portion.
Of course, you're going to need a training partner to hold the mitts for you and vice versa. Either way, if you can, it's best to workout with a friend. If you don't have access to a training partner, a heavy bag would be useful for the striking portion.
Needless to say, you'll need a good pair of MMA gloves.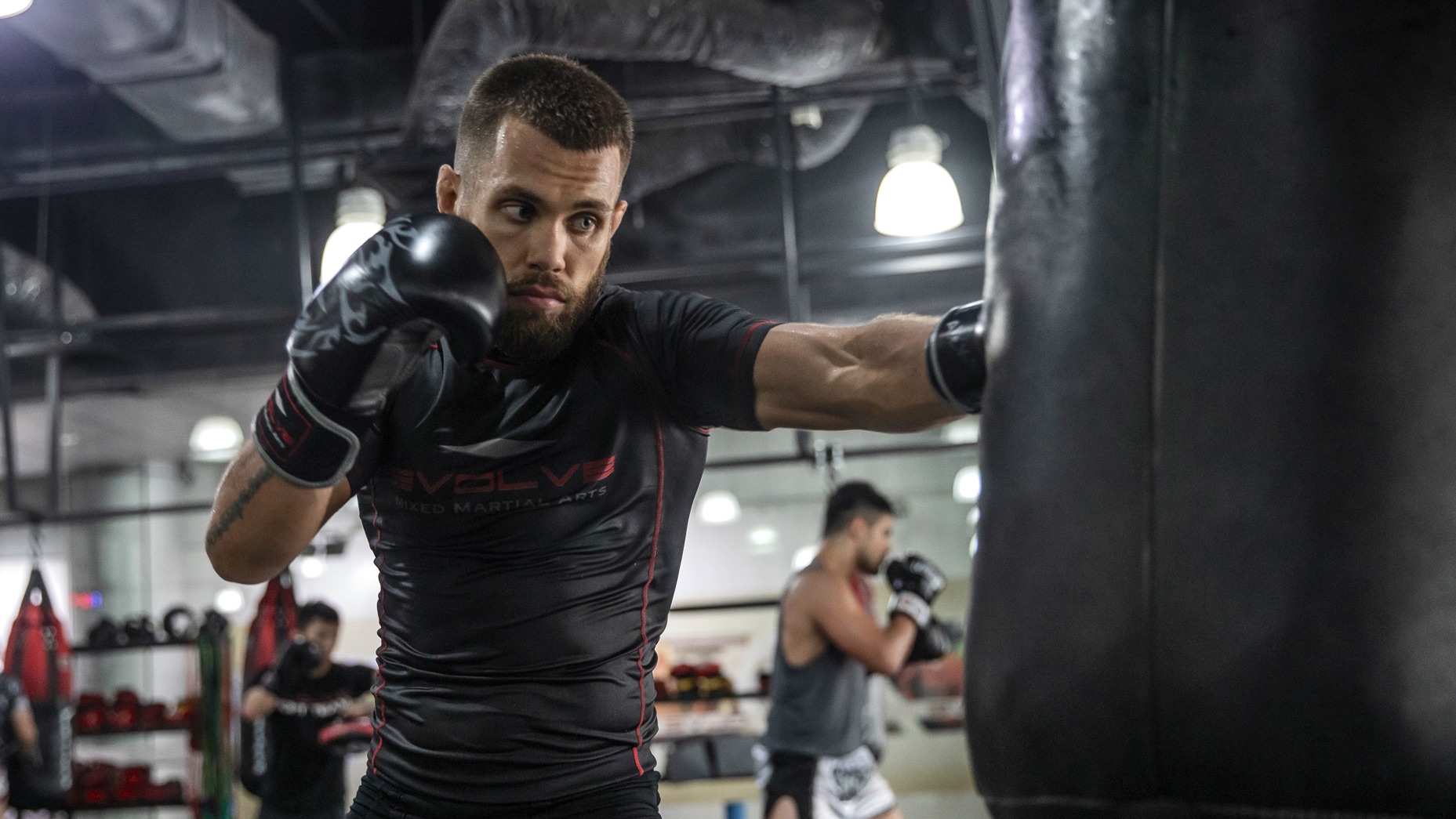 WarriorFit
Developed by Asia's leading authorities on strength and conditioning, the Evolve WarriorFit Program is a non-contact circuit training program with a strong focus on fitness and fun. The primary focus is to get you into the best shape of your life using movements and conditioning exercises from various martial arts disciplines.
There are also a lot of compound exercises featured utilizing complex movements. Some of the equipment necessary would be kettlebells and resistance bands, both of which you can source from any local sporting goods store.
Training Partner Or Wrestling Dummy
While solo wrestling drills should have you working up quite a sweat, there are some wrestling workouts that require you to have a training partner to practice certain techniques. Similar to BJJ, however, you may also make use of a wrestling dummy.
Wrestling dummies are different from grappling dummies because they are much heavier. They aim to simulate the bodyweight of a real opponent, making it difficult to throw around. At the same time, it will help build strength in your core, upper, and lower body.
So, if you're looking to get an intense workout while having fun and learning authentic martial arts from World Champions, Evolve At Home is for you! Check out the initial daily class schedule below! More classes will be added in the future for your convenience. Join us, and let's train together!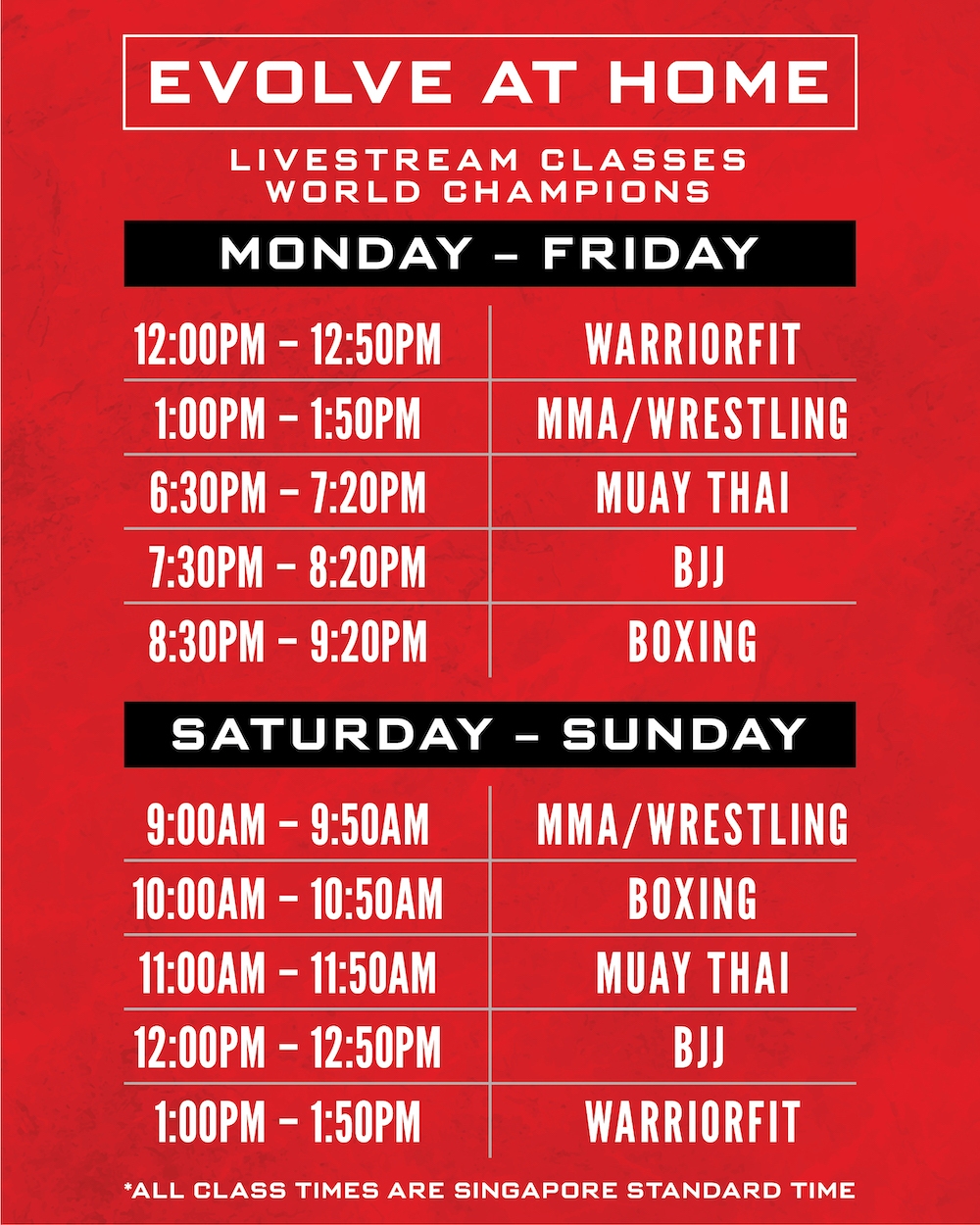 You may also like: