There's a reason why Evolve MMA is one of the best BJJ gyms and martial arts institutions in the world, and that's because its founder, Chatri Sityodtong, is truly a lifelong martial artist, and just recently, the Thai-Japanese entrepreneur marked yet another milestone in his incredible martial arts journey.
Chatri revealed on his official Facebook account, that after years of hard training, he was awarded a brown belt in Brazilian Jiu-Jitsu, continuing the lineage under BJJ legend, Master Renzo Gracie. He shared a photo of the intimate ceremony, himself clad in a black ONE Championship-branded Gi, and with BJJ and MMA World Champion Alex Silva wrapping the belt around his waist.
"By my rough calculation, I have spent at least 2,400 hours on the mats (if not more). It has been a long journey with many ups and downs (and injuries), but I would not change any of it," Chatri wrote in his post.
"I have been submitted more times than I can remember. I have gone home discouraged more times than I care to admit. I have wanted to give up more times than I can count. For sure, I am not the most talented jiu-jitsu student, but my love for the gentle art is unbreakable."
The martial arts entrepreneur also took the time to thank a grocery list of big names in the 'gentle art,' which Chatri says has influenced and helped him throughout his training. The list includes professors Rafael "Gordinho" Lima, Teco Shinzato, Alex Silva, Leandro Issa, Almiro Barros, Gamal Hassan, Valdir Rodrigues, Eduardo Novaes, Guli Kozama, Rodrigo Marello, Thales Nakassu, and Martin Hartono.
"Without each of you, I would not be here today," Chatri continued.
"Each of you gave me a piece of your game and generously shared your love of the gentle art with me. You beat me up and made me suffer, but I am eternally grateful for all of the lessons on and off the mats."
He also gave a special shoutout to all the BJJ students at Evolve MMA whom he rolled with, especially Jun Matsumoto, for making him a better martial artist and human being.
Chatri began his martial arts journey training in Muay Thai as a young boy in Bangkok, Thailand. And even when he moved halfway across the world to the United States to study at the prestigious Harvard University, martial arts was always on Chatri's mind.
He taught his fellow students Muay Thai on the side to earn enough money to pay for his college education. Eventually, Chatri moved back to Asia, settling in Singapore to establish both Evolve MMA and ONE Championship, essentially giving back to the martial arts community.
He began training in BJJ in January of 2005 at the Renzo Gracie Academy when he lived in New York City. He received his blue belt in 2007, just before he relocated to Singapore where he now currently resides.
For the next 10 years, Chatri switched to training exclusively no-gi, but in 2018, he donned the gi once again and re-embarked on a quest to ultimately earn his black belt.
"Despite my crazy work schedule, I committed myself to training 5-6x a week again. It was hard to get back into the gi after so many years without it, but I am now genuinely addicted to it," Chatri wrote.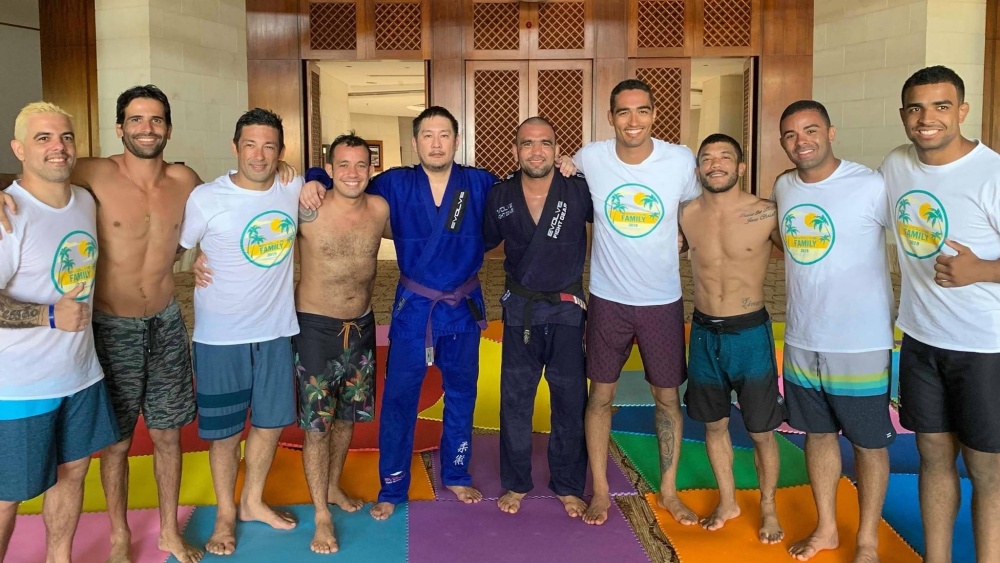 Between running the show at ONE Championship, and ensuring martial arts students in Singapore are receiving the highest quality of instruction at Evolve MMA, Chatri found a way to balance work and training. In 2019, two years prior to receiving his most recent accolade, Chatri was awarded his purple belt in a similar ceremony.
"It has not been easy, but it has been a truly extraordinary adventure. Martial arts is what I love. Martial arts is who I am," Chatri ended.
By the time a BJJ practitioner reaches brown belt-level, they are at the point where they have a firm grasp of their abilities and can begin experimenting with their own grappling style. Brown belts possess near-flawless technique and a solid base of fundamentals, and can operate without assistance from a professor.
But the journey for Chatri certainly doesn't end here. The martial artist is determined to reach the peak of his abilities in BJJ.
Next stop, black belt.
You may also like: