November whizzed by us quickly as we eagerly awaited and prepared for many events. Our World Champion instructors were busy preparing their colleagues and students for their competitions – and the results speak for themselves.
As the world's largest collection of World Champions, our instructors know what it takes to create Champions. Evolve MMA's Instructor Team ranks among the planet's most accomplished professional martial arts teams in the world, with over 1,000 years of world championship experience. Our instructors are World Champions in Muay Thai, Brazilian Jiu-Jitsu, Mixed Martial Arts, Boxing, Submission Grappling, and many more.
Our students and instructors transformed themselves into competitors, and unleashed their greatness as fighters and warriors. We are delighted to see them stand proudly as martial artists, warriors and World Champions!
The WBC MuayThai Singapore Bantamweight National Champion Is Crowned
And New ????????????

Congrats to James Bird who last night was triumphant in capturing the WBC MuayThai Singaporean bantamweight title with a hard-fought victory over Vincent Chew on the Amazing Thailand in Singapore event at the Royal Thai Embassy, Singapore. pic.twitter.com/UyUBuM6rat

— WBC MuayThai (@WBCMuaythai) November 6, 2022
The World Boxing Council (WBC) MuayThai is an affiliated division of the WBC, and seeks to foster Muay Thai at all levels. WBC MuayThai facilitates and sanctions professional Muay Thai competitions in over forty-five countries across eighteen weight categories, with each fight adhering to the rules and regulations of the Sport Authority of Thailand.
A member of the Evolve MMA Muay Thai Competition Team, James Bird, an Assistant Instructor in Muay Thai at Evolve MMA, represented the team in the WBC MuayThai Singapore event. The event was part of the Amazing Thailand festivities at the Royal Thai Embassy on 5 Nov 2022.
James took the vacant WBC MuayThai Singapore Bantamweight Championship, becoming the WBC MuayThai Singapore Bantamweight National Champion.
Smashing Success For His Black Belt Debut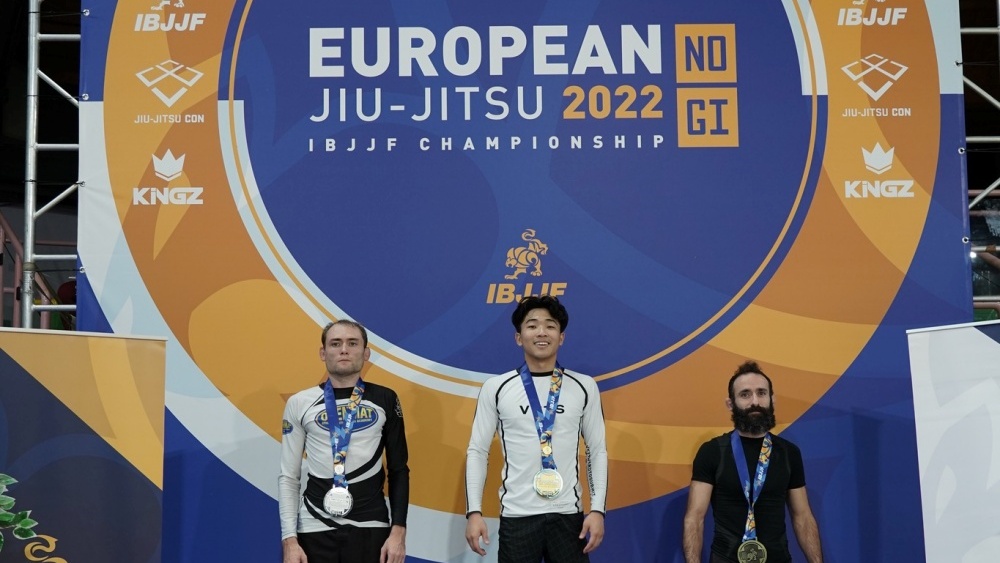 The Evolve MMA warrior spirit was once again on display on the international stage! Coco Izutsu, a student at Evolve MMA, represented the Evolve MMA BJJ Competition Team at the European IBJJF Jiu-Jitsu No-Gi Championship 2022 in Rome, Italy from 11-13 Nov 2022.
Coco earned his black belt from under Gui and Rafael Medes of the Art of Jiu-Jitsu, but came to Evolve MMA to hone and fine-tune his mastery of the gentle art. Coached by World Champions in BJJ, Coco made his debut at the black belt level in this tournament, taking home the gold medal in the roosterweight division of the adult male category.
The Evolve MMA BJJ Competition Team has always flourished in all its endeavors, whether local, regional or international. Coco's smashing success at this prestigious international competition is further proof that no matter what level you are as a martial artist, there's always room for improvement – and that success is always within your grasp if you work for it.
The EVOLVE Fight Team Makes History Once Again
On 19 Nov at the Singapore Indoor Stadium, the EVOLVE Fight Team wrote a new chapter in its history books: at ONE on Prime Video 4, Christian Lee emerged from a brutal clash with Kiamrian Abbasov as the ONE Welterweight World Champion, making Lee a two-division champion.
The fight started with Abbasov putting Lee on the back foot early in the first round. Abbasov floored Lee with a sharp left and continued to pile on the pressure. But Lee rallied, albeit on wobbly legs, and recovered enough to secure a second takedown in the same round. The second and third rounds saw both men trading hard blows, but looking the worse for wear as they each land stiff shots.
It was the fourth round where Lee begins to show why he's "The Warrior". Lee rained consistent pressure on Abbasov with leg kicks, then secured a takedown and the mount. Lee poured destruction with a blistering ground-and-pound before the referee called it off, awarding Lee a TKO and the ONE Welterweight World Championship. For that amazing performance, Lee earned a US$50,000 bonus from ONE Championship Founder and CEO Chatri Sidyodtong.
Danielle Kelly, one of the latest additions to the EVOLVE Fight Team, also put on a showstopper performance against Russian Sambo champion Mariia Molchanova. Once the bell rang, Kelly pulled Molchanova into guard and quickly secured a body triangle.
Molchanova put her strength on display, lifting Kelly and attempting to remain upright, but Kelly grabbed the opportunity to inch higher onto Molchanova's back. Kelly never stopped working her arm under the Russian's neck or attempting to climb further and further onto her back.
Molchanova recovered to her feet, with Kelly hanging onto her back like a backpack, before falling and slamming Kelly onto the mats. The American submission grappling phenom never relinquished her grip, her arm already under Molchanova's neck in a rear naked choke. Kelly scored the submission in just over two minutes into the match. For that performance, Kelly was awarded a US$50,000 bonus as well.
Unleash Your Greatness
Everyone – the World Champion instructors and staff alike – at Evolve MMA is your partner as you embark on a journey of self-discovery to surpass your limits and ultimately, unleash your greatness. If these stories of our students and instructors have inspired you to explore BJJ, Boxing, or Muay Thai, visit us for a complimentary intro class with our World Champions!
Book your complimentary trial class with our World Champions below!
If you have any other questions regarding Evolve MMA and the programs we offer, you can get in touch with our membership executives at the following locations:
Evolve MMA (Far East Square)
26 China Street
Far East Square #01-01
Singapore 049568
Phone: (65) 6536 4525
Evolve MMA (Orchard Central)
181 Orchard Road
#06-01 Orchard Central
Singapore 238896
Phone: (65) 6536 4556
Evolve MMA (KINEX)
11 Tanjong Katong Road
#02-52 KINEX
Singapore 437157
Phone: (65) 6288 2293
Evolve MMA (Clarke Quay Central)
6 Eu Tong Sen Street
#04-18 Clarke Quay Central
Singapore 059817
Phone: (65) 6226 2150
Evolve MMA (Star Vista)
1 Vista Exchange Green
#02-26A The Star Vista
Singapore 138617
Phone: (65) 6539 9590